Description

【Superior Professional Cleaning Performance】Why are we better? Instead of striping and irregular cleaning, EVEAGE pressure washer surface cleaner with wheels has 2 high pressure water jets for NON-MARKING Cleaning. 2 large spinning nozzles fit to higher working power and water flow allowing you cleaning the stubborn stains, mold, dirt easier and faster. Also the changeable nozzles of the surface cleaner attachment help you easily switch cleaning pattern bewteen power washing and soft washing.
【Excellent Cleaning Efficiency】Tired of wasting time on large surface cleaning? This power washer surface cleaner is definitely your life saver. 22" large size to cover bigger cleaning area than nozzles, 2 high-speed spinning nozzles are 8x faster than other surface cleaners, significantly reducing your cleaning time and saving your effort. Also, this high-pressure power washer attachment will dramatically increase water use efficiency, saving more water for your house, also saving your bill.
【Heavy-duty Metal Construction】If you want your money to be well spent, try this 22″ high pressure washer surface cleaner accessory which uses durable brass, having heavy-duty stainless steel construction and fully sealed bearing. The upgraded bearing will prevent leaking and blocking, keeping you dry and safe. The durable stainless steel construction can hold the most powerful water pressure, having great heat and chemical resistance. Cold water, hot water, even soap water are all available.
【Super Easy to Operate】We believe power washing can also be enjoyable and satisfiying. This 22 inch pressure washer surface cleaner has 2 handles and 4 universal wheels, you can easily hold it by 2 angle-adjustable handles, more effortless than one-handed operation. With 4 casters, you can push this attachment back and forth without any impediment and enjoy its smoothly gliding. Also, the wheels of this attachment keep the nozzles at a fixed height to protect the spray nozzles and your floors.
【Wide Application】No one want floors to be damaged, this 22 inch surface cleaner accessory is perfect for all kinds of floors: concrete, wood, tile, brick, protecting floors well during powering washing. With flexible movement, this attachment can easily clean driveway, sidewalk, curb, deck, patio, garage, etc. Also, its nice compatibility of fitting most of electric or gas pressure washers which are above 2000psi. All the features show its great application in residential and commercial use.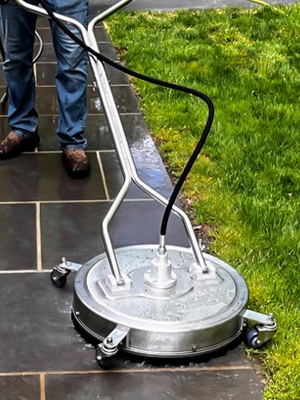 WHY US? 5 NUMBERS TO SHOW OUR SUPERIORITY!
22

 inches large size covering bigger cleaning area.

2x

 high-speed rotating water jets for 

NON-MARKING

 cleaning.

1x

 upgraded swivel for 

NON-LEAKING & NON-BLOCKING

.

1x

 heavy-duty stainless steel construction has great heat and chemical resistance.

2x

 cleaning patterns: 

POWER WASHING & SOFT WASHING

.
Diameter: 22 inches

Max working pressure: 4500 psi (Min: 2000 psi)

Max water flow: 10.5 gpm (change nozzles for high gpm or soft washing)

Max water temp: 300 ℉, hot water is available

Connection: 3/8" quick plug

Material: heavy-duty stainless steel

Use: driveways, sidewalks, curbs, patios, pools, etc.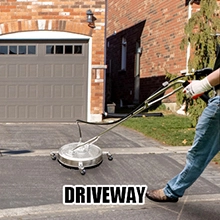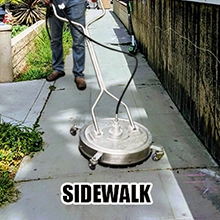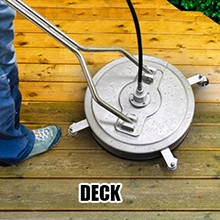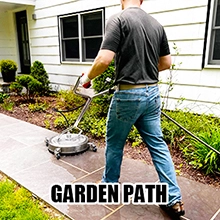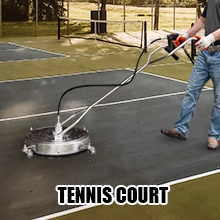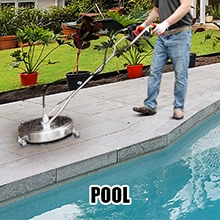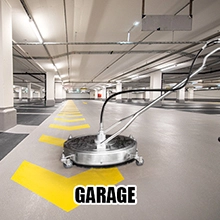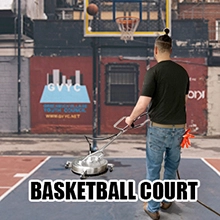 UPGRADED SWIVEL: NON-LEAKING, NON-CLOGGING, MADE TO LAST
No mess, no fuss! Next generation swivel keeps you dry and safe during power cleaning. With upgraded non-blocking design, MKEOH surface cleaner has much more stable performance and longer service life. Fitting most of electric or gas pressure washers which are above 2000psi, great for residential and commercial use.
*WARM TIPS: Please make sure your pressure washer surface cleaner's working pressure is above 2000psi when you are useing EVEAGE surface cleaners. Some pressure washers claim that they are rated 3000psi or 4000psi, but when they are working, their working pressure won't reach that pressure.
*EXTRA: Coming with 2 replacement nozzles and 5 solid brass adapters for different connection needs: 1 pc M22-14 swivel + 3/8″ plug, 1 pc 3/8″ QD + M22-14 male, 1 pc 3/4″ female + 1/2″ quick connect, 1 pc 1/2″ plug+ 3/4″ male, 1pc M22 to M22 coupler.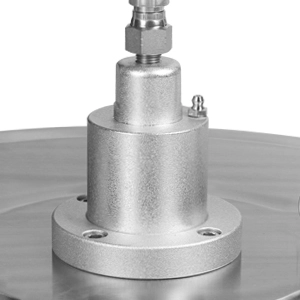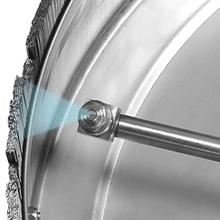 DUAL-HIGH PRESSURE JETS
high pressure jets for stubborn stains, molds.

fixed height to protect nozzles and floors.

changeable nozzles for power washing & soft washing.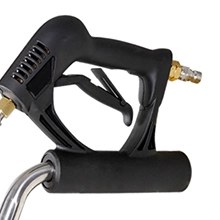 DURABLE SPRAY GUN
3/8" quick plug for standard pressure washer hose.

Trigger holder to prevent false triggering.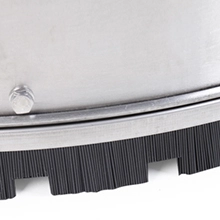 HIGH-DENSITY BRISTLES
The fixed flexible bristles to prevent water splashing.

Protecting your floors well.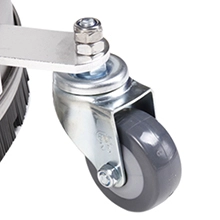 UNIVERSAL CASTERS
4 wheels for more smooth gliding.

larger wheels size for more steady movement.