Description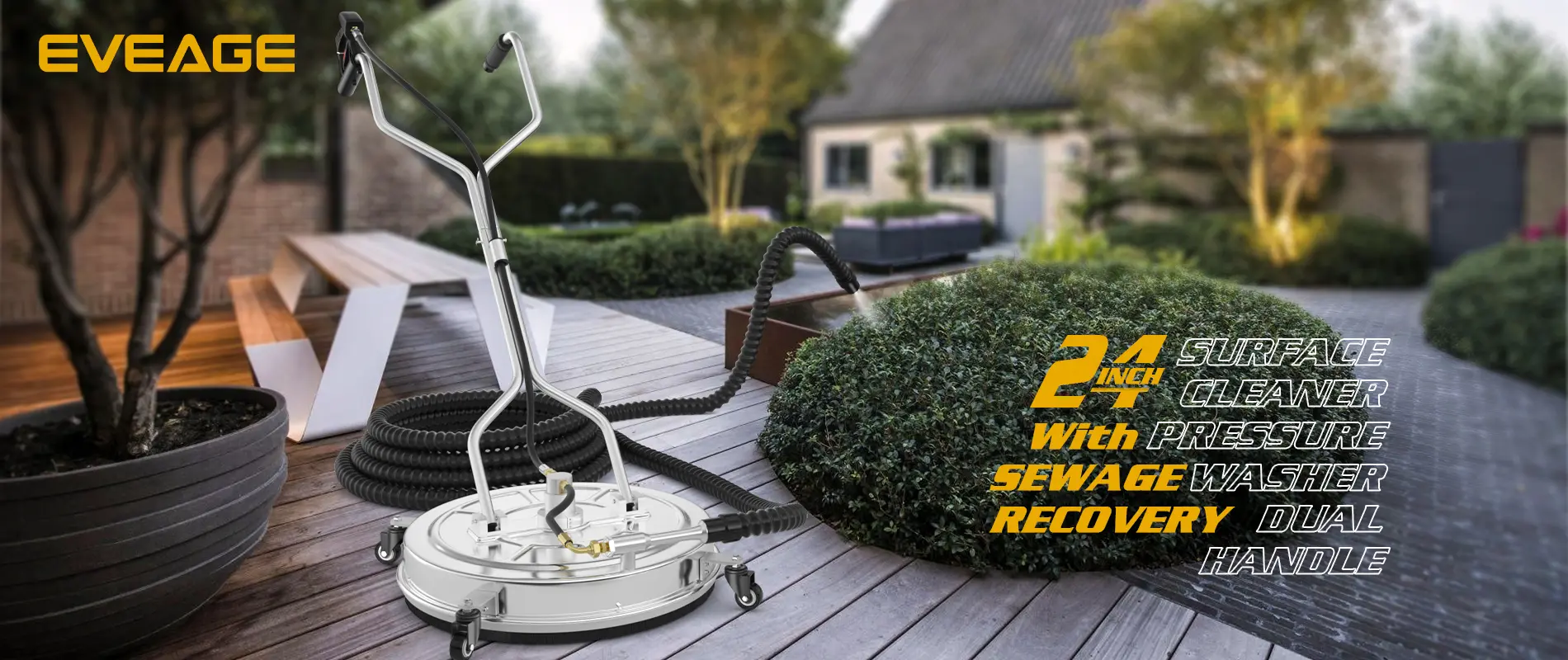 The world's first new function, EVEAGE 24 inch commercial surface cleaner for pressure washer Dual Handle with water Recovery, absorbs dirty water while washing, no residual water flow, therefore no need to do the upsetting rinse.
The circle of sewage recycling pipes and a 5-meter-long plastic sewage recycling pipe at the bottom can be used for centralized treatment of sewage recycling. After washing, you should turn off the water source and wait for the machine to run for a period of time to drain the sewage before turning off the power.
2 Jets for Fast Cleaning: Our flat surface cleaner is equipped with double high-speed rotating jets, which form water-intensive pressure at 25-degree to provide a faster and complete cleaning effect. There is a thick circle of stiff bristles at the bottom, keeping high-pressure water from splashing to avoid staining your clothes.
Durable & Adjustable: Adopted from robust stainless steel material, our surface washer features a water-proof and non-deformed design, ensuring a convenient use for years to come. Its handle height and angle are adjustable, allowing it to meet needs at different heights. It provides smooth movement with its 4 universal castors.
High Connector Compatibility: You will enjoy cleaning with the labor-saving trigger gun on the pressure washer floor scrubber. This trigger gun can be easily connected to a hose with a 3/8" connector (NOT INCLUDED). Additionally, 2 adapters of 1/4" quick connector are provided for your optional uses.
Extensive Application: Suitable for home and commercial uses, this pressure washer surface cleaner is perfect for cleaning horizontal surfaces, such as decks, patios, sidewalks, driveways, pool decks, etc. Note: If there are large rocks in the area you are cleaning, please clean them before using equipment; otherwise, the stones will damage the water outlet.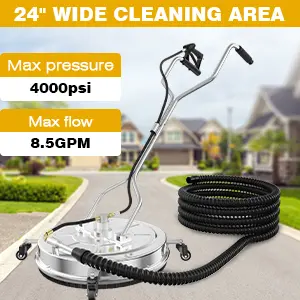 24″ Wide Cleaning Area
Surface Cleaner Pressure Washer Dual Handle with Sewage Recovery is ideal for removing ground decks, driveways, roofs, patios, indoor basketball courts, soccer fields. Stubborn stains, grease, debris and moss in kitchens, churches. 4000 PSI working pressure provides fast cleaning.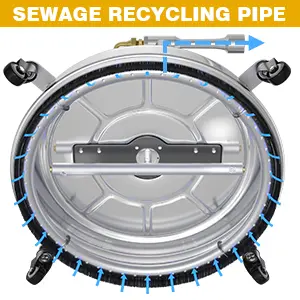 Dirty Water recycling pipe & 
2 High-efficient Nozzles
The surface cleaner of the pressure washer has a ring of steel pipe with small holes around it to recycle the sewage after washing, and has a fast rotating nozzle with a 25-degree spray angle for better cleaning without damaging the clean surface. maximum. Water flow at 6.6 GPM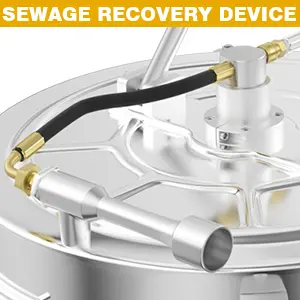 Sewage recovery device
Made of sturdy stainless steel material, it can be used for a long time without corrosion, deformation or damage.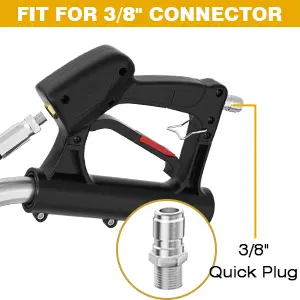 Fit for 3/8″ Connector
For your quick installation, you should use a 3/8" quick connector to connect the water hose—different modes on the trigger gun are provided for convenient use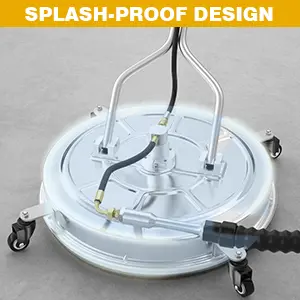 Splash-Proof Design
The power of the high-pressure water jet is contained within the dome housing. There is a skirt at the bottom of the shell, which can hold the spray and debris well, and the sewage will be directly recovered by the suction device of the outer ring, and it will not flow out. It can be used directly in any place without getting wet and dirty.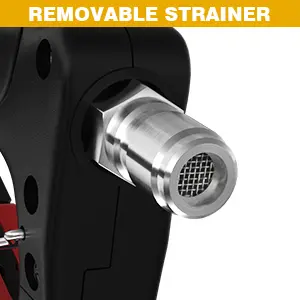 Removable Strainer
Built-in replaceable strainer – prevents nozzle clogging.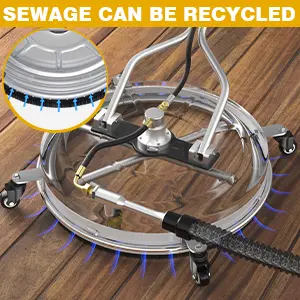 sewage can be recycled
There is a circle of stainless steel pipes with small holes for sewage recycling at the bottom, which can recycle sewage for centralized treatment. After washing, turn off the water source, wait for the machine to run for a period of time to drain the sewage, and then turn off the power.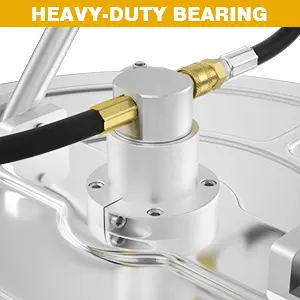 Heavy-duty Bearing
Built with the highest grade materials, the fully sealed bearing can make the unit work under higher pressure and contributes to a longer product life.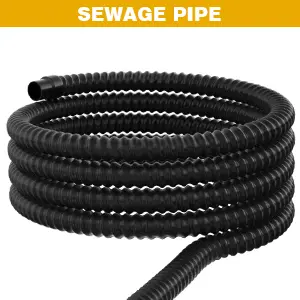 Dirty water recovery pipe
With a five-meter long plastic black pipe to discharge dirty water.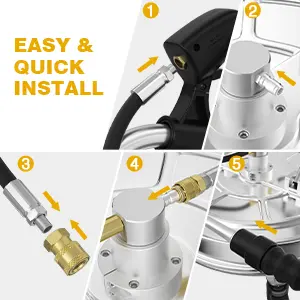 Easy installation
It's easy to install by just following the steps above, and it's simple to use. Just pull the trigger while the pressure washer is on and water will start flowing from the nozzle.
Walk slowly behind the equipment and clean as you go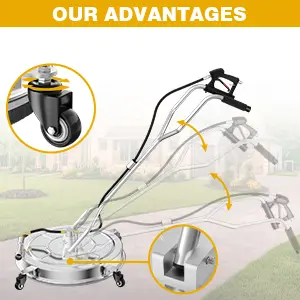 Our Advantages
With a sewage recovery device, it can be used in various scenarios indoors and outdoors, cold and hot water can be used,
The 180-degree adjustable handle, 4 universal casters and tough bristles all help you easily operate your pressure washer scrubber.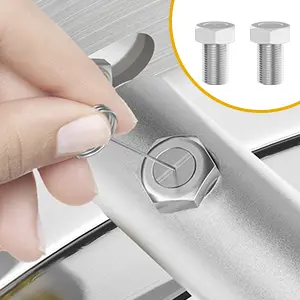 What should you do if it is blocked?
2 additional nozzles are attached for replacing the original nozzles when seriously blocked.
when the nozzles are blocked, you can use needles to remove sand or other debris in nozzles and rinse with fresh water.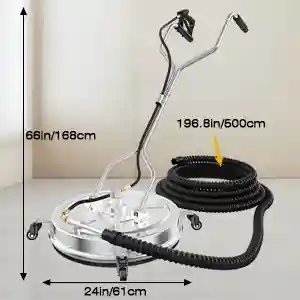 Material: Stainless Steel

 

Cleaning Surface Area: 24 in/ 61 cm

 

Max. Working Pressure: 4000 PSI

 

Min. Working Pressure: 2000 PSI

 

Inlet: 3/8 in QC Female Plug

 

Outlet: 25-degree Nozzles

 

Max. Water Temperature: 158°F/ 70°

 Sewage pipe:196.8 in/ 500 cm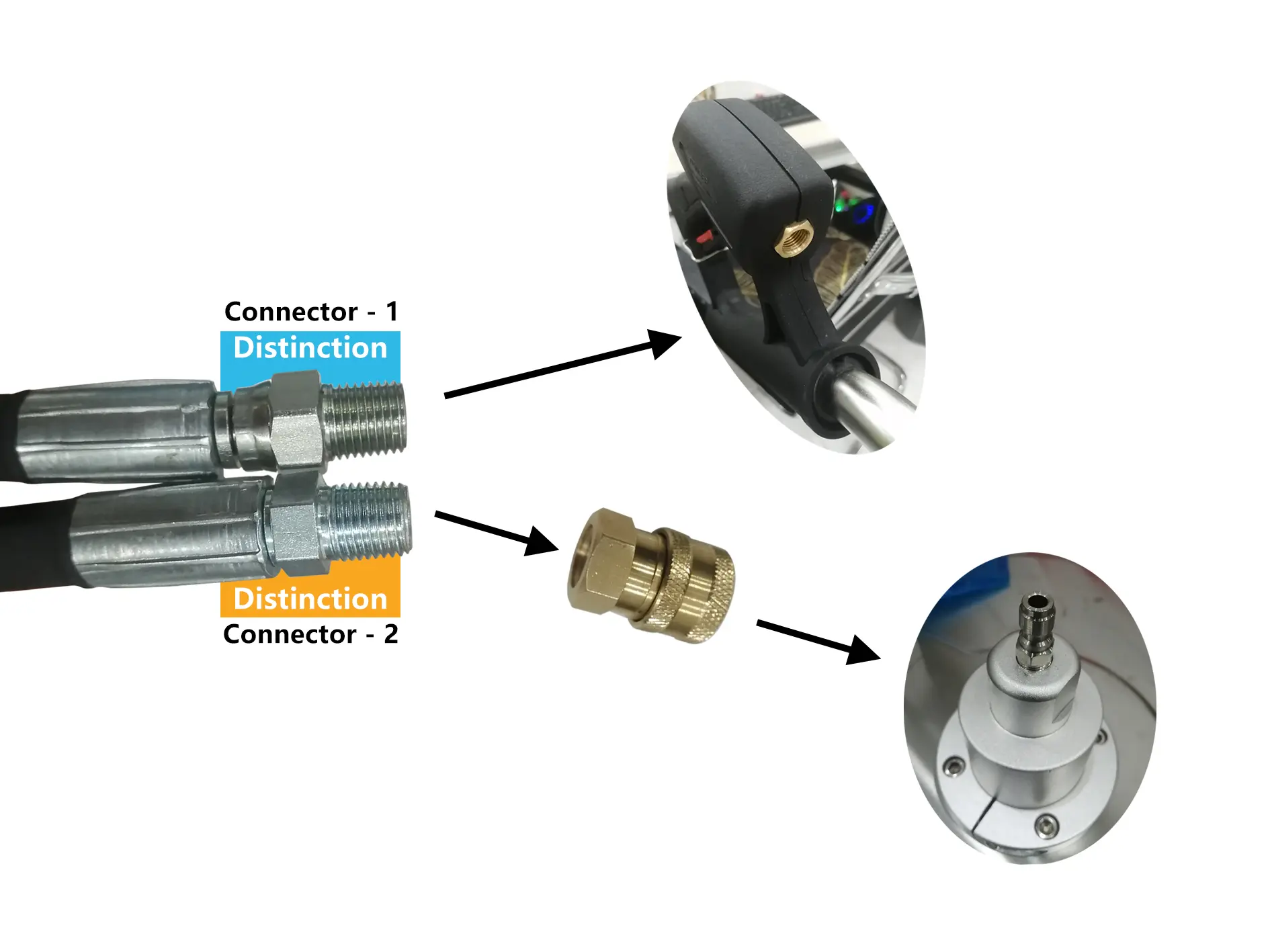 Please refer to the above picture for the installation of the hoses included.