Description
【20″Power Washer Surface Cleaner 】EVEAGE Power Washer Surface Cleaner is compatible with pressure washers up to 2000-4000 PSI.max water flow 8.5 GPM .Features a 20" cleaning reach and powerful enough to lift stubborn stains on patios, driveways, decks, and sidewalks.
【8X FASTER to GET THE JOB DONE】Our flat surface cleaner is equipped with 2 high-speed rotating jets, which form water-intensive pressure at 25-degree to provide a faster and complete cleaning effect. There is a thick circle of stiff bristles at the bottom, keeping high-pressure water from splashing to avoid staining your clothes.
【Durable & Adjustable】 Adopted from solid stainless steel material, our surface washer features a water-proof and non-deformed design, ensuring a long service life. Its handle height and angle are adjustable, allowing it to meet needs at different heights. It provides smooth movement with its 4 universal castors.
【Great Connector Compatibility】 You will enjoy cleaning with the labor-saving trigger gun on the pressure washer floor scrubber. This trigger gun can be easily connected to a hose with a 3/8" connector(NOT INCLUDED). Additionally, 2 adapters of 1/4" quick connector are provided for your optional uses.
【IMPROVE YOUR PRESSURE WASHING EXPERIENCE】Attach to your pressure washer wand to provide a targeted clean and increased efficiency on flat surfaces without making a mess! You can use this power washer surface cleaner on vertical hard surfaces like brick walls, stucco, and other siding.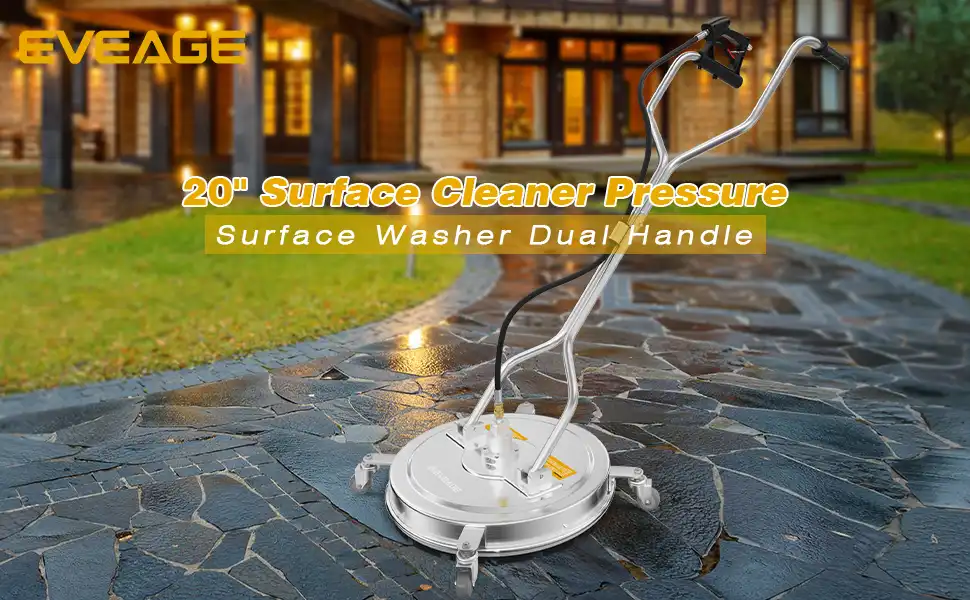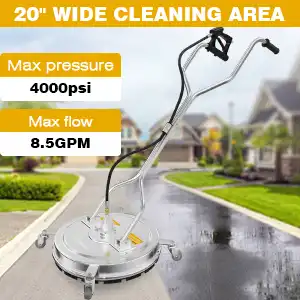 20″ Wide Cleaning Area
Pressure washer surface cleaners are great for removing stubborn stains, debris, moss from ground decks, driveways, roofs, patios. 4000 PSI working pressure provides fast cleaning.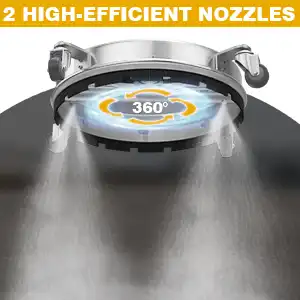 2 High-efficient Nozzles
The pressure washer surface cleaner has a fast rotating nozzle with a 25 degree spray angle for better cleaning without damaging the cleaning surface. maximum. Water flow is 6.6 GPM
 Stainless Steel
The surface washer is made of robust stainless steel material that can be used for a long time without corrosion, deformation, or damage.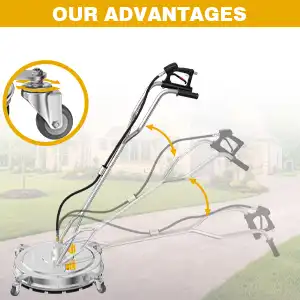 Our Advantages
The 180-degree adjustable handle, 4 universal castors, and stiff bristles all help you effortlessly operate the pressure washer floor scrubber.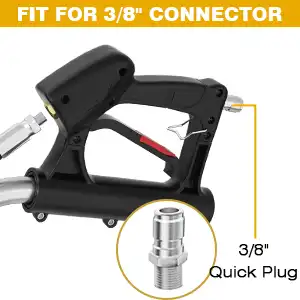 Fit for 3/8″ Connector
For your quick installation, you should use a 3/8" quick connector to connect the water hose—different modes on the trigger gun are provided for convenient use.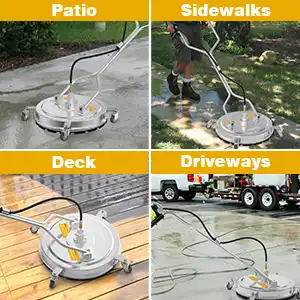 Wide Application
The pressure washer floor cleaner can be used anywhere. Ideal for cleaning garage floors, driveways, sidewalk, roof,cement patio, etc.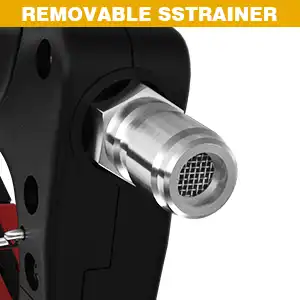 Removable Sstrainer
Built-in replaceable strainer – prevents nozzle clogging.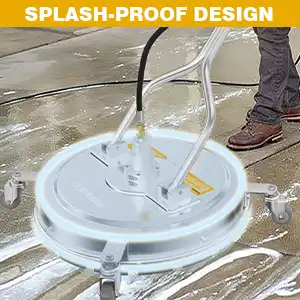 Splash-Proof Design
The power of the high-pressure water jets is contained inside of the dome enclosure. The housing has a skirt on the bottom that does a great job containing the spray and debris without getting wet and messy.
360° Flexible Rotation
The castors make maneuvering it effortless and you're not fighting the pressure washer.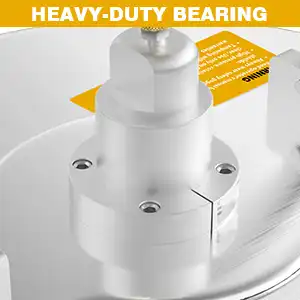 Heavy-duty Bearing
Built with the highest grade materials,the fully sealed bearing can make the unit work with higher pressure and contribute to a long product life.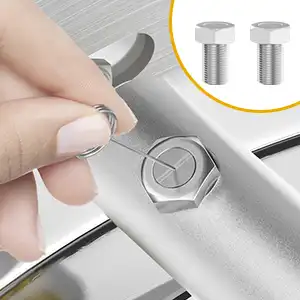 What should you do if it is blocked?
2 additional nozzles are attached for replacing the original nozzles when seriously blocked.
when the nozzles are blocked, you can use needles to remove sand or other debris in nozzles and rinse with fresh water.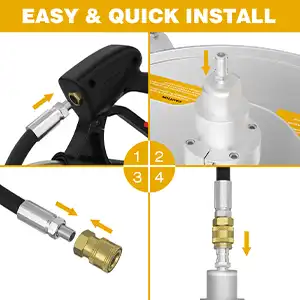 easy installation
It's easy to install by just following the steps above, and it's simple to use. Just pull the trigger while the pressure washer is on and water will start flowing from the nozzle.
Walk slowly behind the equipment and clean as you go
 

Material: Stainless Steel

 

Cleaning Surface Area: 20 in/ 51 cm

 

Max. Working Pressure: 4000 PSI

 

Min. Working Pressure: 2000 PSI

 

Inlet: 3/8 in QC Female Plug

 

Outlet: 25-degree Nozzles

 

Max. Water Temperature: 158°F/ 70°

 

  Outlet:25-degree Nozzles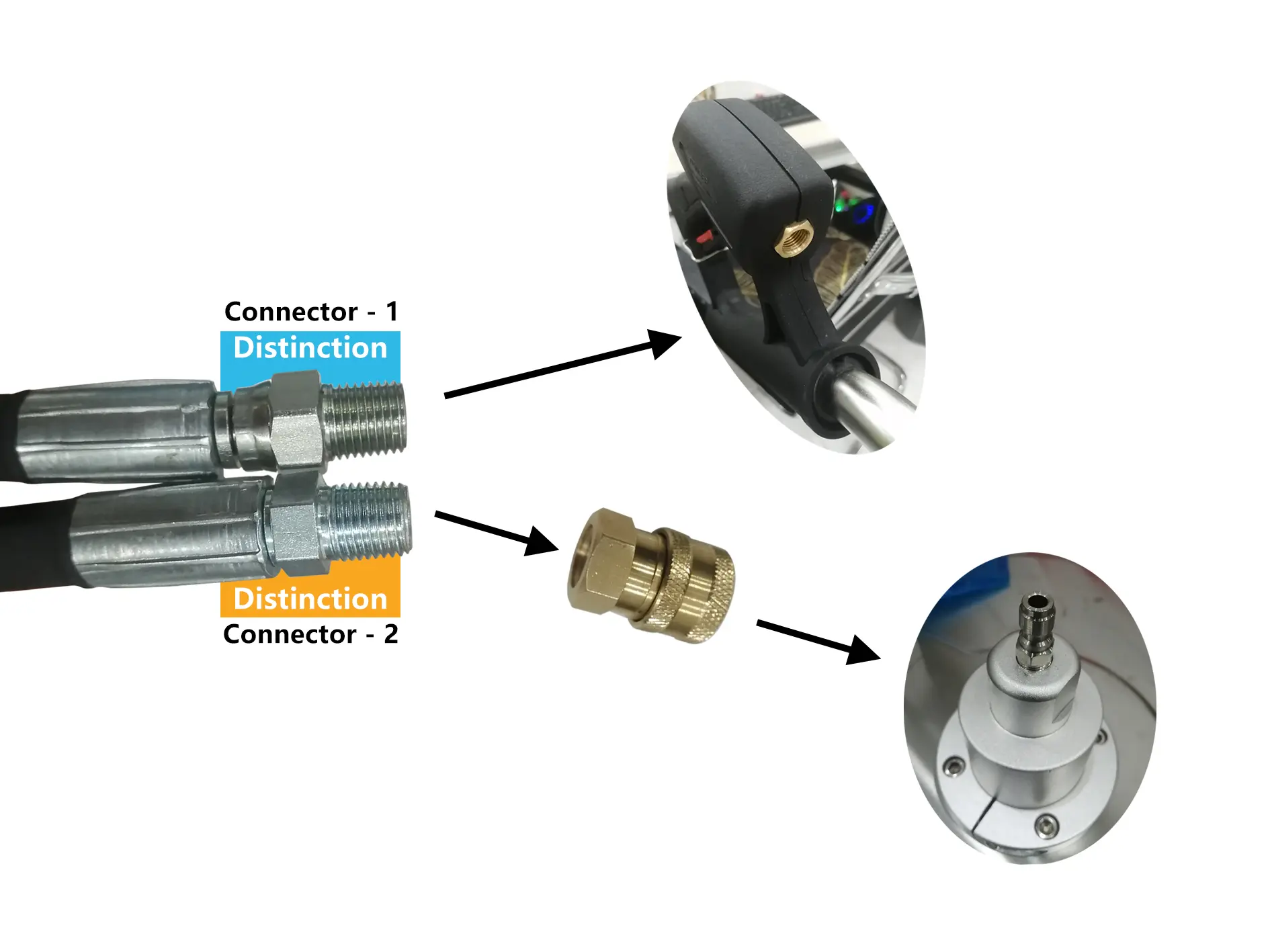 Connector – 1 corresponding to the larger diameter of the interface hole linked to the handle, Connector – 2 corresponding to the smaller diameter of the hole linked to 1/4″ adapter and then connected to the center axis, because the diameter of the two ends of the water pipe connector is the same only the diameter of the hole is different, please note that the two ends are not installed backwards, if you find that the interface leaks, please check whether the water pipe is installed backwards, if installed backwards to cause water leakage after adjusting over will not leak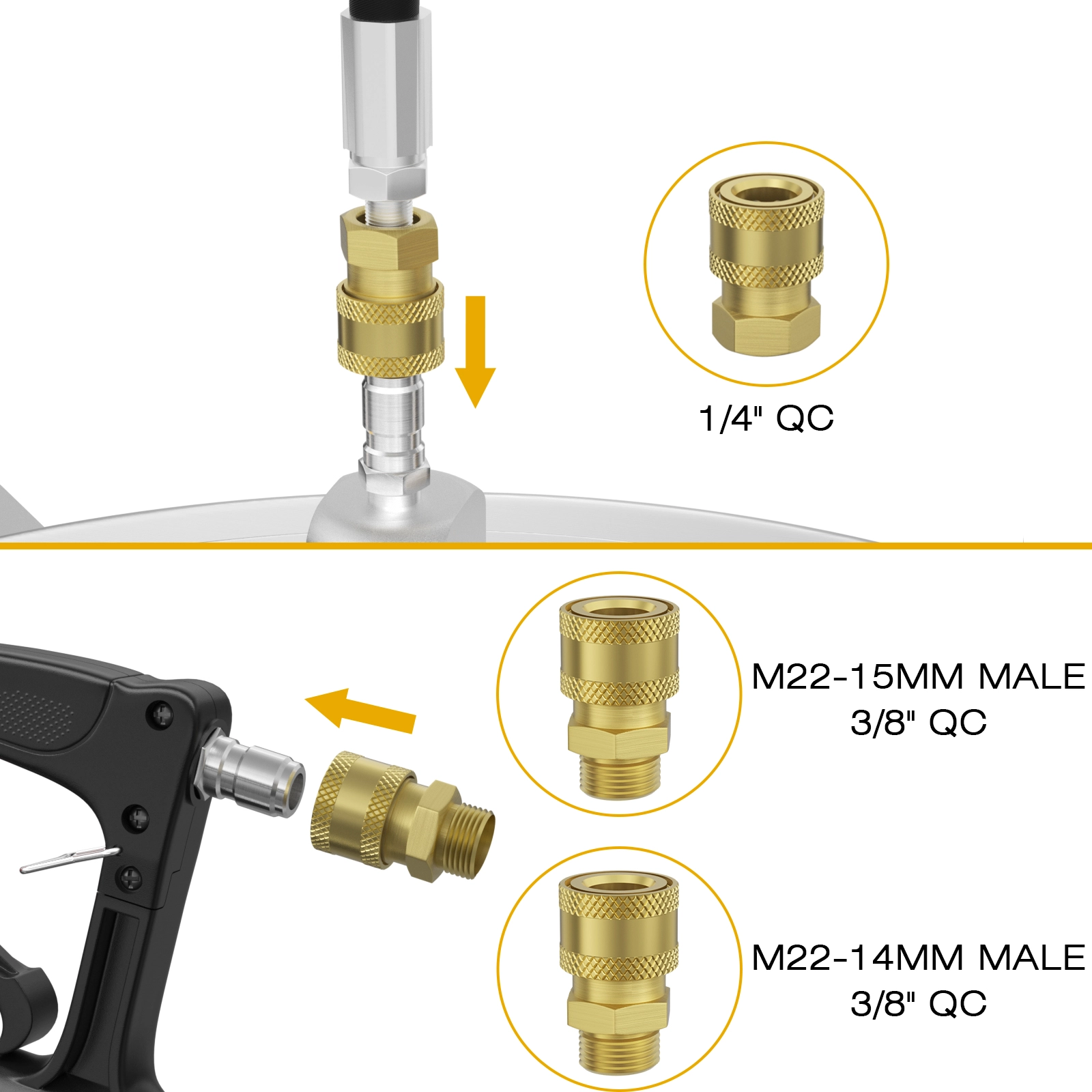 Free Shipping &Fast Delivery
Delivered within 3-7 days (within the United States)On qualifying items, free shipping will be noted on the product page and in your Cart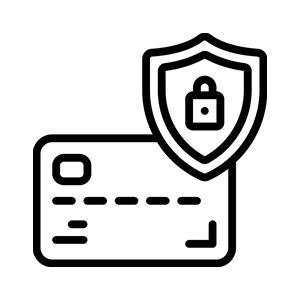 Free 30-day money back guarantee
If you are not satisfied with our products within 30 days after receiving the products, you will support the return of funds to protect your rights and interests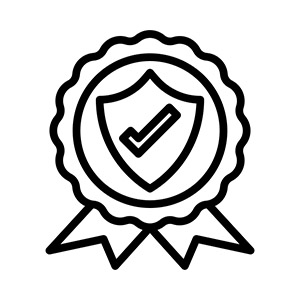 6-Months Limited warranty
Coverage on most original components plus 2 years on the frame, with our team ready to repair unforseen issues.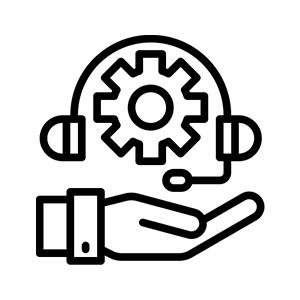 24 / 7 Customer Service
If You Have any Product Questions, Professional Customer Service Team on Duty for 24 Hours for Covering Your Worries