Description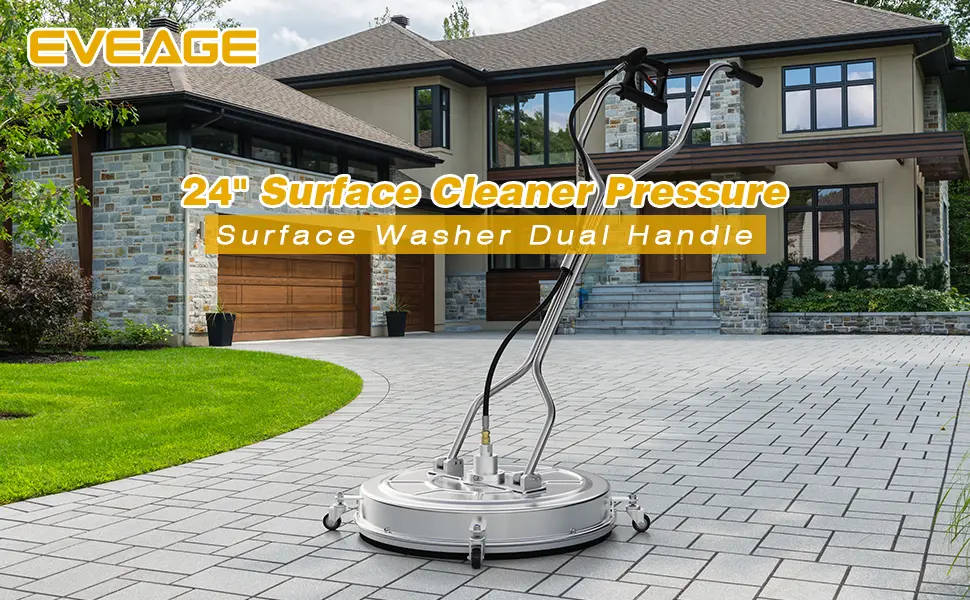 【Ideal for Residential and Commercial Use】Working with a commercial grade surface cleaner, the best commercial surface cleaner fulfills 24-inch cleaning reach and is easy to remove stubborn stains on large surfaces such as driveways, patios, decks and sidewalks.
【Great Efficiency】With 12X more coverage than a standard nozzle, it has two high-pressure jets that spin rapidly breaking up dirt and grime. Slower movement makes cleaning more efficient. It just takes you a fraction of the time.
【Premium Quality】Heavy duty stainless steel housing contributes to longer service life. Splash-free skirt reduces overspray and keeps the user and surrounding areas dry. Adjustable dual handles are easy to operate and 4 castors are suitable for quick movement.
【Sturdy Spray Gun】The spray gun has a 1/4" QC outlet which is easy to connect the hose. 3/8" QC inlet being equipped with 2 hose adapters is compatible with most power washer hoses. The design of trigger lock can be effort-saving with its built-in filter preventing clogging.
【Package Content】24 inch pressure washer surface cleaner, 4 replaceable nozzles,3/8"QC to M22-14 male fitting, 3/8"QC to M22-15 male fitting, teflon tape and nozzle cleaner. If you have any questions about 24 inch surface cleaner or need technical assistance or any driveway pressure washer attachment, please feel free to contact us.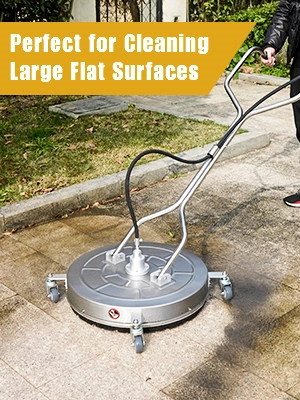 With up to 12 x more coverage than a standard nozzle, EVEAGE 24 surface cleaner has two high-pressure rotating jets which provide quick, streak-free cleaning and allow you to complete your pressure washing projects in a fraction of the time. The best power washer surface cleaner is perfect for cleaning large flat surfaces such as driveways, patios, decks, and sidewalks
Package Content
1 x 24″ surface cleaner
4 x Replaceable Nozzles
1 x 3/8"QC to M22-14 mm male fitting
1 x 3/8"QC to M22-15 mm male fitting
1 x Teflon Tape
1 x Nozzle Cleaner
SPECIFICATION
Max Pressure:4,000 PSI

Min Pressure:2,000 PSI

Max Flow Rate:6.0 G.P.M

Max Temperature:140 ℉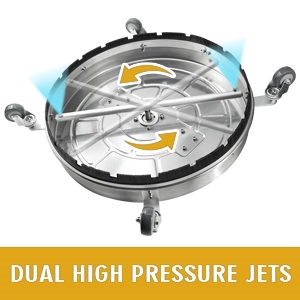 Efficient Cleaning
Spray angle of 25 degrees 

brings a sufficient cleaning effect.

Dual high-pressure jets

in rotation can break up dirt and grime without streaks or stripes.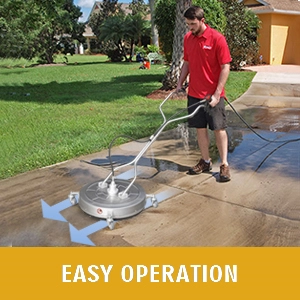 Simple to Use
Just squeeze the trigger while starting the pressure washer, water will begin flowing from the nozzles.

Walk slowly behind the unit, cleaning as you go.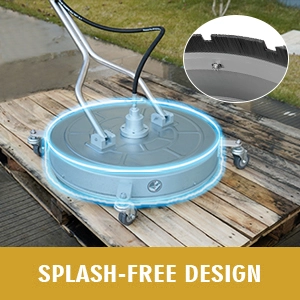 Stay dry as you clean
Dome housing

reduces overspray and helps keep the user and surrounding areas dry when compared to using a wand alone.

The locked flexible bristles

protect the applicable surface and control over-spray.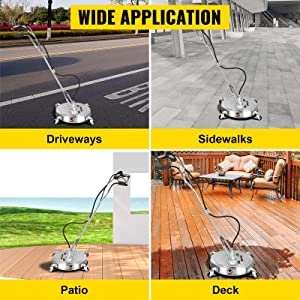 Wide Application
The 4000PSI surface cleaner is widely used on many occasions for ground cleaning. Suitable for patios, decks, driveways, sidewalks, etc.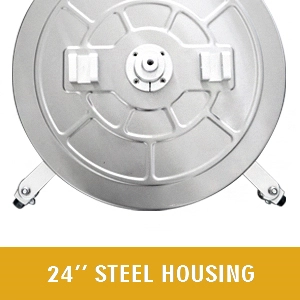 Heavy-duty Construction
Large Coverage 

– Delivers commercial-level cleaning about an area 24" reach.

Stainless Steel Housing

– Provides protection against impact.

4 Universal Castors

– Easy to move on a large surface.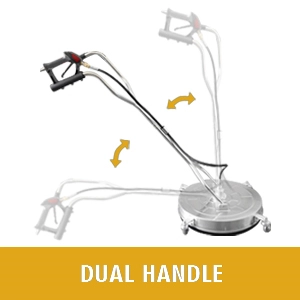 Adjustable Handle
Easy to adjust the angle

 – suitable for users of different heights

Dual handles with comfortable padded grips are easy to hold.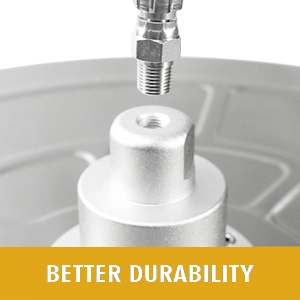 High-Quality Bearing
Fully sealed design

can withstand higher pressure, without leakage.

Attached hose can be closely connected with 1/4" female thread inlet. If it leaks, please add some teflon tape around the leakage.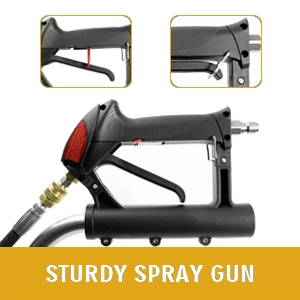 Durable Spray Gun
Customized for the surface cleaner, it can withstand high enough pressure.

The design of trigger locking can be effort-saving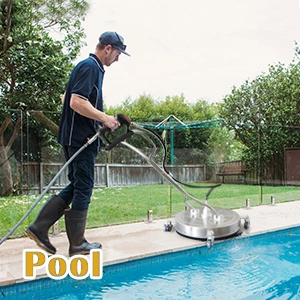 USE & CARE
DO NOT exceed the rated PSI capacity.

Carefully check if the cleaner will operate properly before use.

Store it in a dry, secure place when it is not in use.
OPERATION WARNINGS
If striping occurs, slow down the pace.

Use only on hard-level surfaces.

Do not leave the cleaner unattended when it is pressurized.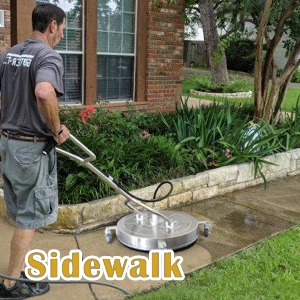 MAINTENANCE
If the nozzles are clogged, please use the attached pins to clean or replace the nozzle.

For more details please refer to the manual.