Description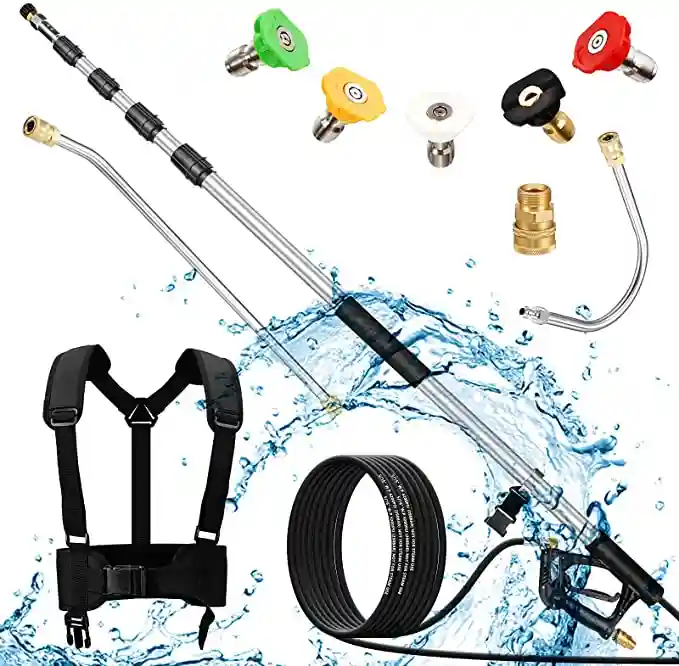 【Commercial Grade Pressure Washer Wand】A 20inch 13° extension wand and gutter cleaner make hard-to-reach places easy to clean. Save you from the hassle of going up and down the ladder. The support harness can save your physical strength when using the telescoping pressure washer extension wand.

【Best Telescoping Pressure Washer Wands with Good Compatibility】Seesii pressure washer extension wand can extend from 6 to 24ft. It is compatible with gas-powered and electric commercial grade pressure washers up to 4000 PSI/8GPM. Required min pressure 3000 PSI.

【Premium Quality】Built with durable stainless steel, aluminum and brass, Seesii all-in-one telescoping pressure washer extension wand is easy to to handle. No water leaking. Come with a 3/8" male plug and a M22-14mm adapter, suitable for most pressure washer hoses.

【Necessary Accessory】Connect the strap to the high pressure washer wand, it could help to reduces strain on your neck, back and arms. 6-24FT telescoping wand can help keep the siding clean, remove hornet's nest and wash window.

【What You Get】A 6-24ft telescoping power washer extension wand with 3/8inch male plug, harness belt, 13°extension wand, gutter extension attachment, M22-14mm adapter and an array of spray nozzle tips(0°,15°,25°, 40°and Soap Nozzle).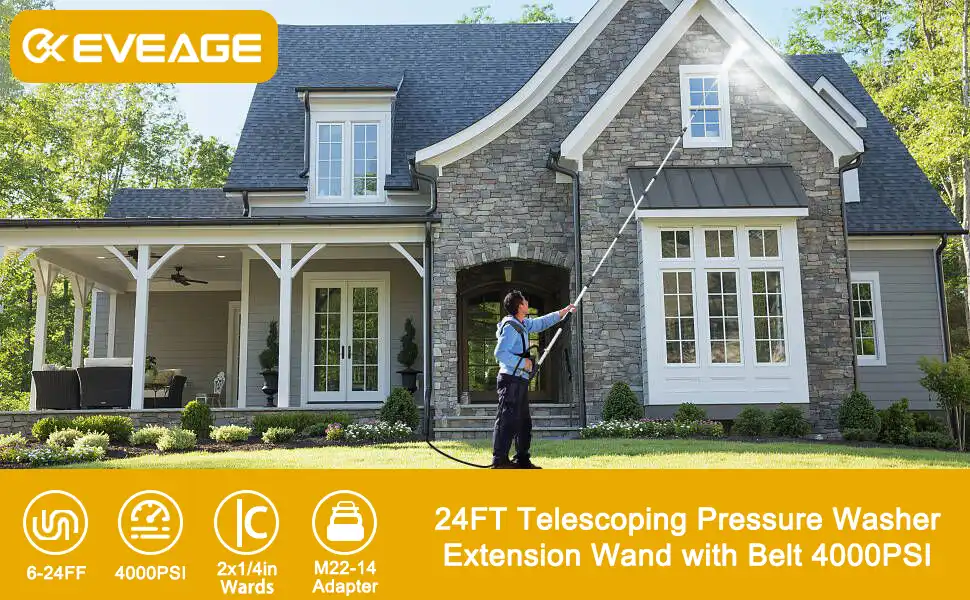 PLEASE NOTE:
The 24FT power washer extended wand can work with all pressure washer whose working pressure is 2800-4000PSI. Please make sure the actual working pressure of your machine before purchasing. If your pressure washer is under 2800PSI, the cleaning effect might not be 100%
EVEAGE Pressure Washer Extension Wands (3/8" Quick Plug) isn't compatible with Suyncll/ Paxcess pressure washer (1/4 inch Threaded)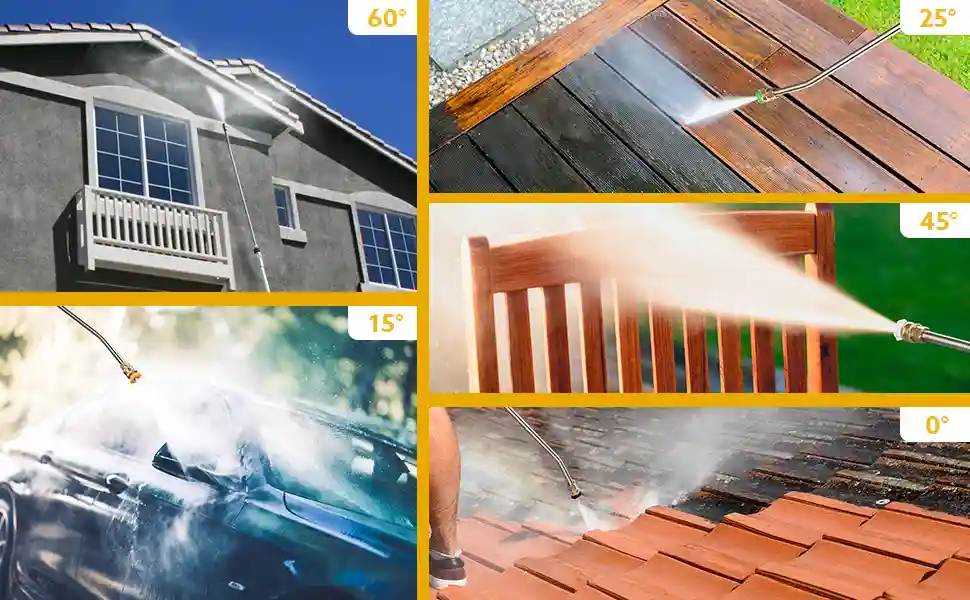 6-24FT Pressure Washer Telescoping extension Wands
Loosen and fasten the wand to extend from 6ft to 24ft.
With the 13° wand and the gutter cleaner, you don't need to get within close shooting range of hornet's nests anymore.
Save you from the hassle of going up and down the ladder numerous times
High Quality Telescoping Wand Hose
High Pressure : Designed for pressure washers up to 4000 PSI

Thickened Layer :

 

Higher pressure endurance
Suitable for Most Commercial Grade Pressure Washer
The pressure washer extension wand can be used directly if the pressure washer hose is 3/8 inch female socket or M22-14mm

If pressure washer hose is M22-15mm, you can purchase a suitable connecter

If the water hose offered is not compatible, you can purchase a new water hose with a 3/8 inch female socket or a M22-14mm end
Easy-to-operate Ergonomic Grip
Thickened Handle : Good hand feeling for holding

Ceramic Core : Strong shock resistance ability
Spray Extended Wand Belt
The pressure washer extension wand comes with adjustable two-shoulder harness belt:
Adjustable shoulder height 

: 29.9"-39.3"

Adjustable waist length 

: 28.3"-44"
What's in the Package
1 x 24FT Telescoping Pressure Washer Wand with 24FT High Quality Hose
1 x 13° Pressure Washer Extension Wand
1 x Gutter  Power Washer Cleaner Attachment
1 x 3/8inch Quick Connect Adaptor
1 x Adjustable Belt
5 x Nozzle Tips (0°,15°,25°,40° and Soap)
| | |
| --- | --- |
| Length | 6-24 FT |
| Required Min Pressure | 2800 PSI |
| Max Working Pressure | 4000 PSI |
| Max Flow Rate | 8 G.P.M |
| Inlet Fitting | 3/8" Quick Plug |
| | |
| --- | --- |
| Head Fitting / Outlet Fitting | M22 – 14 Female |
| Material | Aluminum alloy + Engineering plastics |
| Suitable Situation | Wall, Gutter, Roof and Floor Cleaning; Car and Window Washing |
| Spray Nozzle Tips | 0°,15°,25°, 40° and 60° (Soap Nozzle) |