Description
Multi-Purpose and best commercial surface cleaner – Upgraded 24 inch high pressure water broom with 1/4 quick connect pivoting coupler. With help of angle adapter, you can easily turn this undercarriage pressure washer to an water broom sweeper for driveways, decks, tennis or basketball cout, etc. It makes the job go MUCH faster than the 15″ or 16″ surface cleaner for pressure washer, it is a HUGE time saver.
Pressure Washer Water Broom Includes – 1 x power washer broom (length:24", height:4.9"), 2 x 16 inch straight pressure washer extension wands, 1 x 45° curved extension wand. All parts have 1/4 quick connectors. Warm Tips: 1500-4000 PSI or higher pressure is recommended to feature optimum performance.
Easily Switch Between 2 Modes – This power broom pressure washer has 1/4" quick pivot coupler. Simply pull out the knob and pivot to desired angles, then lose hold of the knob to automatically lock the directions.
Undercarriage Washer – This exrta long under car washer has a 24 inch wide cleaning path and 7 high pressure spray nozzles. Its rubber wheels roll really nice under the cars and it shoots off a high pressure stream of water. Max working pressure 4000 PSI which is powerful enough to wash the dirt and salt from underbody.
7×24 Warranty & Support – Easily turn it into a water broom sweeper! Sprays from each nozzle overlaps the next with no gaps, efficiently remove loose debris (sand,leaves,light soil) from sidewalks, driveways, poolside,decks and so on, makes cleaning much easier and faster.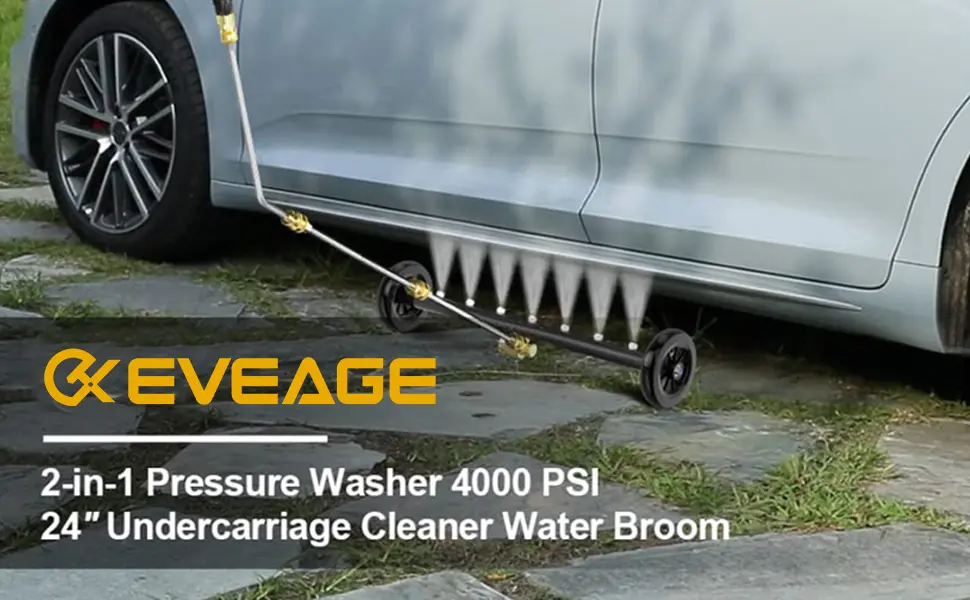 Makes Cleaning Super Easy
24″ super wide cleaning coverage.
2 in 1 undercarriage pressure washer cleaner, easily switches between different cleaning modes.
All parts have 1/4″ quick connectors, hooking up is relatively quick & easy.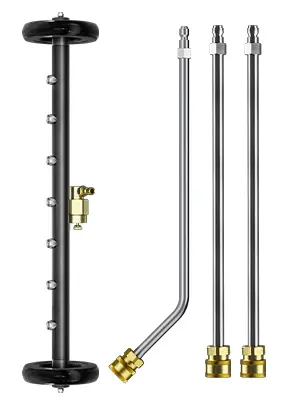 Undercarriage Pressure Washer Attachment
24″ Super Wide Undercarriage Pressure Washer with Total 7 Spray Nozzles
Super Wide Cleaning Coverage : 24″

7 x High Pressure Sprayer

1/4″ Quick Connect Pivot Coupler

Max Pressure : 4000 psi

Brass Coupler + Stainless Steel Nozzles + Durable Rubber Wheels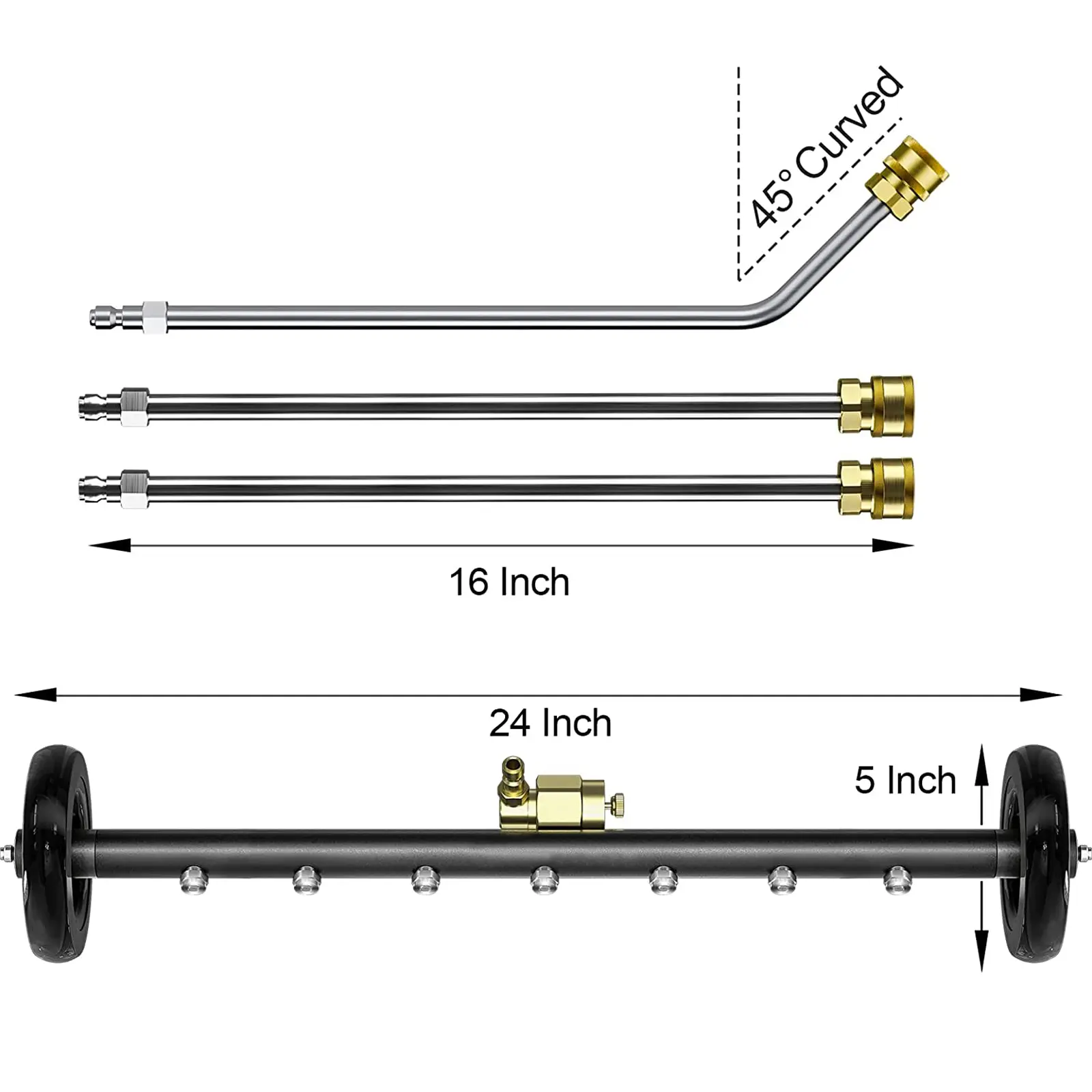 Power Washer Extension Wands
2 x 16 inch straight extension wands

1 x 45° curved extension rod
Power Washer Water Broom
Change the nozzles direction to point downward, ideal for removing debris from sidewalks, driveways, decks, etc. Much faster than traditional cleaning way.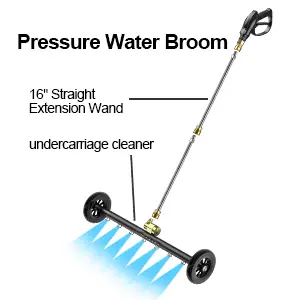 Power Washer Undercarriage Cleaner
Easily clean road grime, fuel contaminants, salt and other dirt from underneath.
Rubber wheels affixed to the ends, easy to control and rolls nice under the cars.