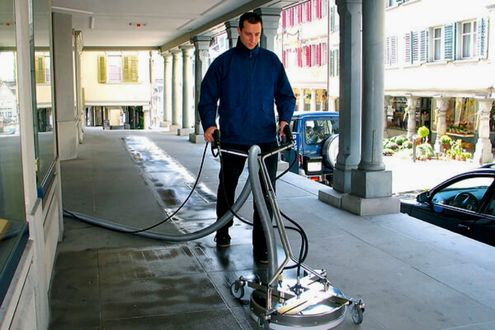 Pressure washers are considered the best tool to make cleaning easier. The good thing about surface cleaners is that your work will be done in less time. However, people sometimes feel problems running the water recovery surface cleaners.
In the previous post, we discussed pressure washer surface cleaners, but in this post, we will discuss water recovery surface cleaners. Also, many people find it difficult to clean flat surfaces evenly and efficiently with the standard nozzles that normally come with pressure washers.
With the help of standard surface cleaners, you can easily clean larger areas. Now, if we talk about the nozzles of the surface cleaners, normally, they are small nozzles present on the spinning arm.
The presence of small nozzles on the spinning arm allow you to distribute the high-pressure water on a large surface evenly. The main function of water recovery surface cleaners is to clean the dirty water on the surfaces.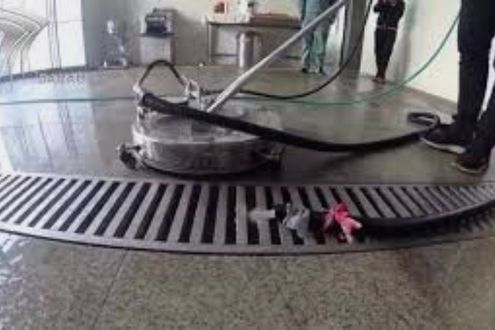 Water Recovery Surface cleaner
An attachment is also available with the surface cleaners that cover a large area instead of focused water flow with the single nozzle.
You can use water recovery surface cleaners for manual cleaning parking lots and cleaning paths. They are also used for cleaning uneven surfaces. Now it's your choice whether to use normal-temperature water or hot water to clean the surfaces. These types of cleaners are perfect for professional use.
They are very good electrical devices that save you time and clean larger areas with high pressure. On the other hand, due to the high pressure of these surface cleaners, they also come up with higher flow rates. With greater energy and power, water-recovery surface cleaners are the perfect machines. 
A variety of pressure washer attachments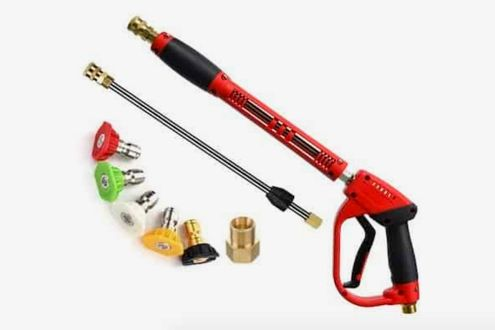 It can be difficult to decide which pressure washer attachment is best because of several options. The goal of this post is to provide an overview of the latest innovation, which is the first water-recovery surface cleaner. The good thing about these cleaners is that they save time and are very efficient. They are equipped with all the modern technologies, which is why they are also perfect for indoors. You can also clean the sidewalks with the help of these cleaners.
What is Wash Water Recovery?
In simple terms, wash water recovery involves collecting and reusing all of the water used to clean surfaces and buildings. Water is poured down; dirty water is vacuumed, reused, or discharged into grassy areas or flower beds.
To protect the environment, this is usually used when stormwater drains cannot handle the water. Wash water recovery works much like a shop vacuum, except it's for water. In the same way that shop vacuums collect and filter water, it can then be re-used or properly disposed of.
When cleaning a surface (like a dirty dumpster pad or gas station surface), all the contaminants that have settled (gas, oil, debris) are mixed with water. The problem can arise if this water enters storm drains and flows into creeks, rivers, and larger bodies of water.
It is necessary to clean the wash water recovery system whenever this occurs.
High-Pressure water recovery surface cleaner: Features
High Pressure
Water recovery surface cleaners come up with high-pressure cleaning and water.
They give you water recovery in one step and automatically suck the dirty water and debris. The debris must be smaller than 4 millimeters, sucks the dirty water through the Venturi system, and delivered into a drain or recycle tank.
Integrated Venturi sucking system
Due to the presence of this sucking system, there is no need to use a vacuum cleaner. It can suck the dirty water away from the concrete, marble, tile, or asphalt surface.
Moreover, it also can get all the dirty water from other flat surfaces. As a result, you will get a very clean and clear surface. So these are very efficient machines that can be used for indoor and outdoor usage.
The Venturi system uses the hydro jet to make a vacuum that will reduce the cleaning force for cleaning the path. So it is always recommended to use the greater power  pressure washer
Stainless Steel Construction
Normally, these machines are made with high-quality stainless Steel material, ensuring longevity.
Professional cleaning applications
Not only for cleaning the outdoors, but it is also the perfect choice for professional cleaning applications.
Ideal for areas with poor water drainage
These water recovery surface cleaners are very good for areas with poor water drainage.
5mm of discharge hose
Normally, this water recovery surface cleaner comes up with 5 mm of discharge hose that is perfect for cleaning the largest areas in one go. 
How do surface cleaners work?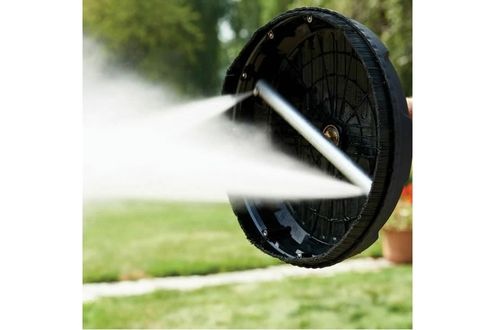 Water is the primary ingredient in surface cleaners. Still, a surface cleaner will do a much better to clean than water alone due to the addition of surfactants, acids, alkalines, and alcohol.
All household cleaning products contain surfactants, such as washing up liquid, laundry detergent, and shampoo. The molecules are unique in that they dissolve both in water and grease simultaneously. A surfactant can lift stains away from surfaces by dissolving one part in water and the other in greasy soiling.
Using acids to remove mineral-based soils, such as limescale, tarnishing, or even rust, is great. Acids such as citric, lactic, and acetic acids can all be used for this purpose. The best way to remove fatty, oily soils and waxes from grease is to use an alkaline cleaner.
Denatured or isopropyl alcohol is great for degreasing. Where water removes water-soluble stains, alcohol removes oil-soluble stains that water cannot remove. A surface cleaner can also have other ingredients to enhance their performance, kill bacteria, or make them smell nice. Leaving your benches sparkling is the water, surfactants, acid, alkaline, and alcohol.
Products
1.EVEAGE 20 inch Sewage Recovery Surface Cleaner Pressure Washer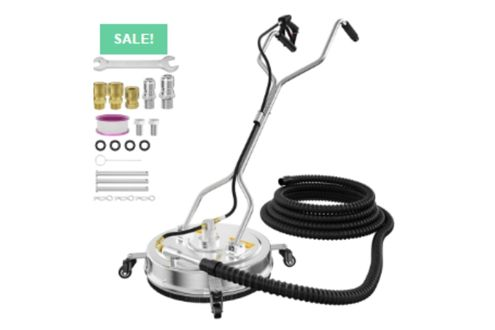 It is a 20-inch sewage recovery surface cleaner pressure washer. It is used for larger cleaning areas and is more efficient in cleaning up difficult stains. Like any pressure washer surface cleaner, it has a maximum pressure of 4000 PSI.
Along with this higher pressure, it also gives you a maximum flow of 8.5 GPM. This pressure washer surface cleaner is very easy and quick to install. Its considerate connector design is the main feature that stands out in the market.
You can easily connect it to the hose with different sizes of connectors. It also has a security triggers to avoid any unnecessary accidents or hurt. Moreover, the lockable trigger also helps in saving your effort.
With the help of an adjustable handle and castors, the operation of this machine is comfortable. So we can say that it comes with an ergonomic design for easy operation and labor saving. Four universal casters are very helpful in moving it fastly and quickly while cleaning.
The good thing about this sewage recovery surface cleaner is that the seavage can be recycled.
2. EVEAGE 24 inch Water Recovery Surface Cleaner Pressure Washer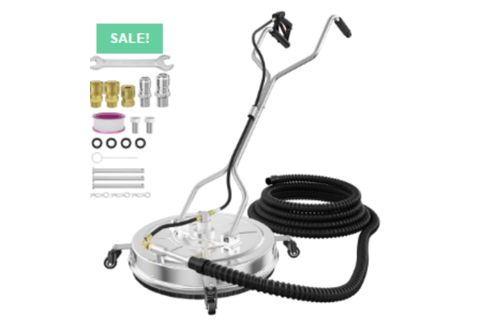 It is a 24-inch water recovery surface cleaner pressure washer. The good thing about this machine is that it comes up with a dual handle so that you can easily handle it while cleaning larger areas and surfaces.
It is a very high-quality pressure washer made up of stainless steel material. Due to its stainless steel made, it has a longer serviceable life and is very easy to maintain. Although it has a long dual handle, it also has an adjustable handle so that you can adjust it according to your height.
Along with the adjustable handle, it also has castors. So we can say that this machine has an ergonomic design resulting in comfortable operation and labor savings. 
Moreover, you can easily connect it to the hose with different sizes of connectors. It also comes with security trigger avoidance to avoid any accident or unnecessary hurt.  It also has a lockable trigger, therefore, saving you effort. 
3.EVEAGE 24 Inch Pressure Washer Surface Cleaner Dual Handle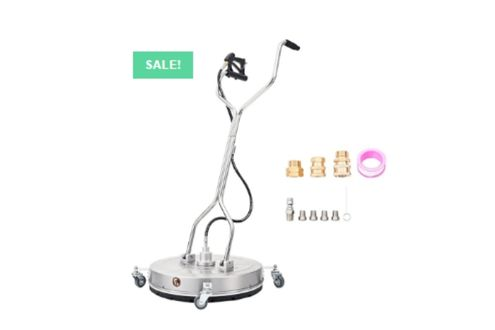 Suppose you are looking for a very powerful pressure washer surface cleaner, then why not try this one? It is a high-quality dual-handle commercial powerhouse that can be used for any commercial purpose and it efficiently cleans all the dirt.
It comes up with a maximum rate of 4000 PSI if we talk about its pressure. As it is a powerful surface cleaner, it reduces cleaning time by 80% more than a nozzle. Moreover, it is very easy to operate, where you can squeeze the trigger and walk slowly behind the unit.
It will impress you with its smooth movement while cleaning the surfaces. This is due to the presence of 4-piece universal castors for quick moving. Due to these castors, it cleans the floors efficiently and quickly than other cleaners.
Due to its a little bit bigger size, it gives you more extensive coverage and is the most efficient machine for cleaning bigger areas and dust removal. Like many water recovery surface cleaners, it also gives you adjustable handles suitable for buyers of different heights.
Frequently Asked Questions
For surface cleaners, how many gallons per minute?
Surface cleaners require a minimum of 3 GPM; however, the more GPM you have, the larger the surface cleaner you can use. Water supply is another factor to consider.
What PSI do I need for a 20-inch surface cleaner?
The surface scrubber works with most gas-powered pressure washers with a minimum recommended pressure of 3450 PSI and 2.3 GPM and a maximum recommended pressure of 4500 PSI and 4.0 GPM.
How are pressure washers chemically treated?
 A commercial pressure washer's most commonly used chemical is sodium hypochlorite or bleach.