Description
The EVEAGE® Roof Cleaner is an industrial-grade tool specifically designed for professional roof cleaners offering exceptional cleaning effectiveness and superior safety. Constructed with stainless steel materials, it delivers excellent performance even under harsh conditions. 
This cleaner is equipped with adjustable deck height and wheel width to accommodate various roof styles providing optimal cleaning effects. Its precision welding, balanced dual rotor arms and nozzles can withstand pressures of up to 4000 PSI, while the dual-spring-based carbide seal system ensures long-lasting operations offering reliable performance even in challenging conditions. 
The high-speed rotating joint features a 4x reinforced self-lubricating stainless steel ball bearing enhancing both performance and durability. Moreover, the ball valve design enables convenient and easy water flow control. The stainless steel casters ensure durability and effortless maneuverability of the cleaner. Whether you're cleaning flat or sloped roofs, the EVEAGE® Roof Cleaner delivers exceptional results and stability enhancing the efficiency and safety of your professional roof cleaning work.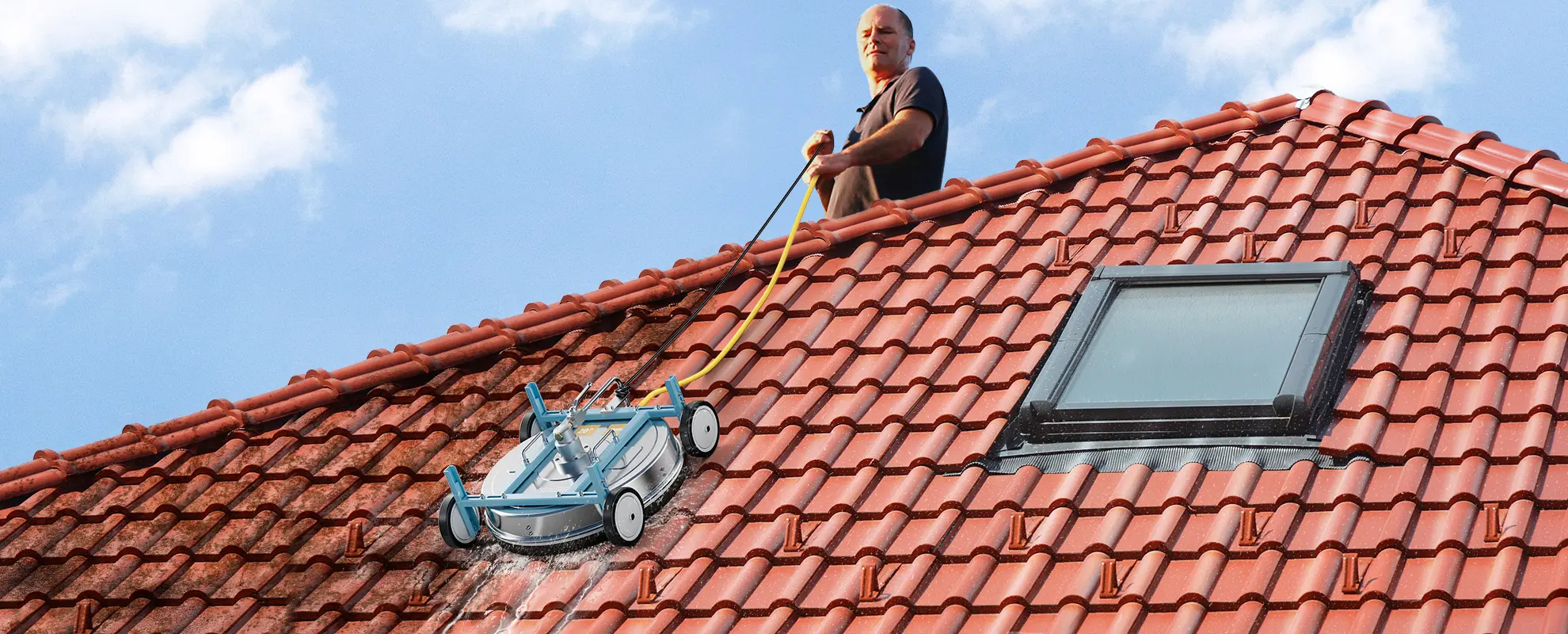 Width and height can be freely adjusted
The height and width of the panel can be adjusted to accommodate various roof styles by adjusting the position of the tire screws providing optimal cleaning efficiency
Controllable valve over water supply
The water supply can be controlled and adjusted using a switch allowing for precise regulation of the water flow. It can be conveniently turned on or off at any time while operating on the roof,  thus saving more time
Heavy-duty Bearing
Built with the highest grade materials, the fully sealed bearing can make the unit work with higher pressure and contribute to a longer product life.
Handlebars located on both the left and right sides
There are handles located on both the left and right sides facilitating the transportation of the machine and saving more efforts.
3/8-inch high-pressure washer hose quick connector
The quick connector interface is 3/8 inches, which allows for direct connection of the high-pressure washing machine hose. It enables convenient cleaning on the roof by easily pulling and maneuvering the hose. Alternatively, the hose can be secured with a safety rope.
2 High-efficient Nozzles
The pressure washer surface cleaner has a fast rotating nozzle with a 25 degree spray angle for better cleaning without damaging the cleaning surface. Maximum Water flow is 6.6 GPM