Description
EVEAGE 20″ Surface Cleaner Dual Handle combined with 46″ Water Broom is a powerful cleaning tool designed for efficient and thorough surface cleaning. With its dual handle design, it offers enhanced control and maneuverability. The 20″ surface cleaner attachment effectively cleans large areas, such as driveways, patios, and sidewalks, providing a streak-free and uniform finish. The 46″ water broom attachment further expands its versatility, allowing for quick and easy cleaning of various outdoor surfaces. Together, these attachments make the EVEAGE surface cleaner a reliable and convenient solution for achieving pristine and professional-looking results.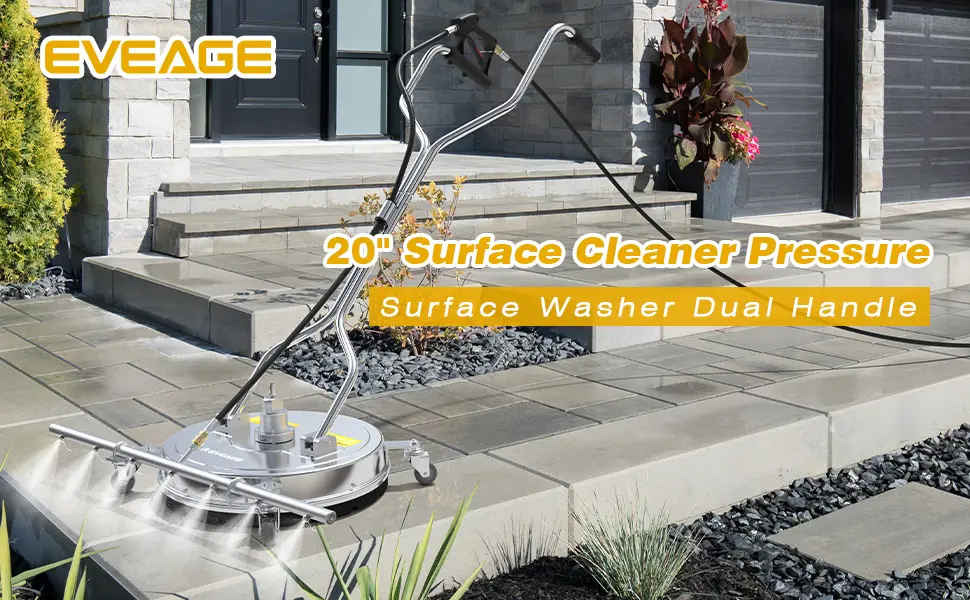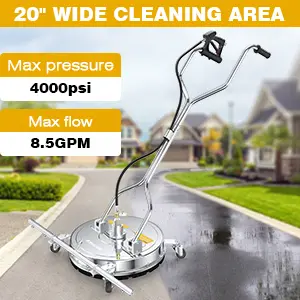 20″+ 46″ Wide Cleaning Area
The EVEAGE Surface Cleaner is an excellent choice for tackling tough stains, debris, and moss on ground decks, driveways, roofs, and patios. Its high-powered pressure washer and a maximum working pressure of 4000 PSI ensure fast and efficient cleaning.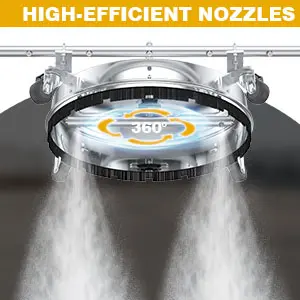 2 + 7 High-efficient Nozzles
The pressure washer surface cleaner has a fast rotating nozzle with a 25 degree spray angle for better cleaning without damaging the cleaning surface. maximum. Water flow is 6.6 GPM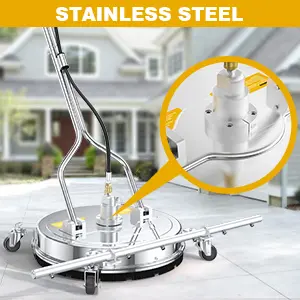 Stainless Steel
The surface washer is made of robust stainless steel material that can be used for a long time without corrosion, deformation, or damage.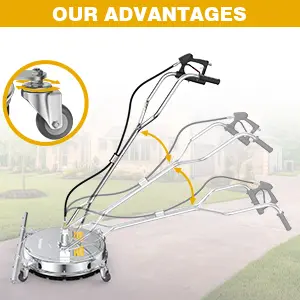 Our Advantages
The 180-degree adjustable handle, 4 universal castors, and stiff bristles all help you effortlessly operate the pressure washer floor scrubber.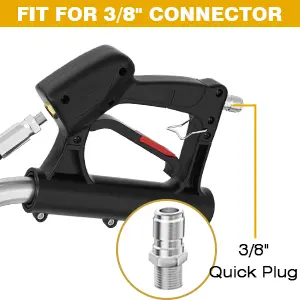 Fit for 3/8″ Connector
For your quick installation, you should use a 3/8" quick connector to connect the water hose—different modes on the trigger gun are provided for convenient use.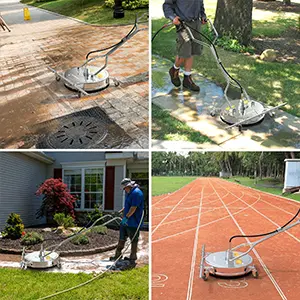 Wide Application
The pressure washer floor cleaner can be used anywhere. Ideal for cleaning garage floors, driveways, sidewalk, roof,cement patio, etc.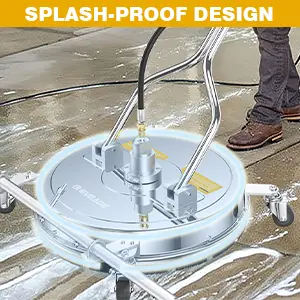 Splash-Proof Design+
7-hole front nozzle
The high-pressure water jets are enclosed within a dome housing with a bottom skirt to contain spray and debris without creating a wet and messy environment. The 7-hole nozzle can remove sharp objects and debris prior to using the surface cleaner and effectively rinse away wastewater afterward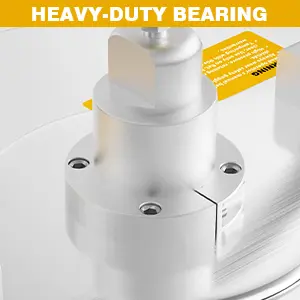 Heavy-duty Bearing
Built with the highest grade materials,the fully sealed bearing can make the unit work with higher pressure and contribute to a long product life.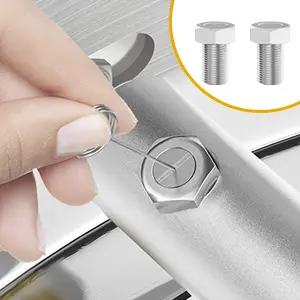 What should you do if it is blocked?
2 additional nozzles are attached for replacing the original nozzles when seriously blocked.
when the nozzles are blocked, you can use needles to remove sand or other debris in nozzles and rinse with fresh water.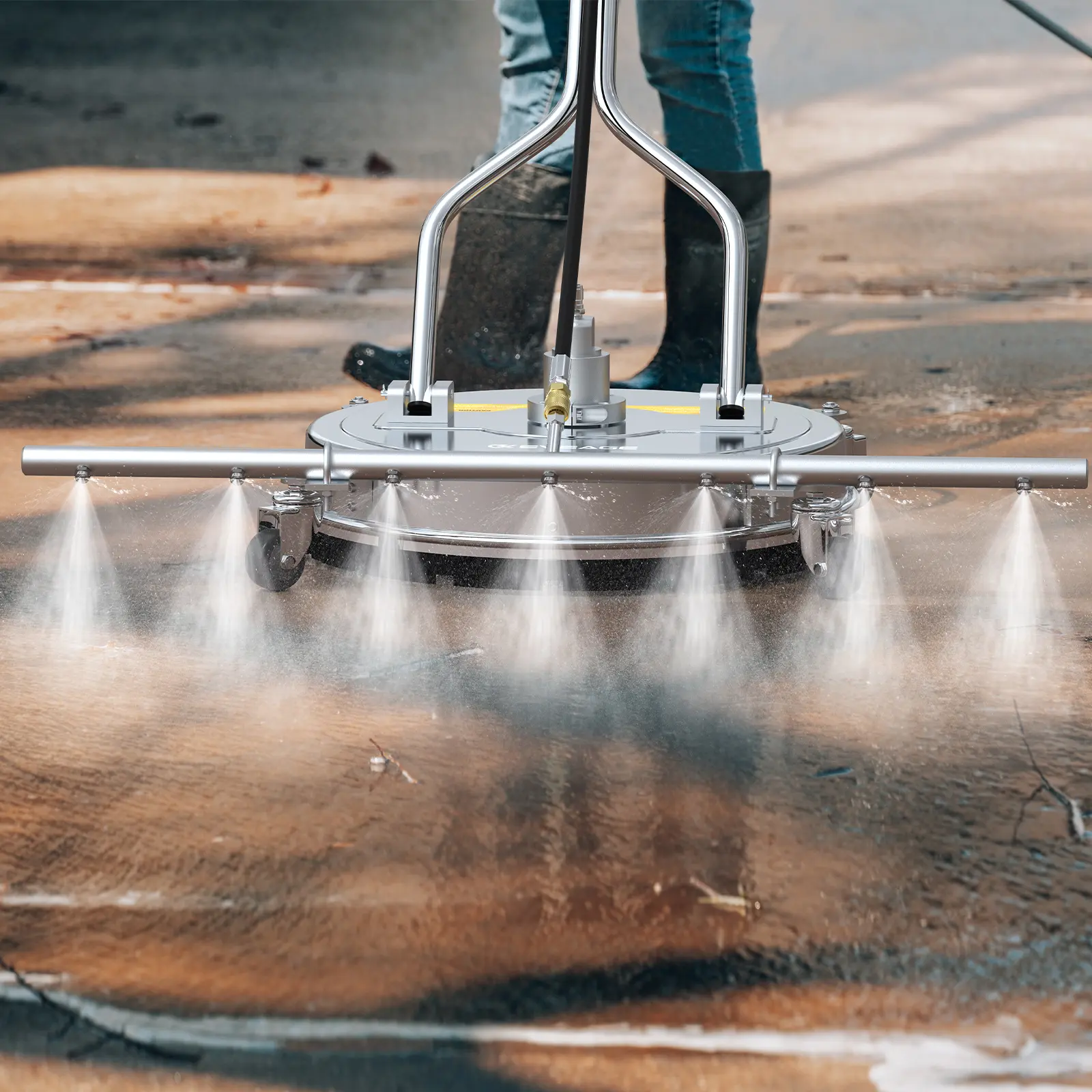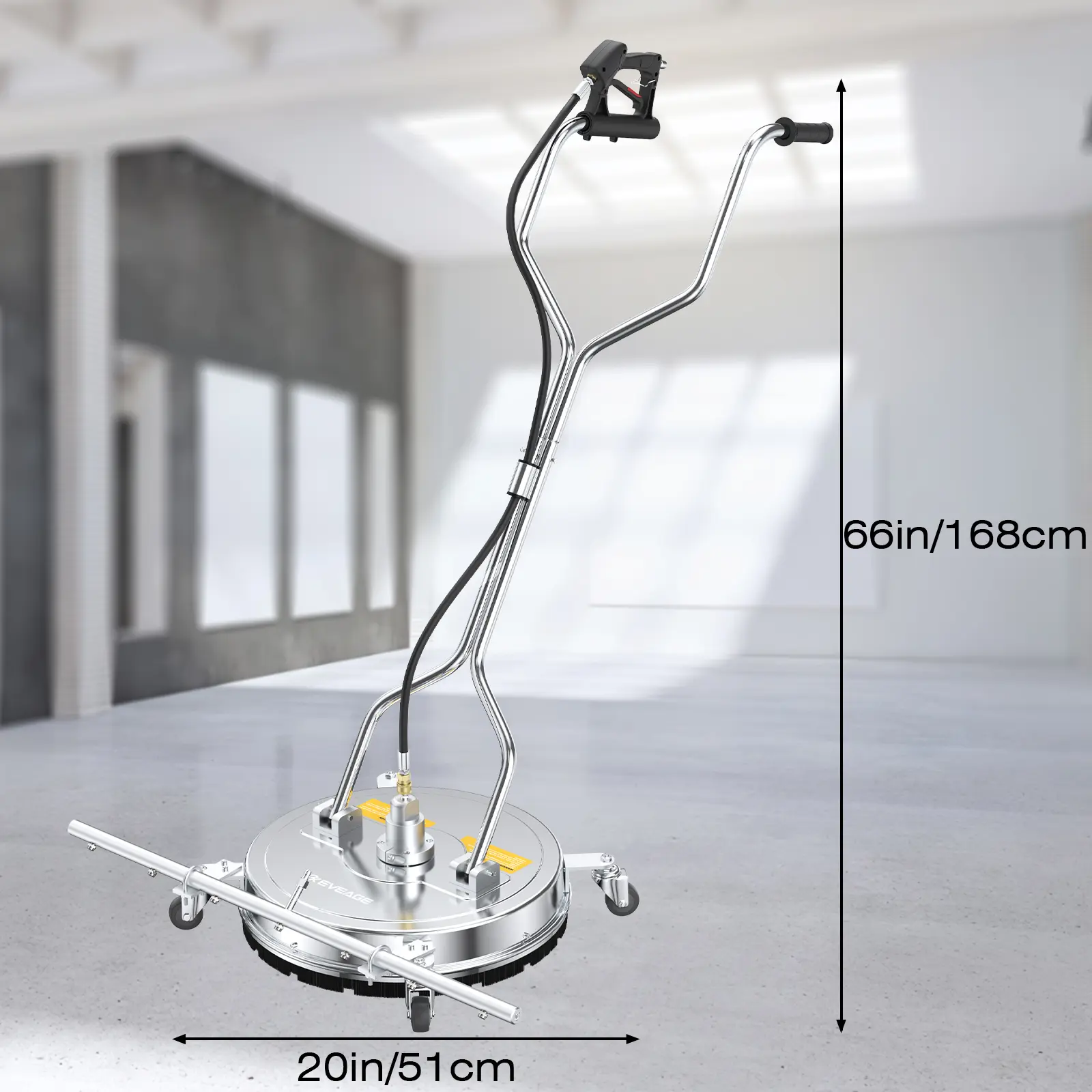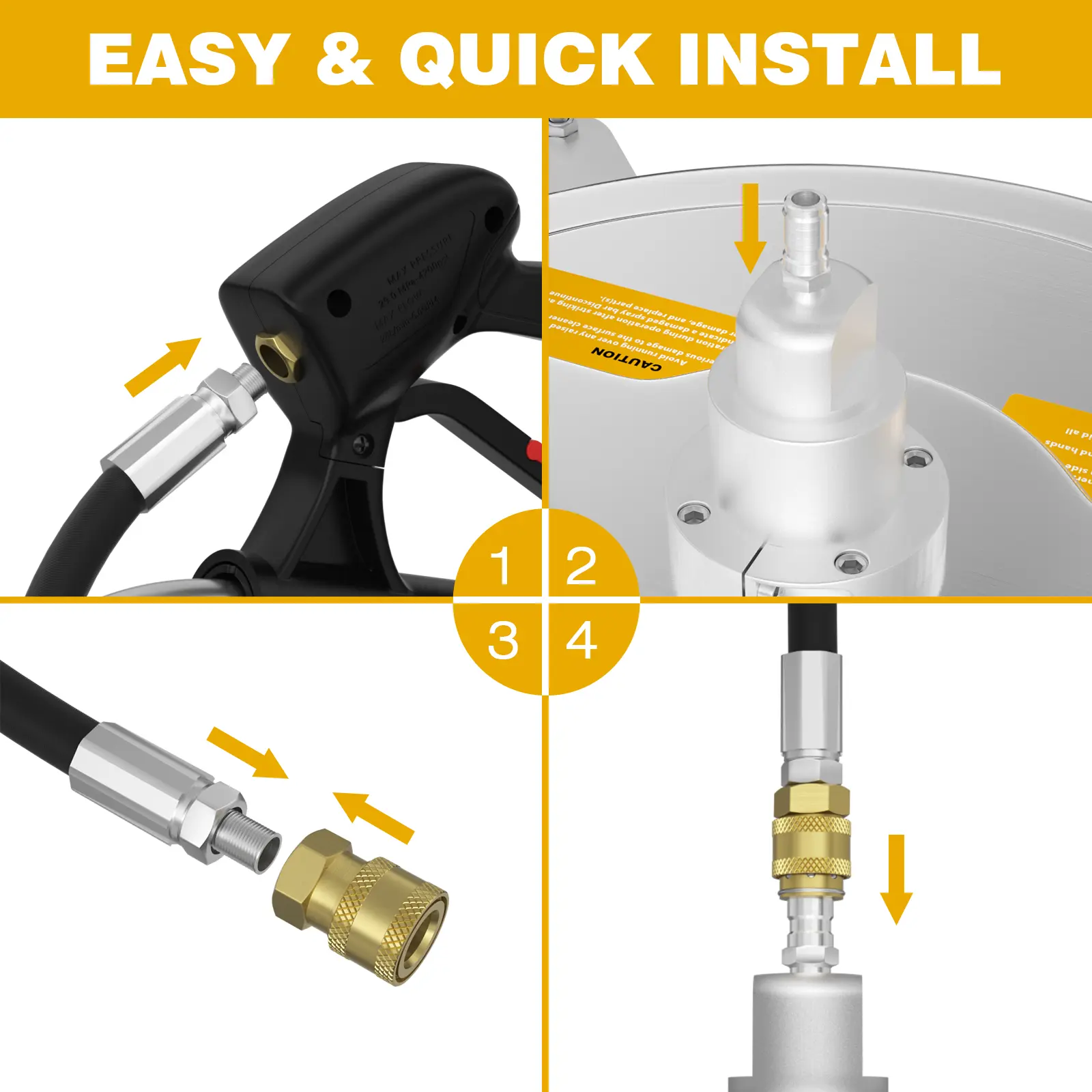 The 46″ Water Broom and 20-inch surface cleaner cannot be used simultaneously. To use the respective functions, you need to connect the water hose to the corresponding interface.
 

Material: Stainless Steel

 

Cleaning Surface Area: 20 in/ 51 cm+46in/117cm

 

Max. Working Pressure: 4000 PSI

 

Min. Working Pressure: 2000 PSI

 

Inlet: 3/8 in QC Female Plug

 

Outlet: 25-degree Nozzles

 

Max. Water Temperature: 158°F/ 70°

 

  Outlet:25-degree Nozzles
easy installation
It's easy to install by just following the steps above, and it's simple to use. Just pull the trigger while the pressure washer is on and water will start flowing from the nozzle.
Walk slowly behind the equipment and clean as you go