Description
【New Family Set 6 Heads Sewer Jetter Kit】We've included a variety of accessories you might use to make it easy for you to use our sewer jetting kit ! 1 × 200ft sewer jet hose,1 × button nose sewer jet nozzle, orifice 4.0,1 × M22 female to 1/4'' female NPT coupler,1 × 1/4'' quick connect plug,1 × rotating sewer jetter nozzle,1 × Side hole sewer jetter nozzle,1 × corner sewer nozzle.1x waterproof tape, 2xspanners, 1x box of pearl corsage pin.

【Stronger And More Durable 5800PSI】Our hoses are universal with many gas-powered and electric pressure washers up to 5800 PSI.The reinforcement layer is a chemically bonded 1/4″ high strength polyester textile weave. The cover layer is made of thermoplastic polyurethane and is resistant to weather, oil, abrasion and ozone.

【4 Efficient Sewer Jetter Nozzles】 Orifice 4.0 Side port to blast at corners where hose cannot navigate. Ideal for cleaning around the corner.4.0 orifice Button Nose Sewer Jetter Nozzle clears blockage and flush out debris by front 0° spray jet and 3 rear 33° spray jets.

4.5 orifice Rotating Sewer Jet Nozzle offers an even cleaning and flushes out debris by 3 backward rotating spray jets which blast into clogged pipe and moves it through pipe. Corner sewer jetter nozzle: 1 water spray sideways that clears blockages at the corner. 3 rear jets at 33° flush out debris loosened by the front jet.

【Quick Connect Plugs And Metric M22 To 1/4 Inch Female Npt Fittings】Quick Connect Plug used in a lot of situations where high pressure connections are frequently assembled or disassembled.Ideal for quick exchange of pressure washer outlet, sewer jetter hose, guns and nozzles.It makes a solid connection with quick coupler each time.Pressure washer coupler convert metric M22 14mm female NPT thread to 1/4″ Female NPT.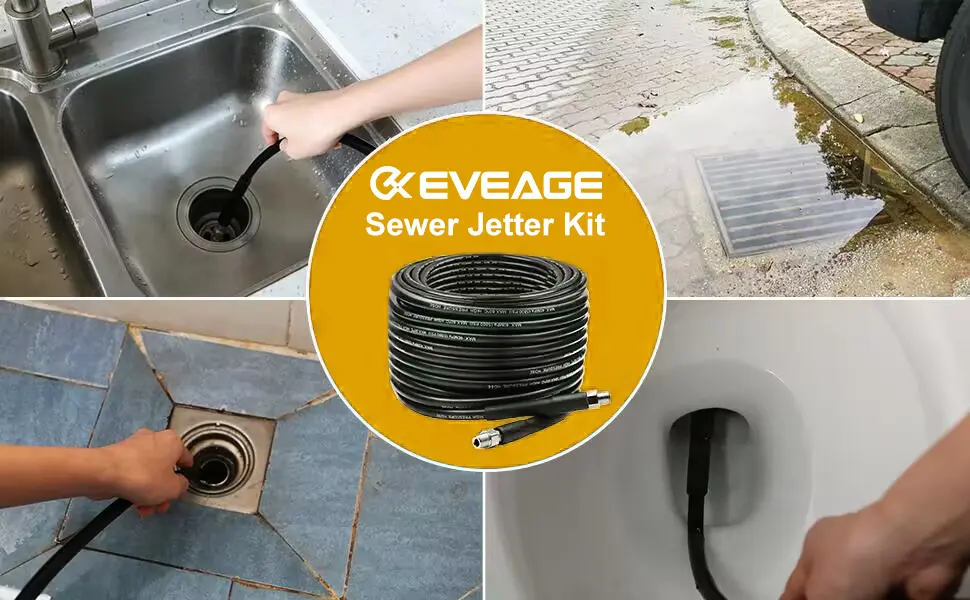 Eveage sewer jetting hose of pressure washer can be used to remove indoor or outdoor drainage of many types, combined with any type of pressure washer, can easily flush obstacles and maintain flow.
We add a variety of common and needed accessories to facilitate your daily use, so the set is ideal for family purchases.
The sewer jetter hose widely used to clean cars, motorcycles, floors, windows, driveways, roofs, siding, sink, toilet, outdoor, indoor and etc.
IMPORTANT:
1. Keep away from children
2.Water pressure is too high, do not shoot at the human body
3.The water temperature should not be too high.Rated water temperature
4.Always disconnect the accessory when finished using it. Do not leave the fitting unattended or under pressure when not in use.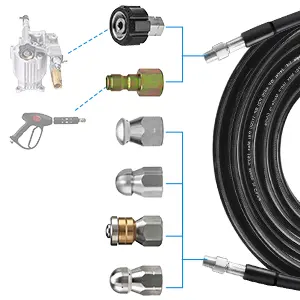 Features
• 200 FEET reinforcement Sewer jetting hose
• The sewer kit clears blockages without the need for special liquids.
• The hose is designed to have a small outside diameter that allows the hose and nozzle to fit through sewer lines and pipes.
• Sewer hose is lighter, more flexible and has an outer cover which allows it to slide thru pipes more easily
• Kit includes one hose, 6 of the most common nozzles,2 spanner, a box of pearl corsage pin, a waterproof tape.
• Inner tube is made of thermoplastic polyester, Cover layer is made of thermoplastic polyurethane.
• Reinforcement layer is 1/4″ high tenacity polyester textile braid
• Fitting: male 1/4'' NPT
• Maximum Pressure: 5,800 PSI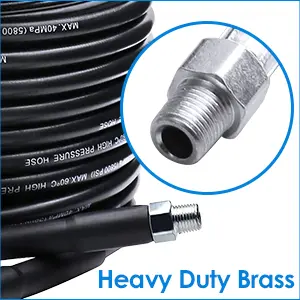 Heavy Duty Reinforced Ends
Heavy-duty solid brass and 100 per cent pure ABS pads for greater durability and ease of installation.
Enhanced protective cover to prevent damage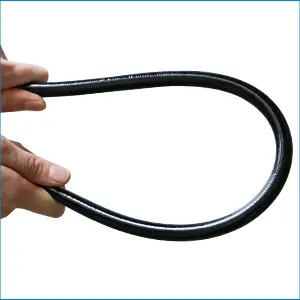 Soft andBendable
The tube is very soft and can be bent to avoid breaking during use.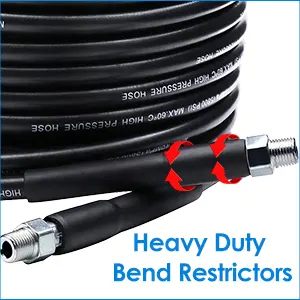 Heavy-duty Bend Restrictors
Heavy-duty bend restrictors on both ends, make sure the pressure-bearing capacity of the front end of the pipe connection