Description
【10 Functional Safety Nozzle Water Hose】: Compared to most 9 patter hose nozzle, our water hose provide with 10 pattern for more applications. This heavy-duty nozzle with comfortable rubber handle makes it easy to use, no squeeze and easy to control
【3/4 Inch Special Plastic Fitting】: Retractable water straps with 3/4 inch Special Plastic Fitting, no cracking or leaking. American Standard Special Plastic Fitting, ideal for typical American outdoor garden faucets. You can connect it to kitchen, bathroom, and garden faucets without worrying that it won't fit. Great for garden watering, pet cleaning, house/car/floor/patio cleaning, etc.

【POWERFUL POLYESTER FABRIC COVER】: The expanding water hose uses a high-density triple-layer latex core and a powerful polyester fabric cover to prevent breakage and leakage. It can be used for long-term. You don't have to worry about the water hoses being broken by the pressure of the water even in winter.

【INCREDIBLE EXPANDING DESIGN】: Our lightweight garden hose expands from 33 feet to 100 feet length. This expandable garden hose can expand 3 times to its original length when water pressure is on, and shrinks to original pipe length in minutes when it's off. 100ft length can cover your whole garden, making watering simple and efficient. Just drain water from the hose when not in use, put in the pocket bag and store it in a cool and dry place.

【SUITABLE FOR MULTIPLE PURPOSES】: Long length and proper water flow to support multiple purposes,including house/car/floor/yard/pool washing, garden/lawn/plants/trees/flowers/grass watering, pets showering, water games playing, having fun or business use. It is quite functional and long enough to make it easy and convenient for maneuvering around the garden with just one flexible garden hose. It is a best choice for bullet gifts for gardeners/your friends/family/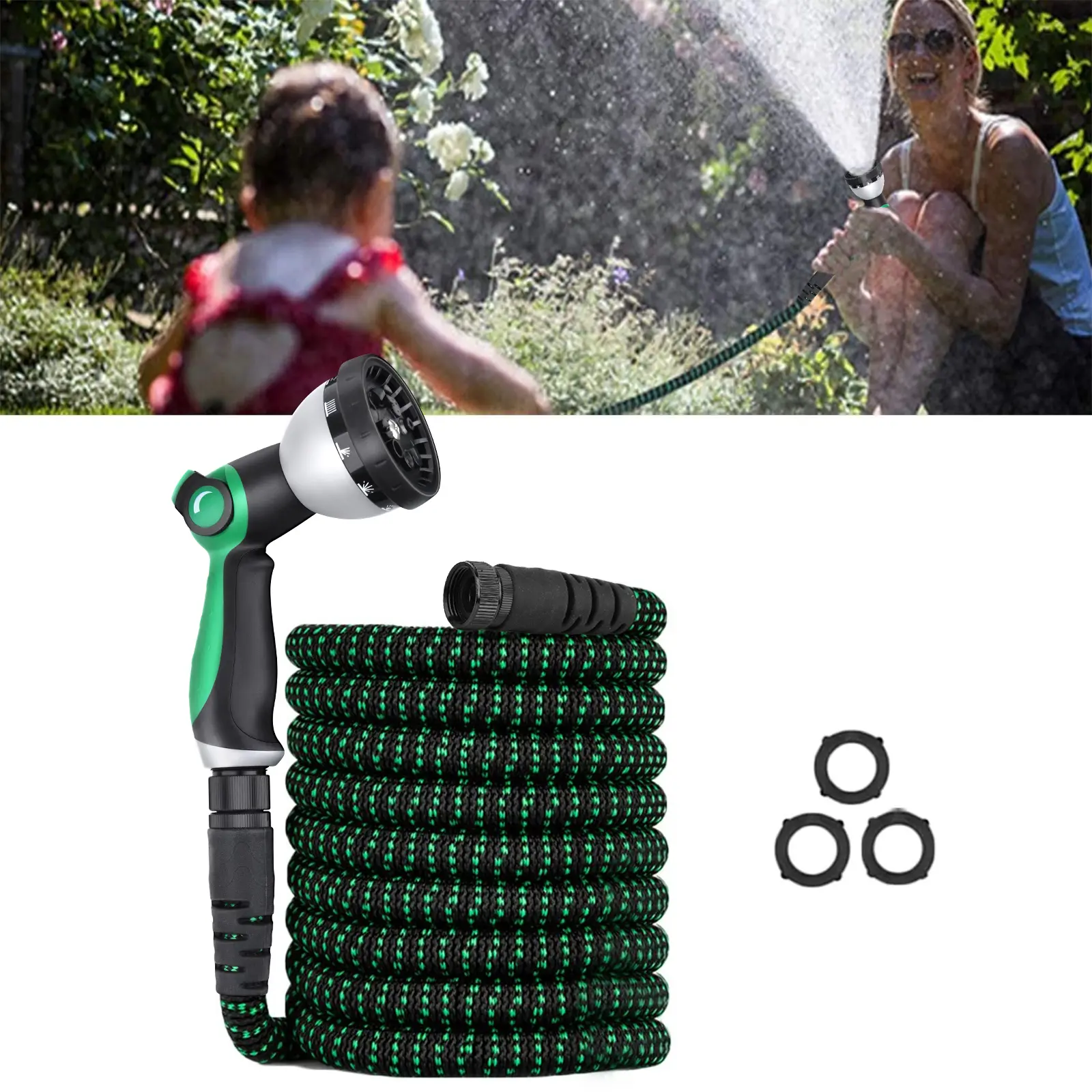 Why Do People Love EVEAGE Hose So Much?
Lightweight, flexible, collapsible and functional
EVEAGE Hose expands three times in length when in use and is 5 times lighter then other garden hoses. Perfect for all of your outdoor watering needs, including house, car, floor, yard washing, garden watering, even pet cleaning.
Expands 3 times its length when water pressure is on

Contracts to its original length when pressure is off

Leak-free solid 3/4 Inches brass connector

Only 1/5 the weight of a traditional hose

Never angle twist or kink

Compact, lightweight, easy to store in very small places

Suitable for watering, scrubbing, cleaning pets and car washes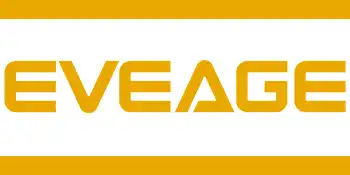 We are committed to development, innovation, and focus on applying the latest technology to horticultural products, so that you can enjoy your gardening life better
Weight: 4.5Lbs

Length: 100FT

Tube Material: Durable 4-layer latex core

Connector Material: 3/4 Inches brass connector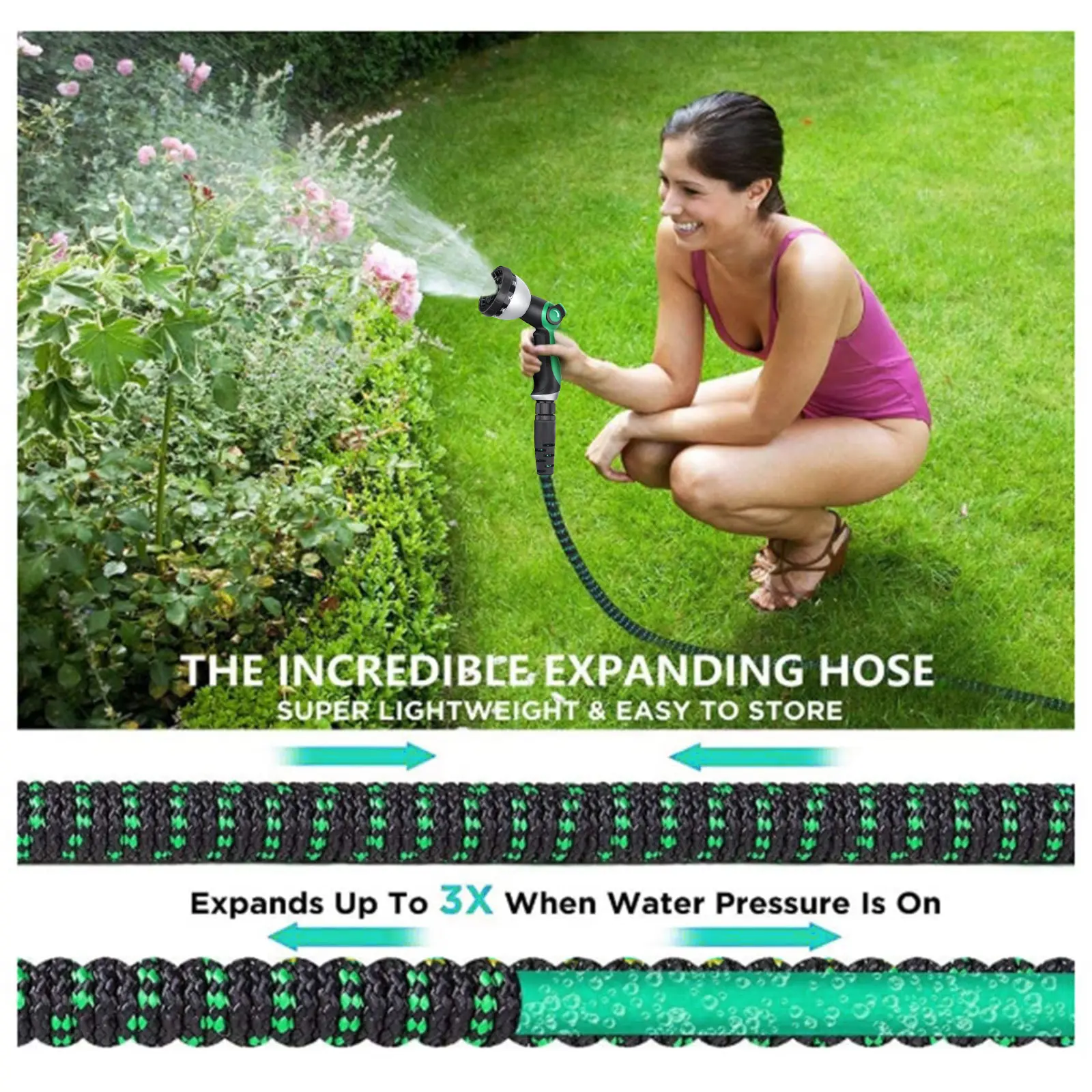 Extend to 3 times the original length
EVEAGE expandable garden hose automatically expands up to 3 times its original length under standard pressure when water is turned on and shortens to its length when the water is turned off. Since this type of hose expands only when filled with water, it is compact and lightweight. Children and seniors can carry this hose easily because they are lighter than a traditional garden hose.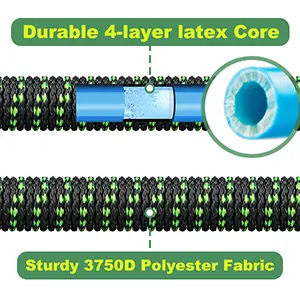 Ultra-thick 4 Layers Latex Core & Durable Polyester Fabric
EVEAGE garden hoses are made of the highest quality materials: durable 4-layer latex hose. Thicker and more durable than 2-3 layers. No more worrying about leaks, tangles or kinks when using the hose. A strong 3750D polyester fabric protects the core from damage. Rugged and durable, it stands up to the rigors of lawn and garden care.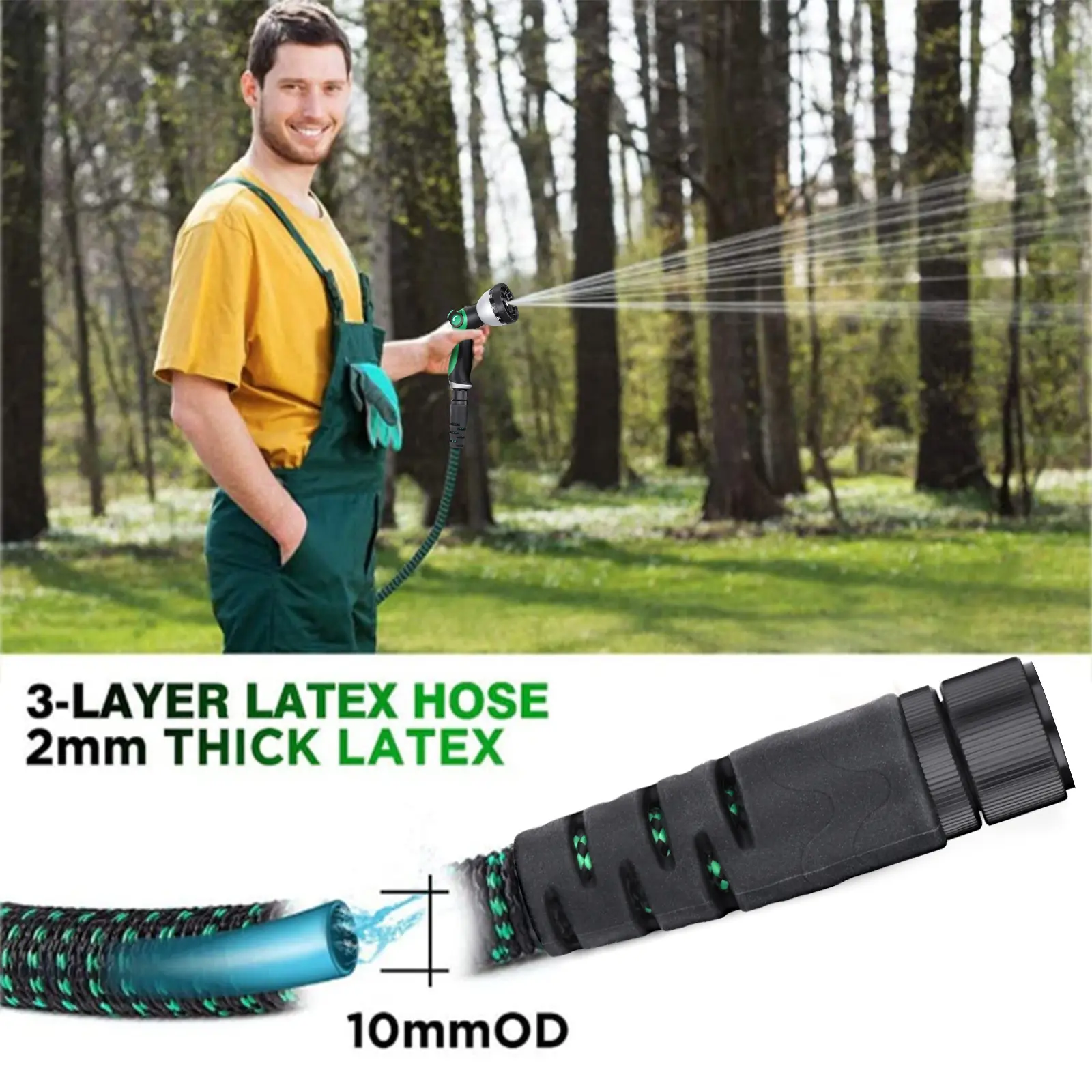 Leakproof Design
EVEAGE Hose comes with solid 3/4-inch connectors can effectively prevent cracking and corrosion, fit any standard faucet and are built to last. Equip with 3 leak-proof washers for enhanced leak resistance. Note: As the hose contracts, changes into water pressure can cause the faucet to contract irregularly. Please keep crowd (especially kids) away when retracting the hose to avoid accidental injury.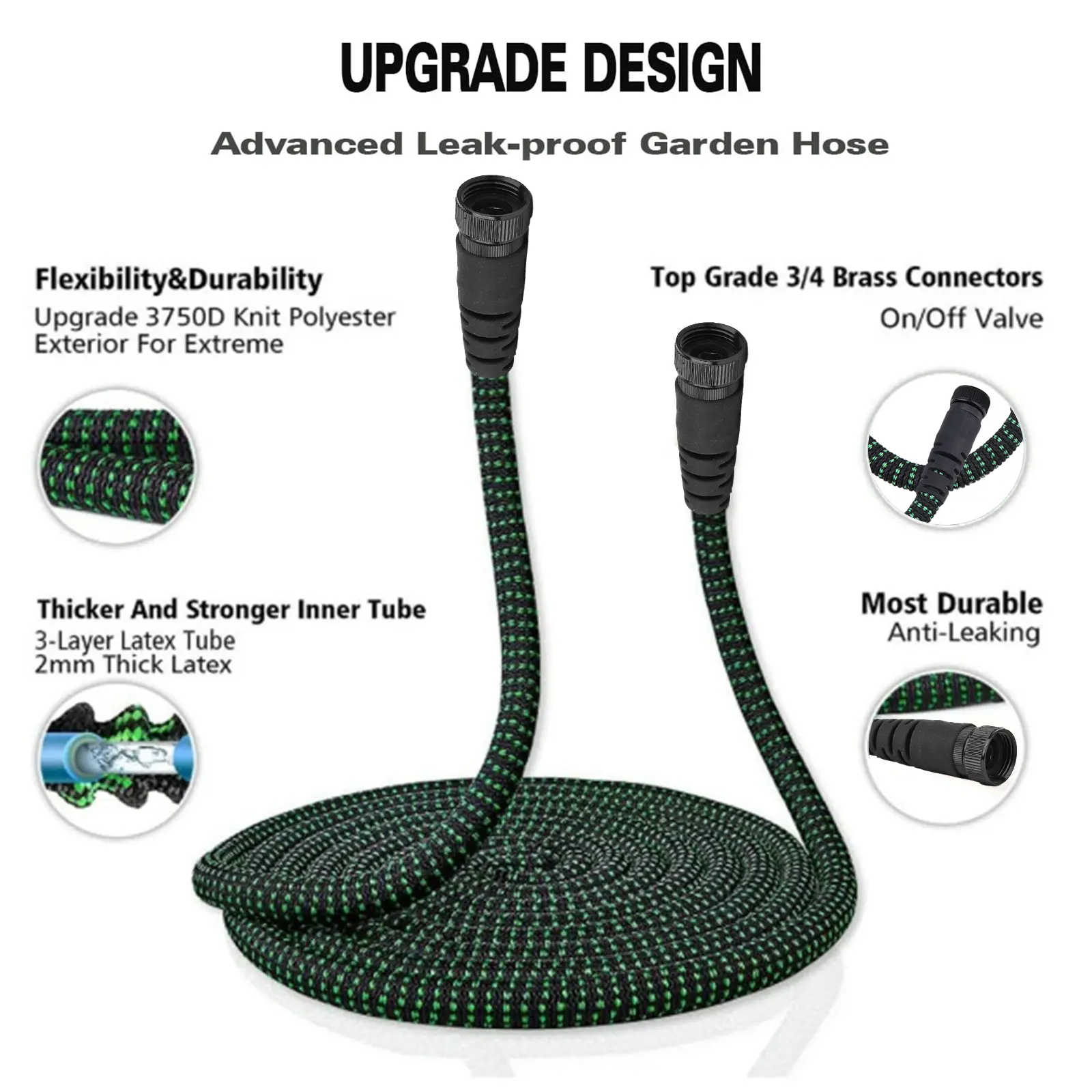 No kinks or Tangles
You must have been frustrated with tangled or kinked rubber hoses in the past.Now the innovative technology of EVEAGE expandable hose reduces the possibility of such problems. You no longer have to stop working and spend a lot of time untangling a tangled water pipes.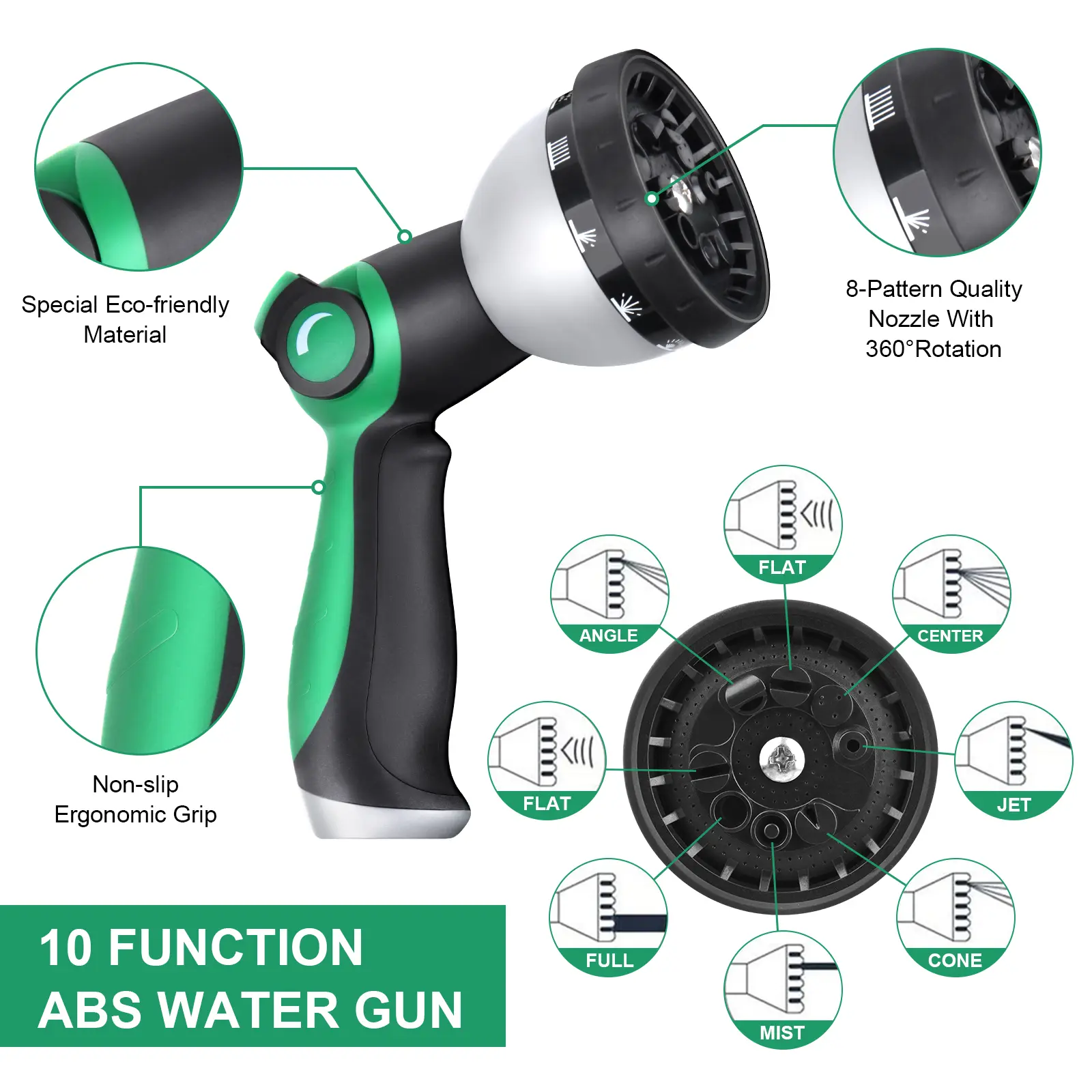 10 Functional Safety Nozzle Water Hose
This garden hose can be used for any situation you might have. It is capable for all your needs, whether you are watering the grass and flowers, playing with the family and dogs on a hot day, tending to your vegetable garden, washing your windows or car, or hosing down an RV or boat. It's lightweight enough to carry from one side of the house to the other without tiring out your arms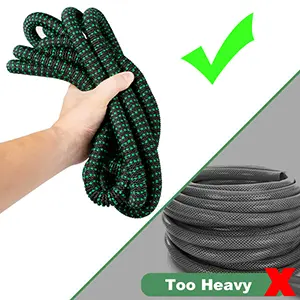 Lighter and Easy to Storage
EVEAGE Flexible Garden Hose is lighter and more flexible than traditional rubber garden hoses. Once contracted, expandable hose are small and compact making them easy to store. You no longer have to drag a heavy garden hose to work, it is easy to use even for the elderly and children.