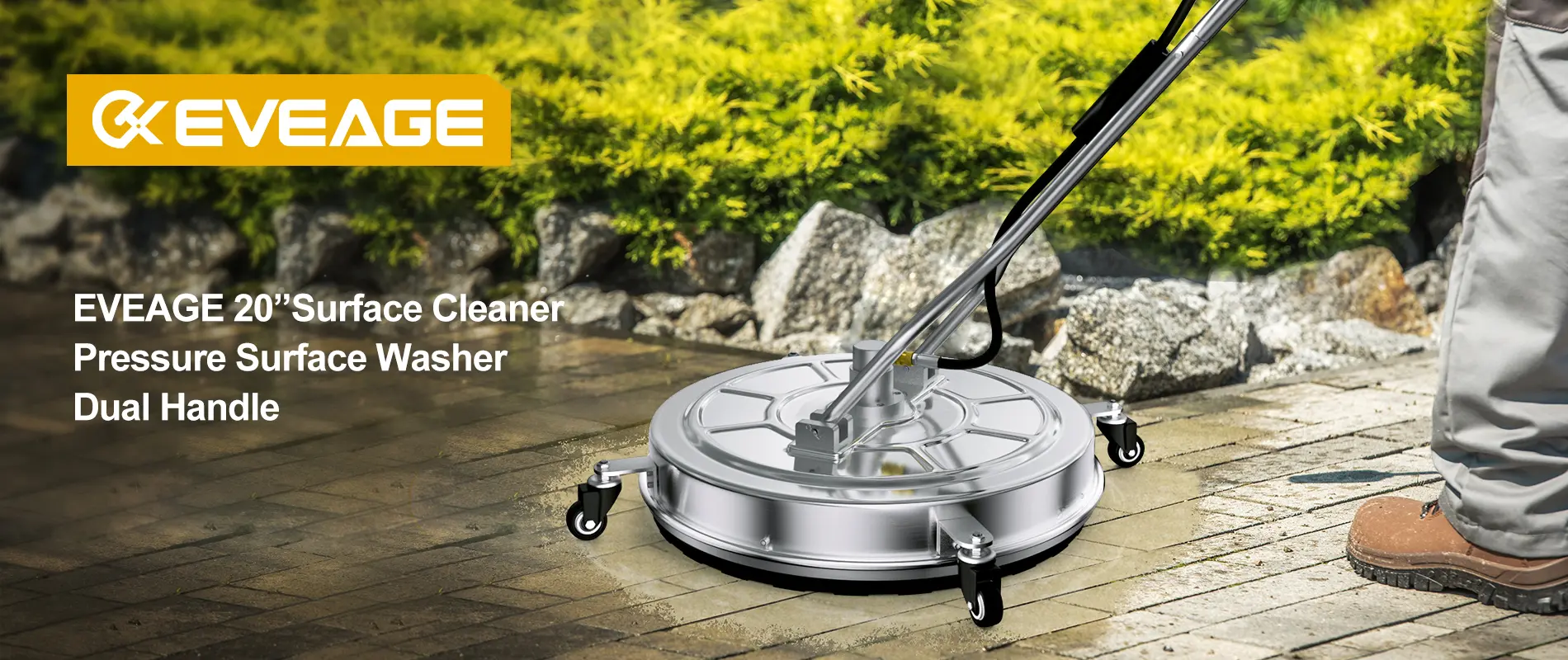 Does your yard look worn and grimy? Does your patio seem to have lost its charm under layers of dirt and stains? If you're nodding in agreement, the Eveage high-pressure washer short gun might be just the tool you need to breathe new life into your outdoor living area.
Designed to efficiently take on various cleaning tasks, the Eveage pressure washer short gun comes equipped with a 3/8 inch quick connector, an M22-14mm male coupler, and a multifunctional nozzle. With these features, the pressure washer surface cleaner positions itself as a potentially competitive choice among commercial high-pressure washer surface cleaners.
While the Eveage pressure washer short gun is compact in size, it does not compromise on power, boasting a pressure as high as 5000 PSI. Its high-quality structure aims to ensure a greater resistance to pressure and potentially a longer lifespan. It delivers a powerful stream of water, dissolving stubborn dirt and stains from every corner and crevice.
This device also includes a flexible red safety lock key to avoid accidental trigger activations, providing a safer cleaning environment. This safety consideration is a key feature, further enhancing the user-friendliness of this high-pressure washer.
What sets Eveage apart from other washing water guns is its unique 360-degree rotating inlet design, capable of flexibly rotating to clean your target from top to bottom without hose tangling. This makes your pressure washing easier and improves efficiency. This feature allows you to move freely without the constraints of power cords, potentially making your cleaning tasks more comfortable and efficient.
Moreover, the Eveage high-pressure washer gun offers five nozzles and can be matched with various cleaning accessories. It pairs perfectly with a 3/8 inch quick-connect hose and a 3300 PSI high-pressure washer hose. When combined, they unleash powerful performance for various usage scenarios such as moss-filled steps/wooden surfaces, sunrooms, outdoor tools/tables and chairs, exterior walls, swimming pools, air conditioners, screens, garages, etc., to meet your various cleaning needs. This enhances its potential versatility as a high-pressure washer. With just a press, it easily meets your pursuit of high-quality cleaning!
In conclusion, the Eveage High-Pressure Washer Short Gun offers a versatile solution for your high-pressure cleaning needs. Beyond that, Eveage boasts an array of cleaning tools, including pressure washers cleaner and surface cleaner. Whether you're cleaning a yard, driveway, or commercial space, Eveage's diverse cleaning tools could breathe fresh life into your surroundings.