Description
Human-Powered Push Sweeper: The EVEAGE cleans up to 5 times faster than cleaning with a conventional broom. Perfect for cleaning sidewalks, patios, garages, workshops, driveways, and more
Effortless Sweeping: Large bristles let you sweep an area up to 57000 square feet per hour, and it's powerful side brushes feature a sweeping width of 38″
Quiet Motorless Operation: operating at a mere 42dB, is exponentially quieter than a leaf blower (93dB to 106dB) and captures dust, rather than blowing it around. It's push-powered design means no electricity or gas is needed
Quick Container Disposal: Features a 13.2-gallon waste container that stores more debris and can be quickly removed and emptied without coming into contact with the dirt
Lightweight, Sturdy Design: Weighs only 62 pounds with three wheels and is easy to push with minimal physical effort
Ergonomic & Compact: Featuring a back-friendly fold-down push handle for easy sweeping at any height, the sweeper can be stored upright, as well as collapsed, taking up minimal storage space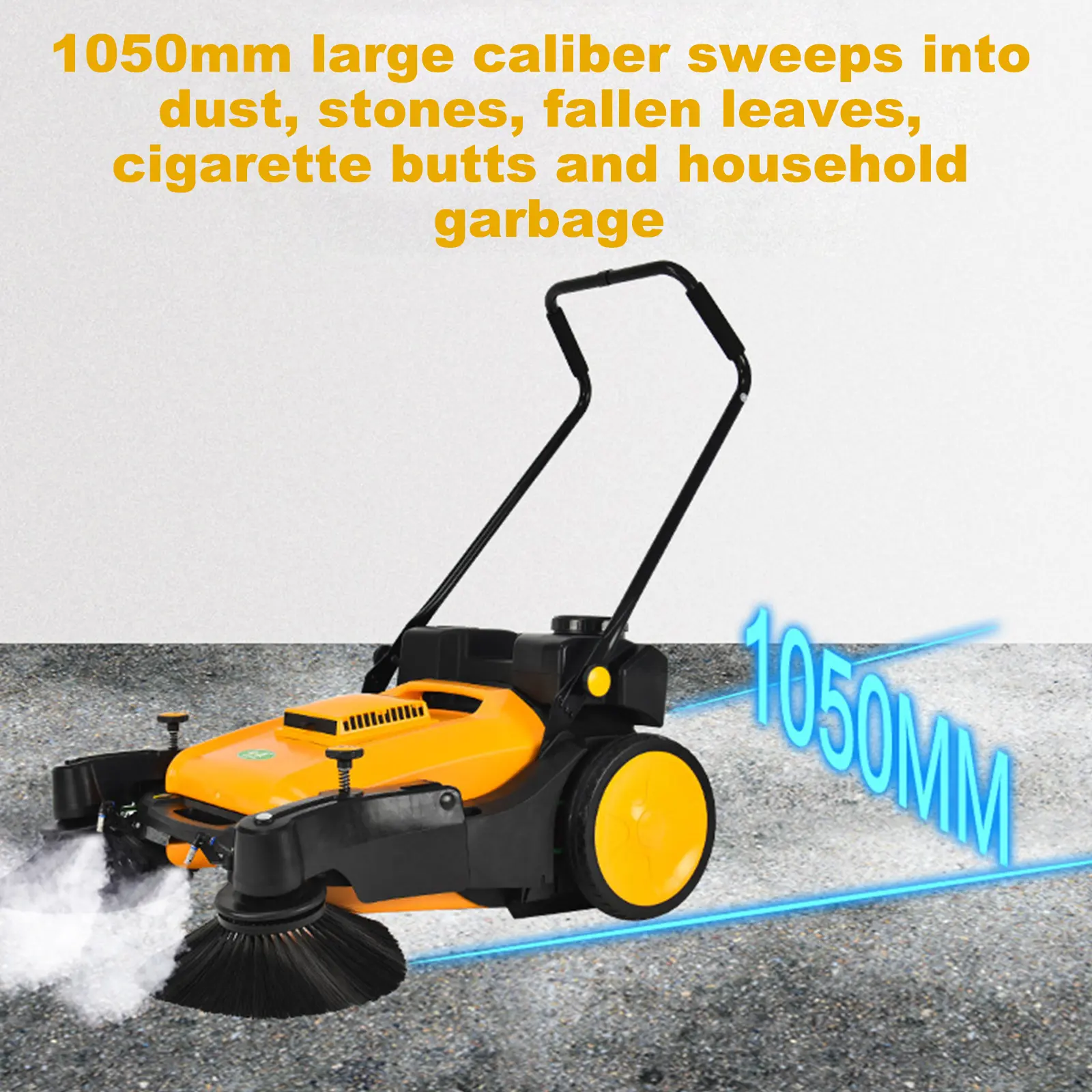 Smart sprinkler spray
High-quality industrial metal sprinkler head, which can spray water mist during the cleaning process to effectively prevent dust, reject secondary pollution and effectively prevent dust
No Oil or Electricity Required
The power of the industrial manual push sweeper comes from the human hand to push forward, and the rotation of the tire drives the belt to transfer to the inner "roller brush" and the two front "side brushes" to rotate, so as to clean the garbage into the inner dust box.
Widely Used
The walk behind floor sweeper can be widely used in workshops, factories, warehouses, parks, streets, residential areas and other places. It can clean garbage such as iron filings, pellets, dust, leaves, cigarette butts, paper scraps, sand and other soils.
Freely Adjust the Push Handle Angle
Users can freely adjust the push handle to a comfortable use angle according to their own height, which conforms to the principle of ease of use.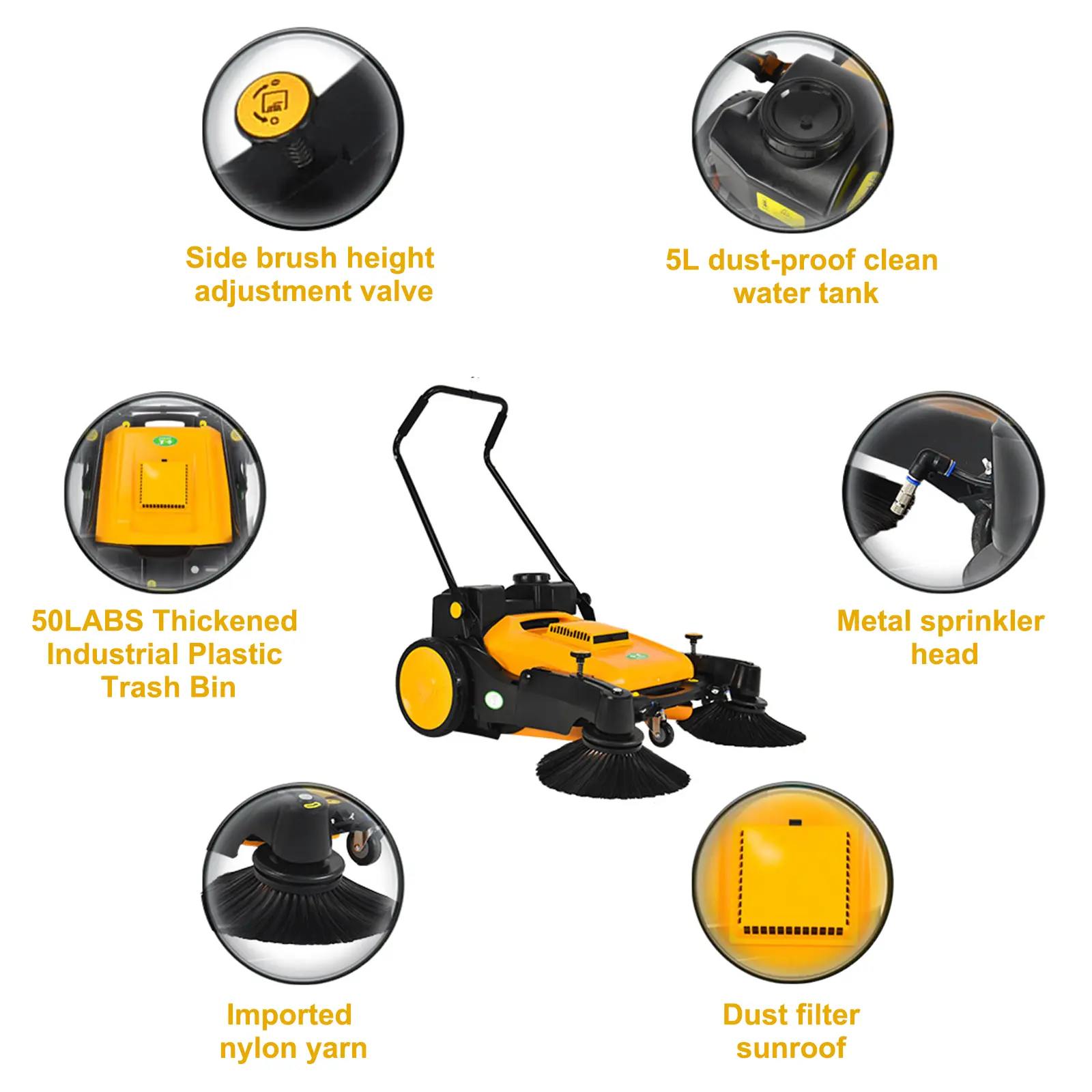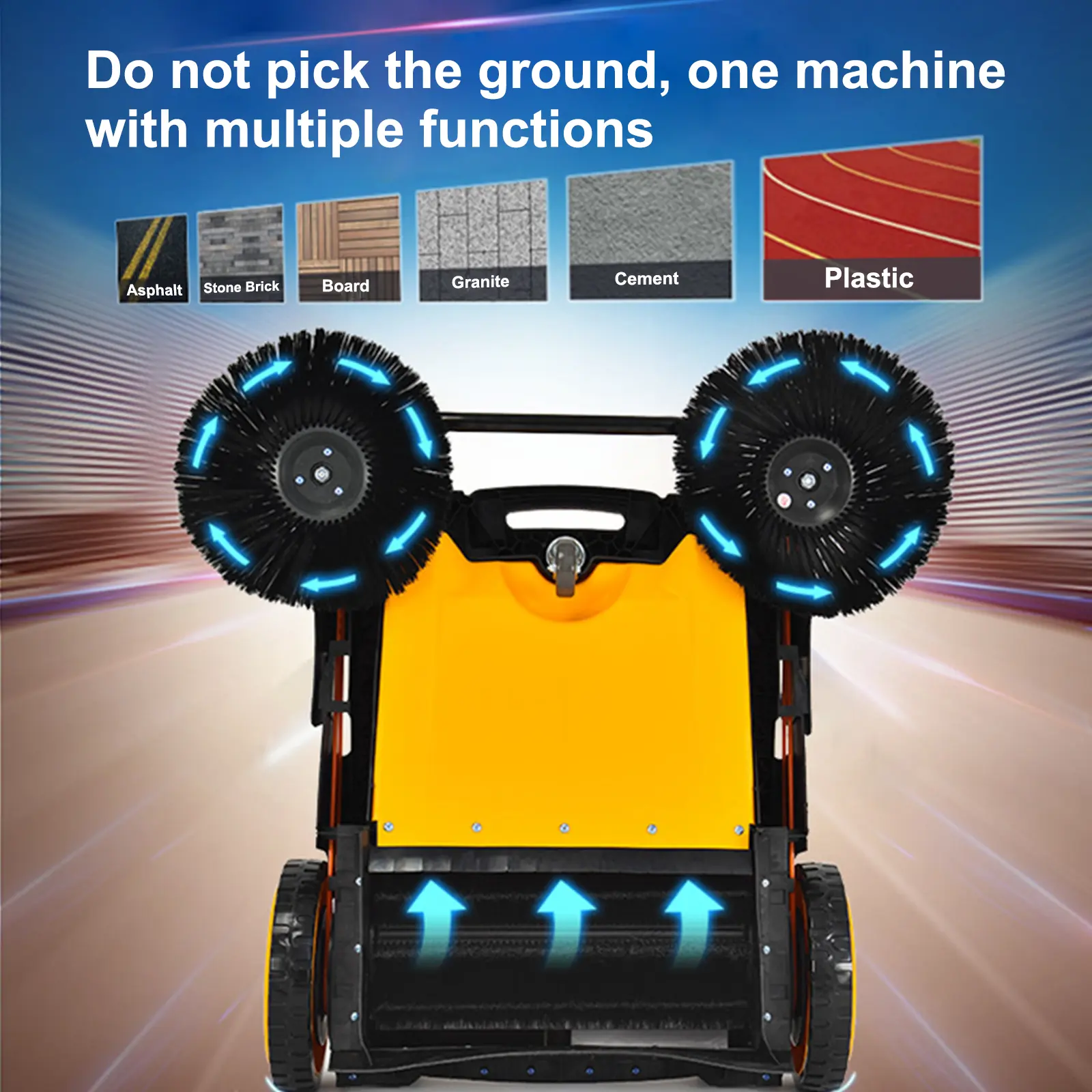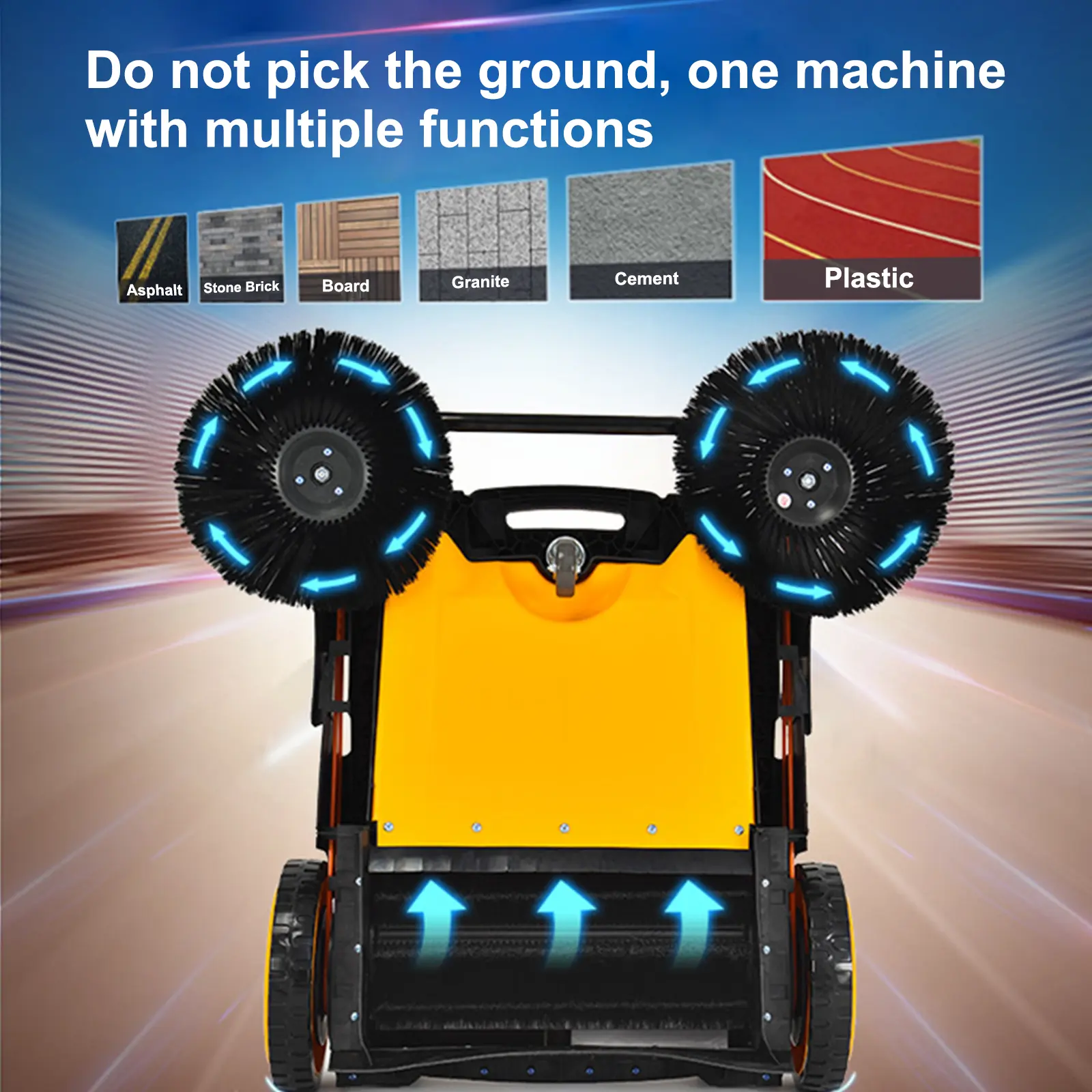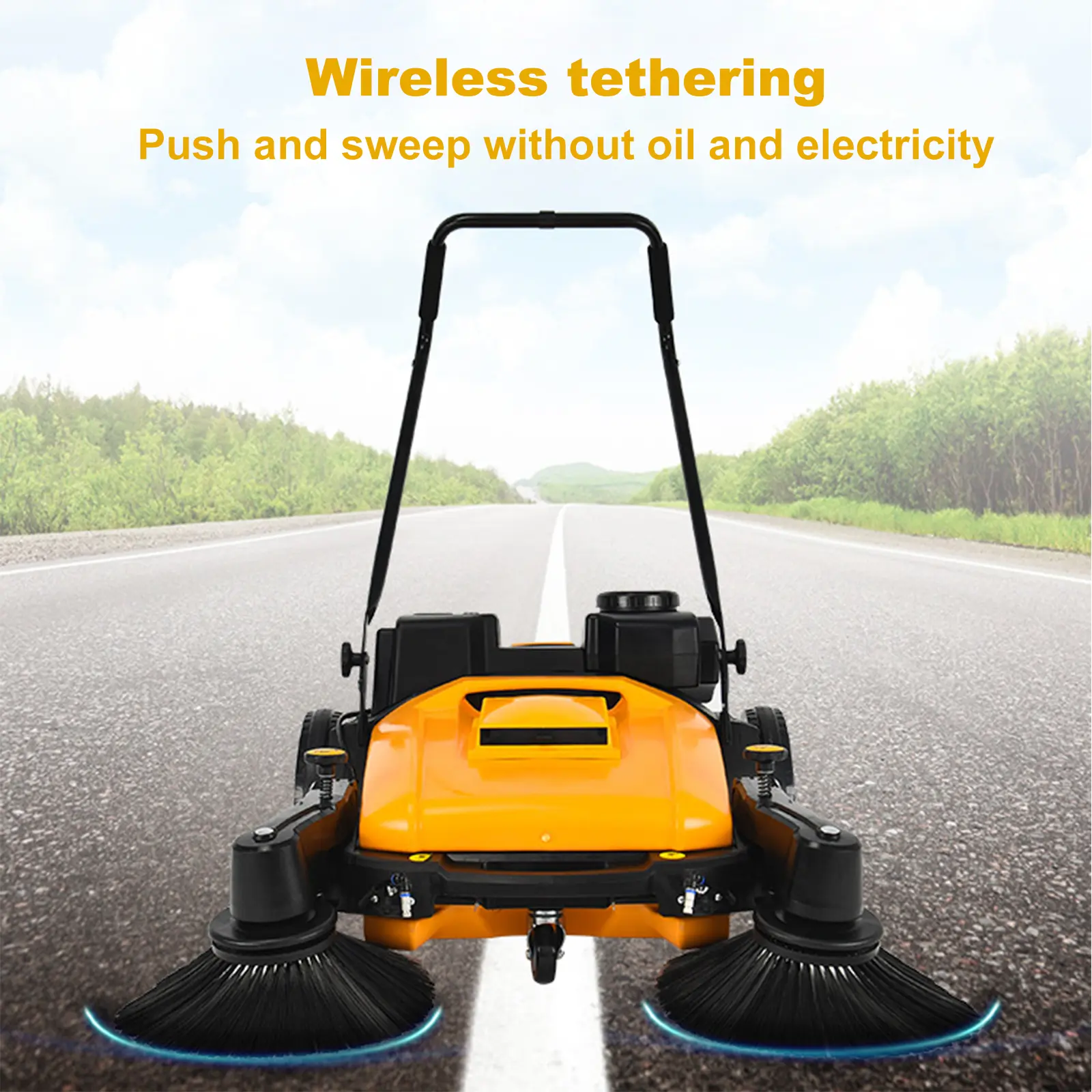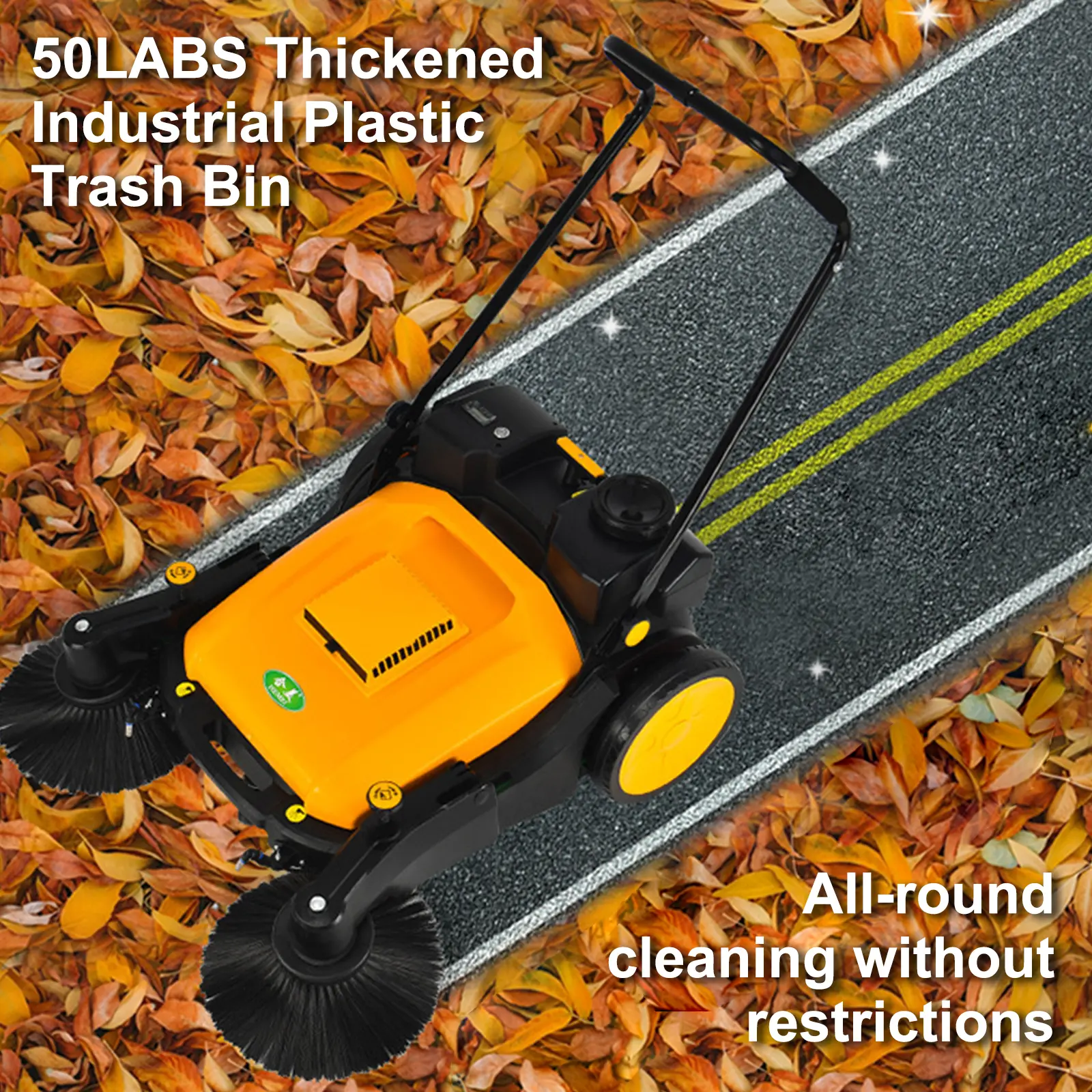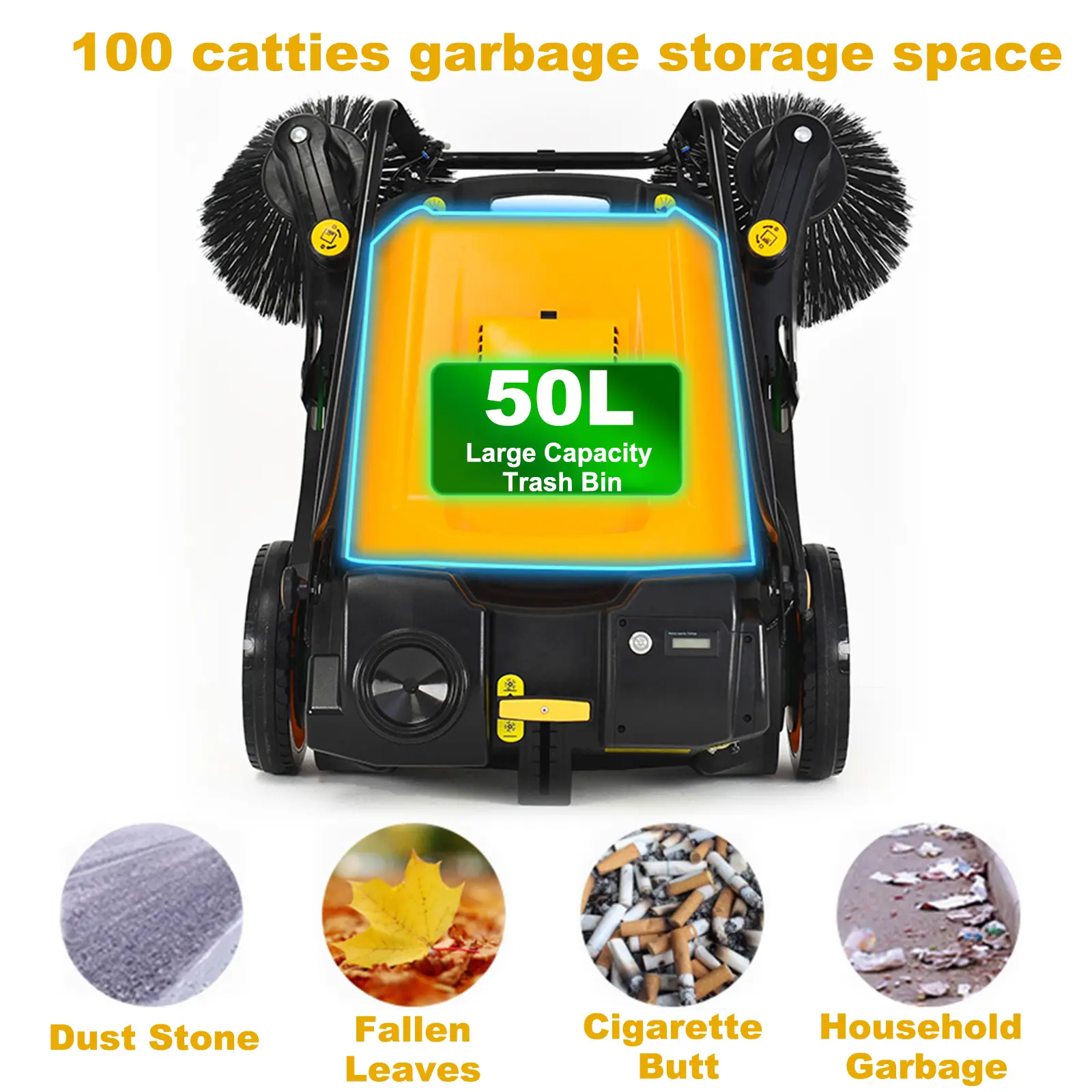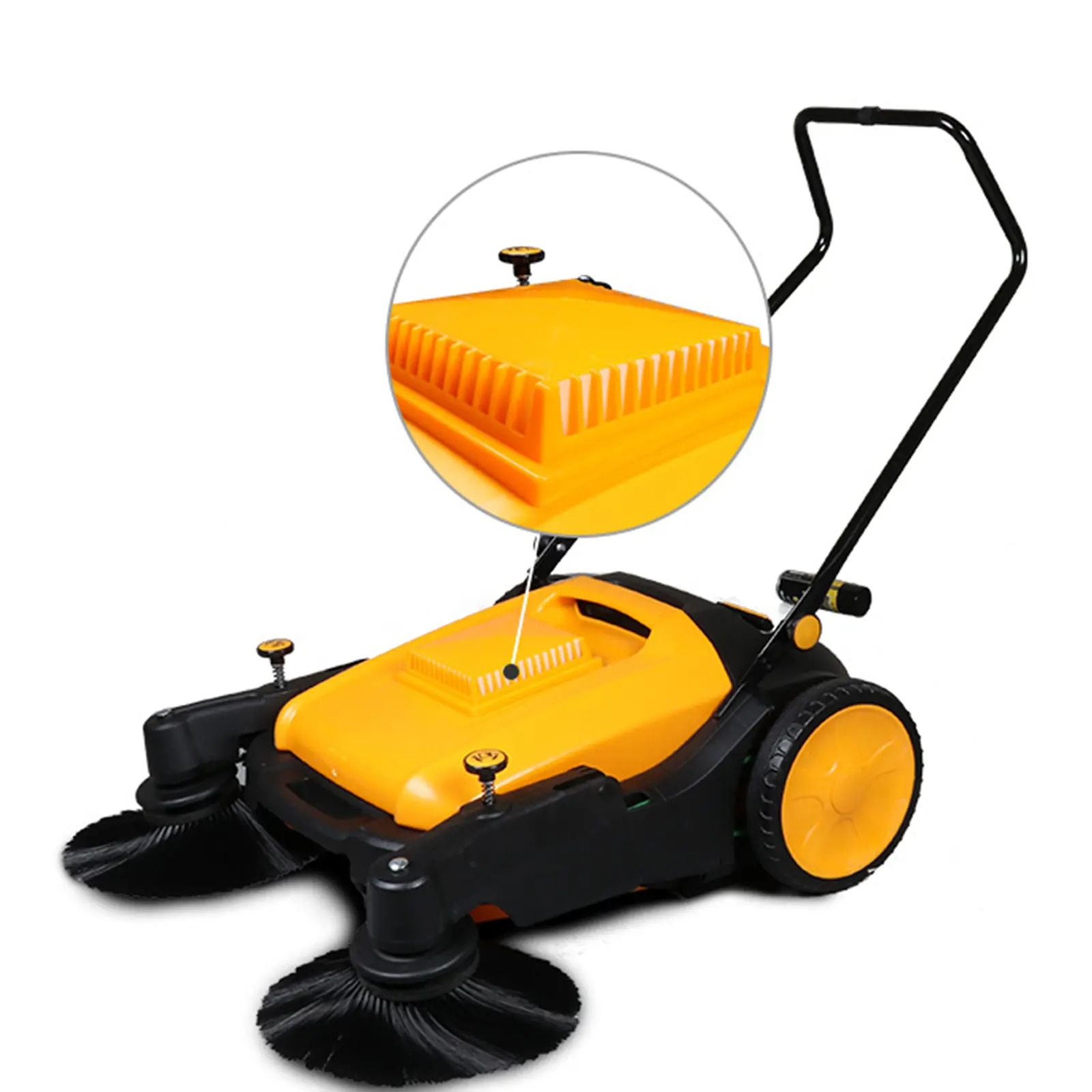 Added Filter Exhaust Device
A filter and exhaust device is added on the top of the garbage can, which effectively reduces the air circulation pressure in the garbage can, makes garbage collection smoother, and effectively controls the dust overflow problem.
Filter Design
The dust filter design reduces the gas circulation pressure in the dustbin, and is easy to disassemble and clean.
360° Rotatable Side Brush
The double-sided brushes are gathered together, like the left and right hands of a person working at the same time, cleaning a larger area in a shorter time.
The cleaning width is 38″, which solves the problem of narrow cleaning width and low cleaning efficiency.
Side Brush Height Adjustment
Height-adjustable side brushes make this hand-push sweeping sweeper easy to use. The closer the side brush is to the ground, the cleaner the cleaning.
Adjustable Roller Brush
The height of the roller brush is adjustable from the ground, which can adapt to different ground and clean different garbage.
The dust filter cotton design effectively solves the problem of dust overflow in the dustbin.