Description
【HANDHELD&ROATING】Eveage Electric Spin Scrubber handheld gets rid of the troubles caused by traditional cleaning . it can be used anywhere you want. This bathtub cleaner is super lightweight and very easy to pick up and use to clean surfaces without getting tired.
【3 Kinds of Replaceable Brush Heads】 The electric spin scrub includes 3 brush heads to meet your different cleaning needs. The flat brush is suitable for bathtub, tub, oven and stove. The Scouring Pads is great for cleaning window sill, corners and tight places, even bicycle wheels. The Soft Sponge brush is ideal for flat surface cleaning and drying.
【EFFICENT & AUTOMATIC】Our battery operated scrubbing is here to help you which can make your cleaning tasks efficient and easy. which can save half of the cleaning time, allowing you to easily and effectively clean stubborn stains and dirty spots, and care for your knees and back. Be your unique cleaning helper, it is very suitable for use in small spaces, such as baths, cabinets, etc. Good bath scrubber for cleaning kitchen sink, gas cooking top and shower.
【CLEANING EASIER AND TIME SAVED】 The Ergonomically designed handle, make clean effortless. High- torque handheld spin scrubber speed up to 350 r/min rotary,The automatic brush cleaner bath fast rechargeable to help to clean stains and dirty spots. Labor saving and joints caring. This power scrubber for cleaning by rechargeable battery. After charging for about 2-2.5 hours, it can work continuously for up to 70-90 minutes.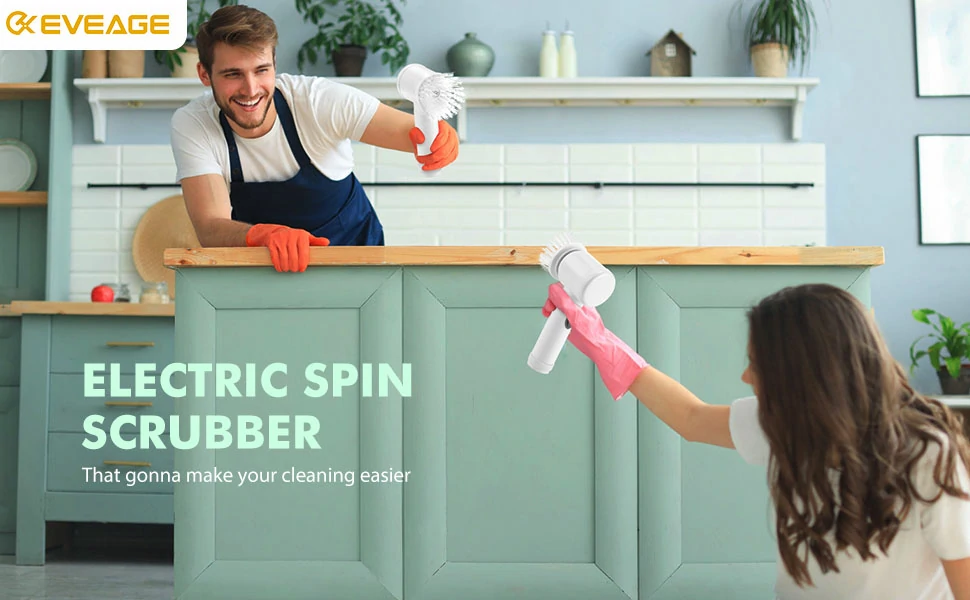 Eveage electronic cleaning brush, magic brush cleaner丨 Handheld Rechargeable Cleaning Brush 丨Electric cleaning brush丨daily shower cleaner丨clean brush set丨handheld auto scrub cleaner丨electric shoe cleaning brush丨battery operated brush cleaner丨electric bathroom scrubber丨spinning scrub brush丨with 3 Replaceable Brush Heads for Wall/Bathtub/ glass t/Window/Kitchen/Sink.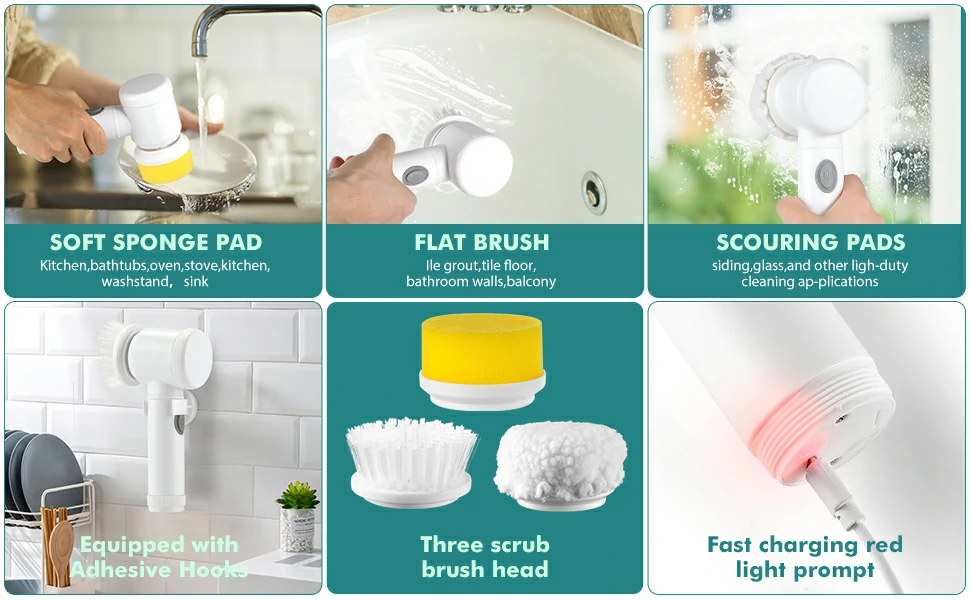 Eveage Electric cleaning brush scrubber for cleaning use upgraded version of the motor plus three different cleaning scrubbing can help you clean a variety of relatively difficult to clean corners.This electric scrubbing brush for cleaning use configured has roating .All you need to do is moisten the object you want to clean before using the electric super cleaning brush, then place the cleanser on the surface of the brush, turn on the switch, and you are ready to use this scrubbers for cleaning Bathtub. The cleaning brush can be easily Quick charge with included USB charging cable.When doing cleaning chores, it is inevitable to use detergent for better effect. This scrub it is recommended to use it with a Bathtub cleaner or pink stuff.The shower cleaning brush also works very well when cleaning shoe.electric brush for cleaning good for you cleaning. We can commit our automatic brush for cleaning. If you have any problems, such as shower scrubber for cleaning accidental damage caused by logistics and transportation problems or any problem during use, please get in touch with us immediately.