Description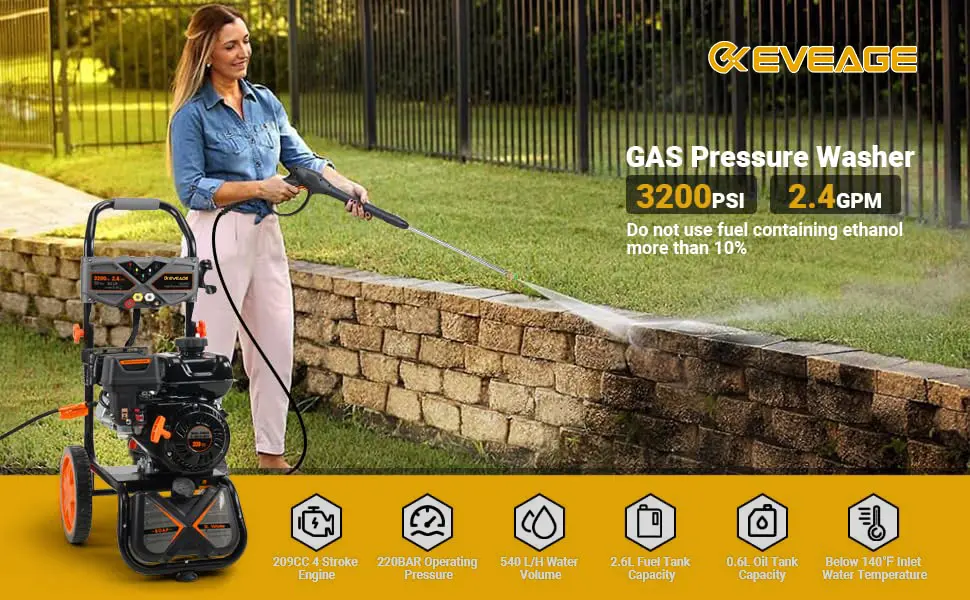 POWERFUL & EFFICIENTE ENGINE : 

Powerful And Durable Ohv Engine Delivers 3200 PSI max and 2.4 GPM of maximum Powerful, Deep-Cleaning Water Pressure, the power and performance it brings is beyond the reach of electric washing machines. Suitable For Car Cleaning,construction Sites,lumber Mills,Kitchens,Shipyards,Cleaning Floors And So On.

FOR DIFFERENDT WASHING TASKS:

 This gas pressure washer with 4 Quick connect nozzle tips: 0°, 15°, 25°, 40° for a wide degree of cleaning applications. The 12'' never-flat wheels offer portability across both grass and concrete, for removing dirt and grime while restoring decks, sidewalks, siding, patios, porches, driveways, and vehicles.

HIGH-PERFORMANCE PRESSURE WASHER:

 Tough Steel Frame Construction With high Profile, two ever-Flat 12'' Wheels Provide Easy Transportation and Maneuverability, 25 ft hose is non-marring, kink and abrasion resistant, The vibration of such a high-power spray washer is unavoidable when it is working. We used rubber support points at the front of the wash machine.
 

EASY TO ASSEMBLE AND USE:

  Long Lasting, Maintenance-Free Axial Cam Pump For Durable and Convenient Use.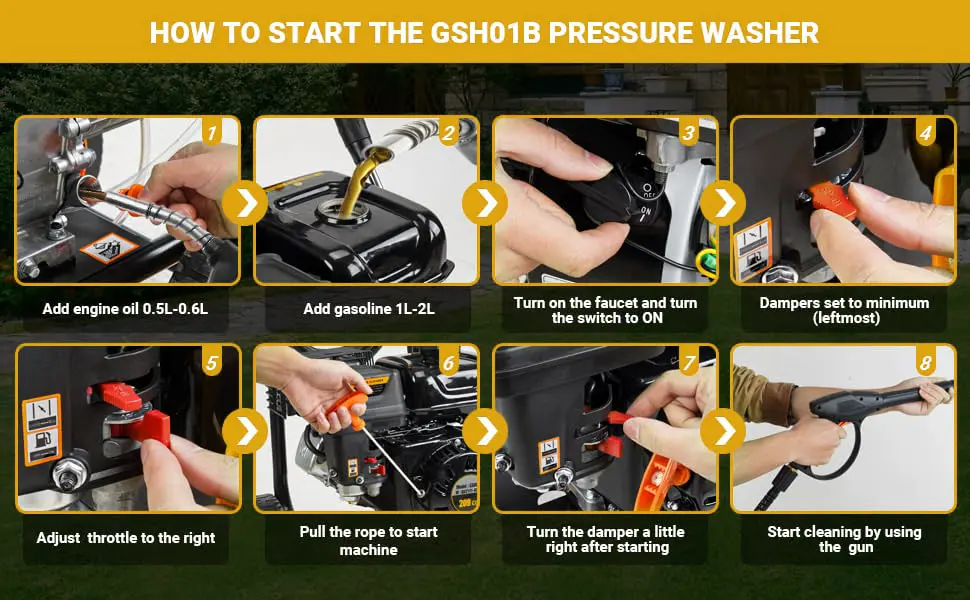 Powerful And Durable Ohv Engine Low oil Shutdown System To Protect EngineProfessional High Pressure Hose With Quick Connect For Fast Self Suction FunctionFor Your Easy Work Suitable For Car Cleaning , Construction Sites,lumber Mills,Kitchens, Shipyards, Cleaning Floors And So 0n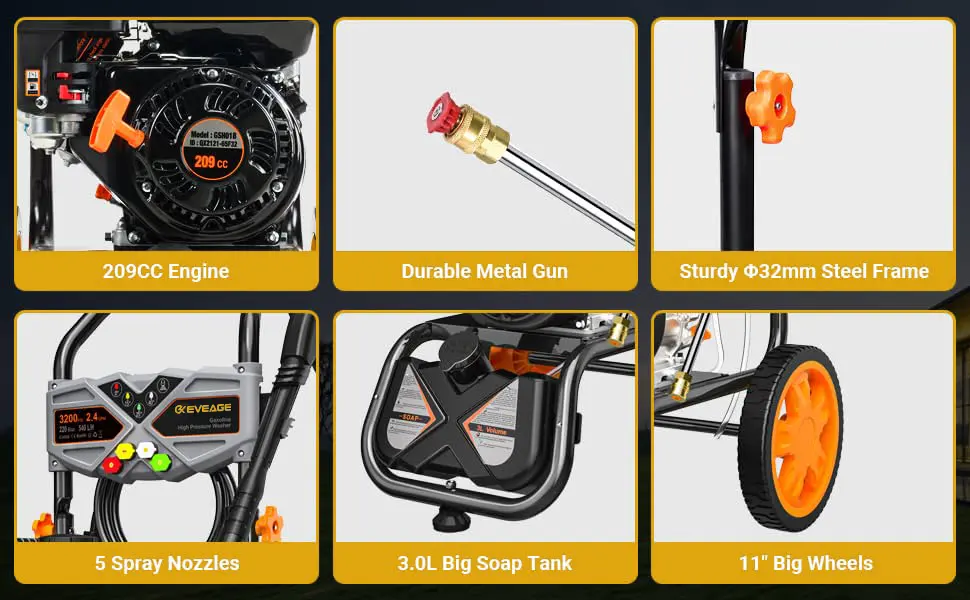 3200 PSI at 2.4GPM Gas Power Washer
High-pressure water flowed by 6.5 HP , 3200 PSI could satisfy all needs of your daily work .
Custom designed for instant portability and adaptability
Protected by robust steel framing and abrasion-resistant materials for dependable cleaning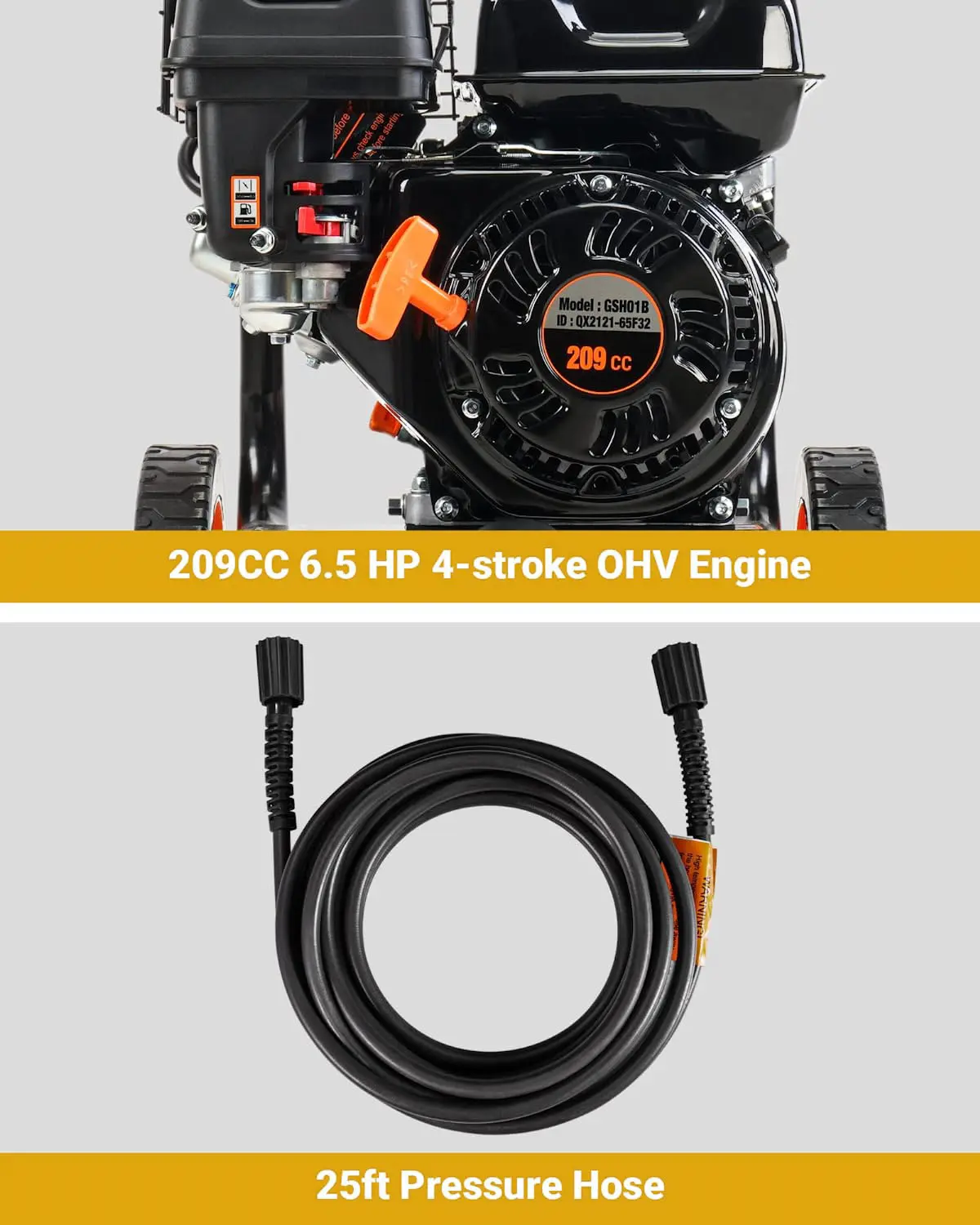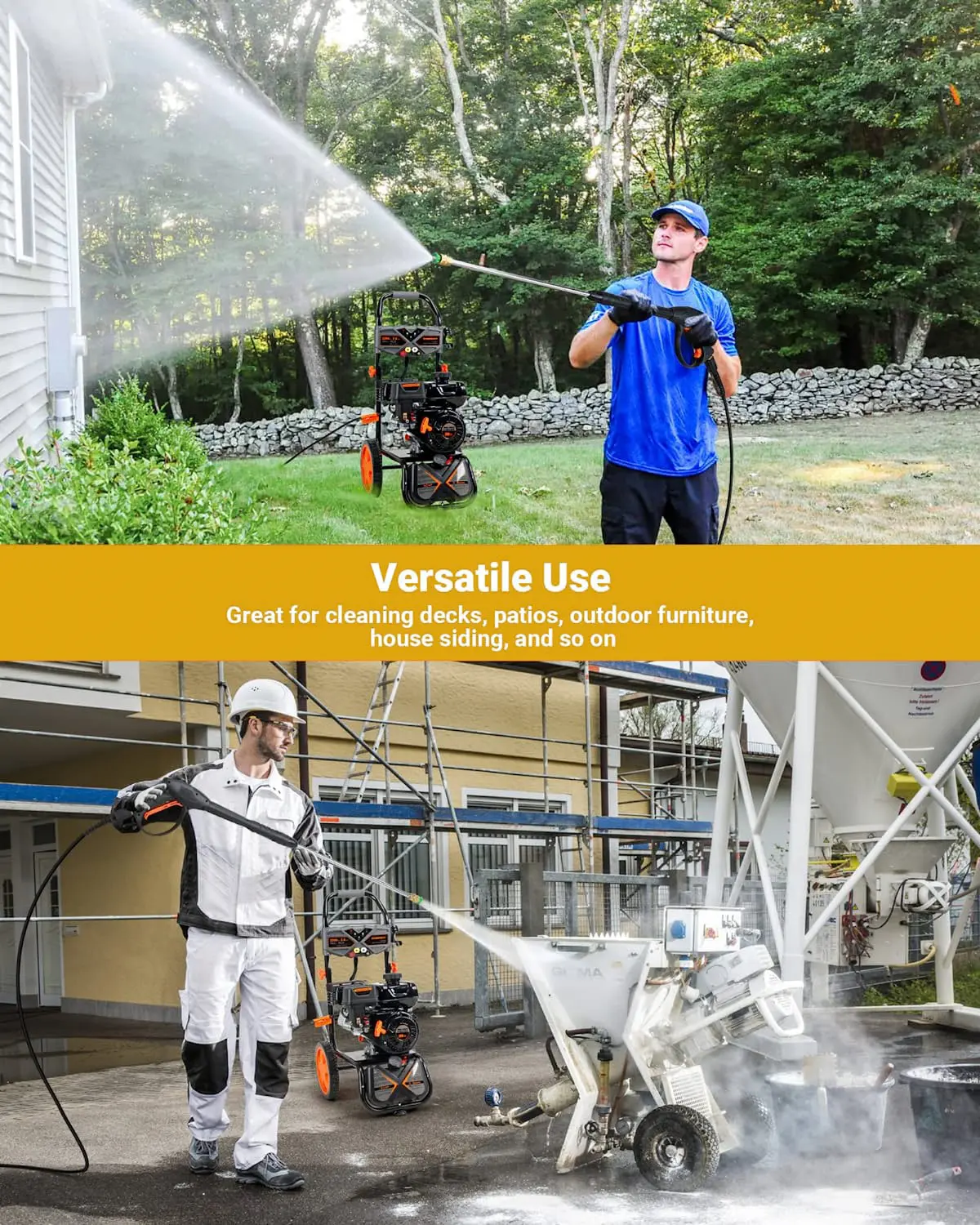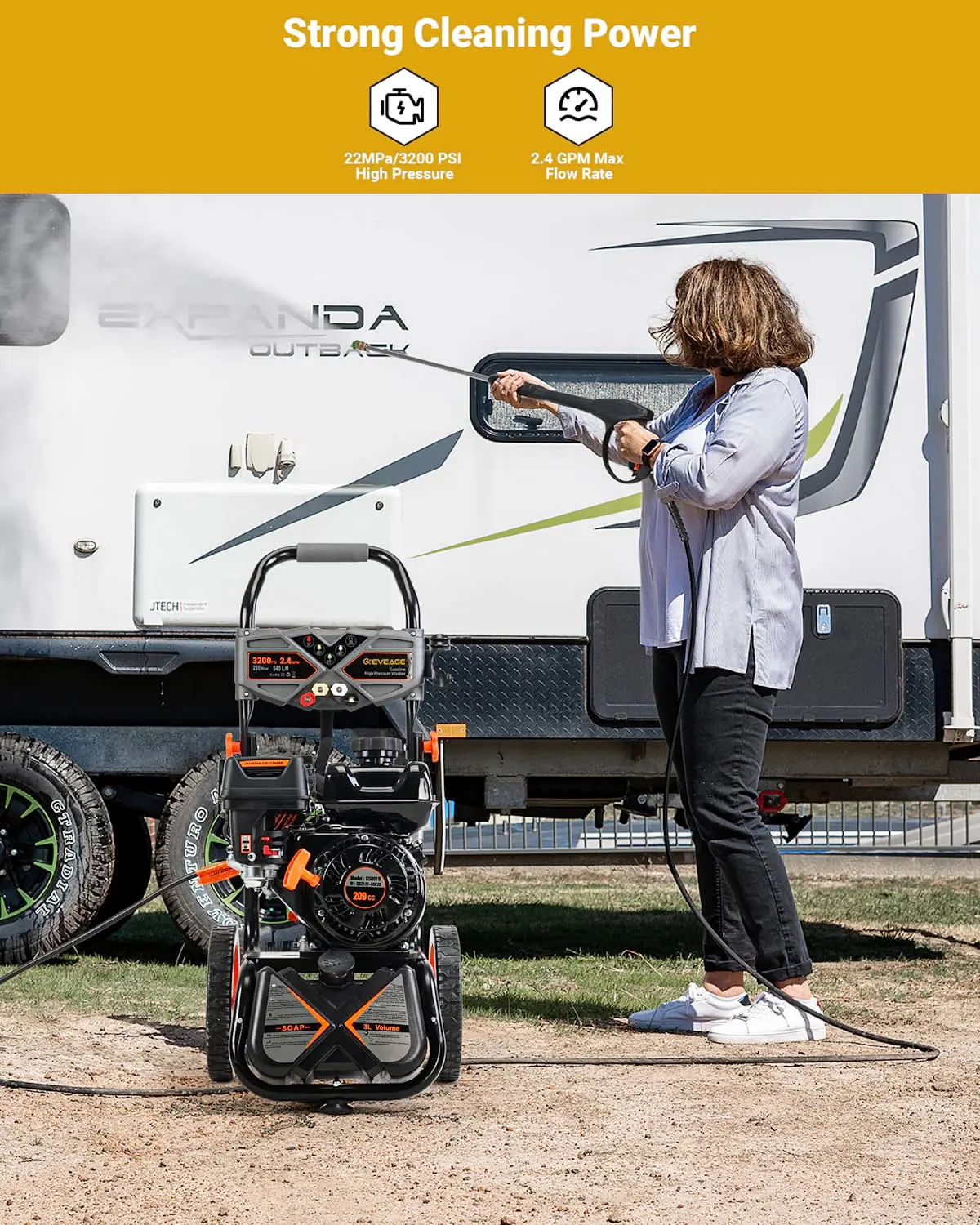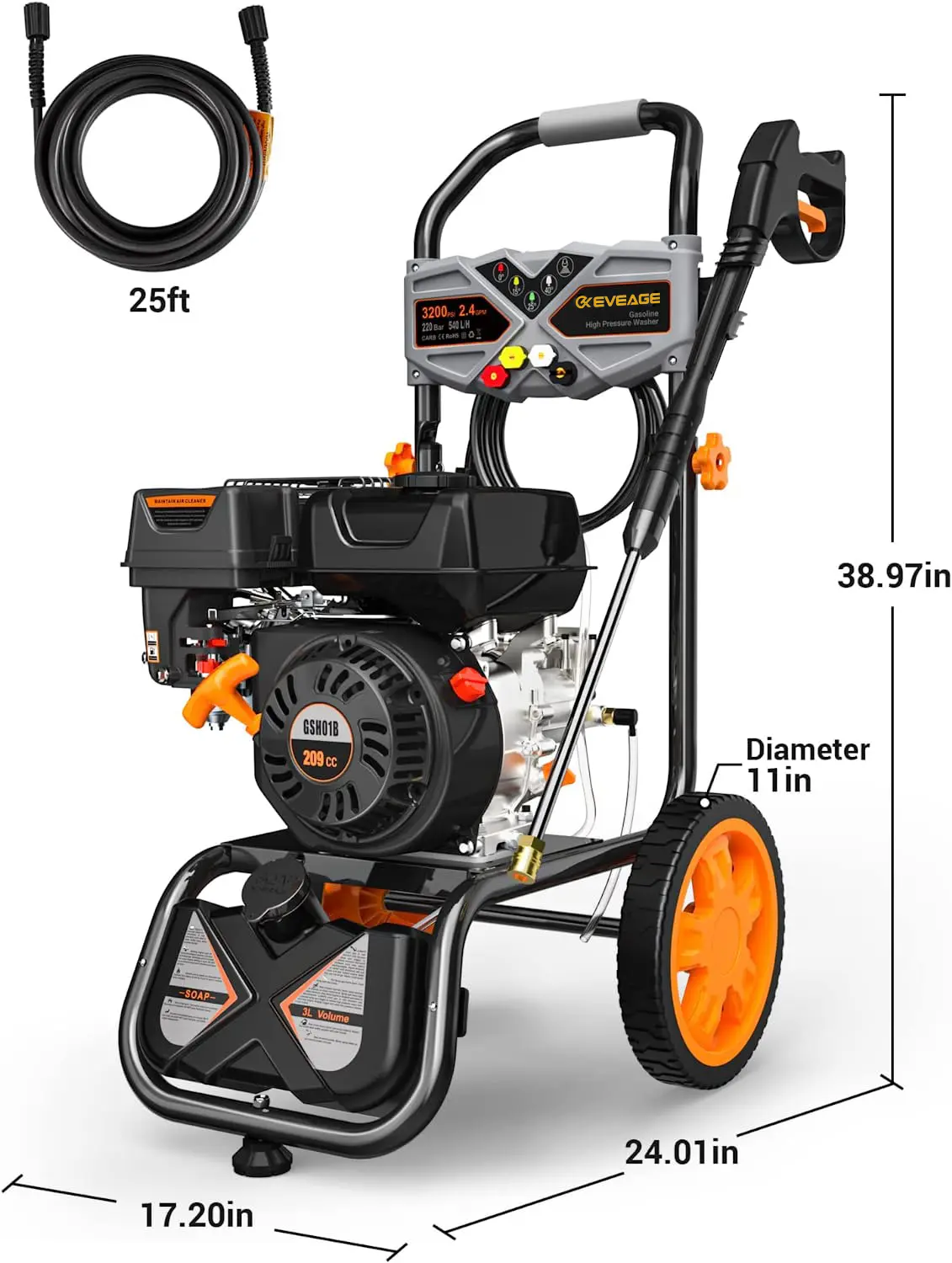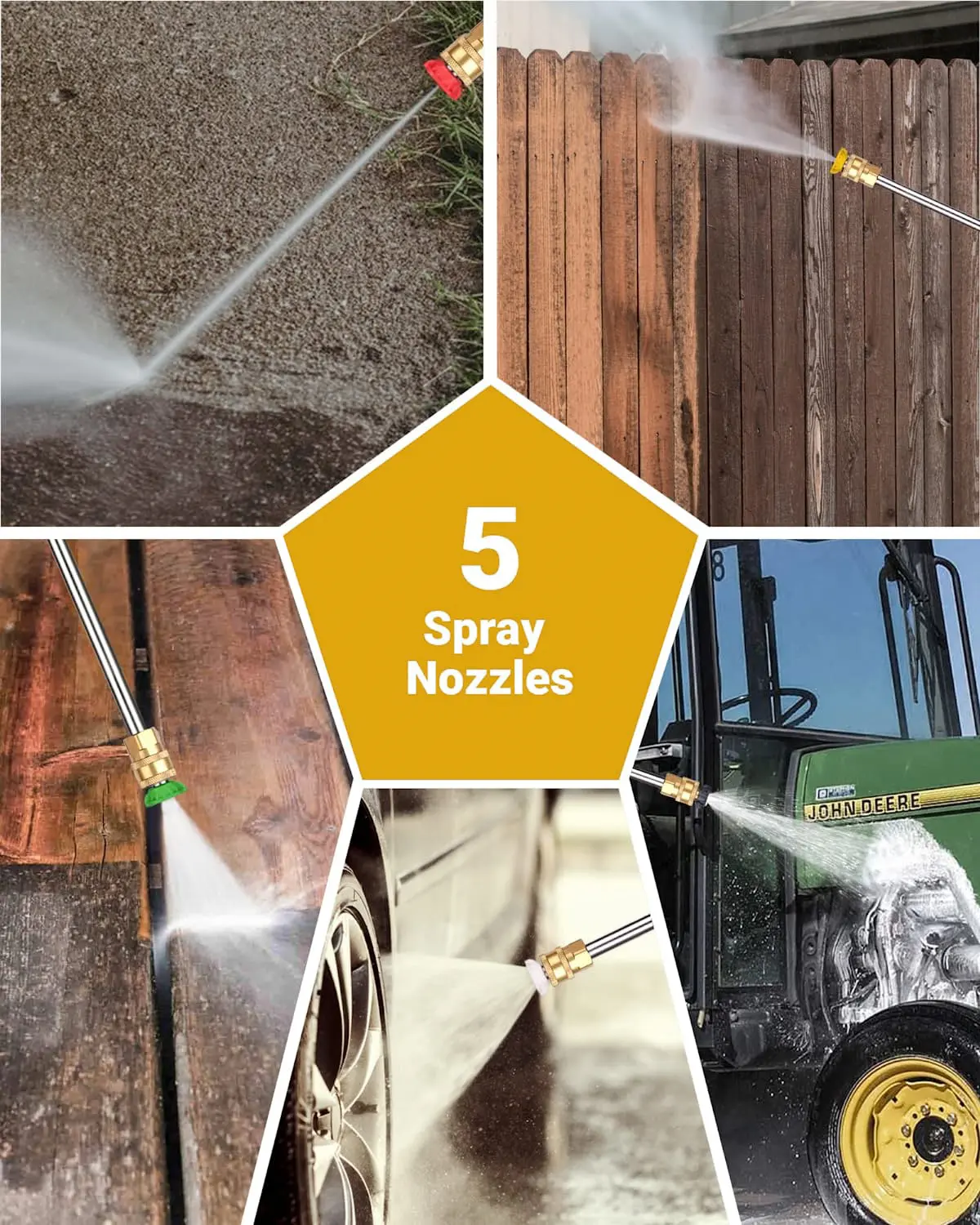 3200-PSI Max 2.4-GPM Commercial Duty Low Profile Gas Pressure Washer
4 interchangeable nozzles meet all your requirements, specifications are 0°, 15°, 25°, 40° .

0° nozzle (red)-ultra high pressure: effectively clean dead corners and stubborn dirt on walls

15° nozzle (yellow)-high pressure nozzle: effectively clean the dirt on trucks, ground and houses

25° nozzle (GREEN)-medium pressure nozzle: cleaning dirt on cars, wooden boards, tables and chairs

40°nozzle (white)-low pressure sprinkler: clean glass walls, pets, garden watering, etc. without worrying about safety issues