Description
𝐏𝐫𝐨𝐟𝐞𝐬𝐬𝐢𝐨𝐧𝐚𝐥 𝐒𝐮𝐫𝐟𝐚𝐜𝐞 𝐂𝐥𝐞𝐚𝐧𝐞𝐫:EVEAGE 14.5″ multifunctional pressure washer surface cleaner gives features in 15 inch cleaning diameter it cleans large surfaces up to 5x faster than a standard nozzle.Wide application for cleaning stubborn stains on patios, driveways, decks, sidewalks or other vertical siding like brick walls, stucco.

𝐇𝐢𝐠𝐡 𝐄𝐟𝐟𝐢𝐜𝐢𝐞𝐧𝐜𝐲: Our pressure washer accessories integrated rotary rod with dual high-pressure rotating jets can save cleaning time by up to 60% compared to conventional nozzles.Equipped with 4 large wheels,compare with 3 weels it can move more flexible and easy to use.

𝐏𝐫𝐞𝐦𝐢𝐮𝐦 𝐐𝐮𝐚𝐥𝐢𝐭𝐲: The brand-new upgraded power washer was made of durable stainless-steel with a heavy-duty bearing can be used for a long time. A filter is built into the entrance to prevent the blockage of impurities.Tough flexible bristles controls over-spray can keeps you dry while you clean.

𝐆𝐫𝐞𝐚𝐭 𝐂𝐨𝐦𝐩𝐚𝐭𝐢𝐛𝐢𝐥𝐢𝐭𝐲: Surface cleaners has standard 1/4″ quick connection joint compatible with most gas and electric pressure washers.Package include 1 * 14.5″ pressure washer surface cleaner, 2 * extension wands, 2 * replacement nozzles,4 * O-rings, 1 * teflon tape,1 * nozzle cleaner. Working pressure is 2000 -4000 PSI, flow rate 1.8 to 3.7 GPM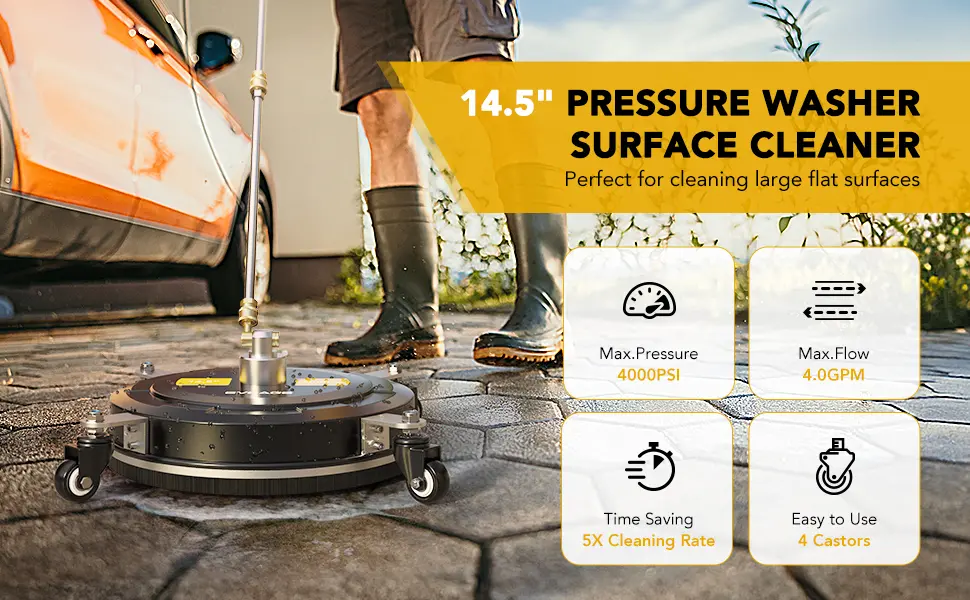 EVEAGE Pressure Washer Surface Cleaner
Perfect for vertical surfaces like brick walls, stucco and other siding.Also use on horizontal surfaces like driveways, patios, sidewalk, etc.
Built in dual high-pressure rotating jets can easily break up dirt and grime without streaking or striping surfaces,the unit provides quick, streak-free cleaning and allow you to complete your pressure washing projects in a fraction of the time.
The Surface Cleaner can be used with most gasoline pressure washers with up to 4000 PSI, min pressure 2000 PSI, min flow rate 1.8 GPM, max flow rate 4.0 GPM.
CAUTION:

High pressure in Surface Cleaner area. Risk of injury caused by improperly locked Surface Cleaner connection.

1. Make sure you hear the ""click"" when inserting the Surface Cleaner tip into the quick connection.

2. Pull the Surface Cleaner to make sure it is seated properly before operating your unit.

3. High pressure in surface cleaner area. Do not leave the cleaner unattended when it is pressurized.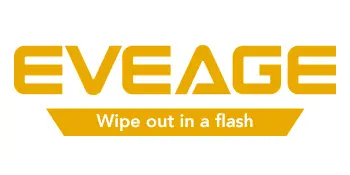 The Trusted Brand for cleaning. EVEAGE offer a wide range of Home & Garden cleaning products and is the most trusted brand for creating a healthy and cared for home. We are known for innovative products such as undercarriage pressure washer attachment. Whatever the cleaning need, from small projucts to large undertaking, EVEAGE has the ideal solution.
Package include:

1 x Surface Cleaner

2 x 15" Pressure Washer Extension Wand

2 x Replacement Nozzles

1 x Manual

4 x O-rings

1 x Thread Seal Tape

1 x Nozzle Cleaner