Description
Jim Foster says: "
Super easy to assemble. Was very impressed. It's lightweight with is perfect for me, has quite a bit of power too. I was pleasantly surprised. For my first tiller, it's an amazing deal for the price!"
nova says: "
It's so easy to use. Save time and effort. The price is also fair. My mother said she needed this too much. Before that, she had to spend two or three hours each time going through the vegetable garden, but now it only takes half an hour to do it. It's so easy."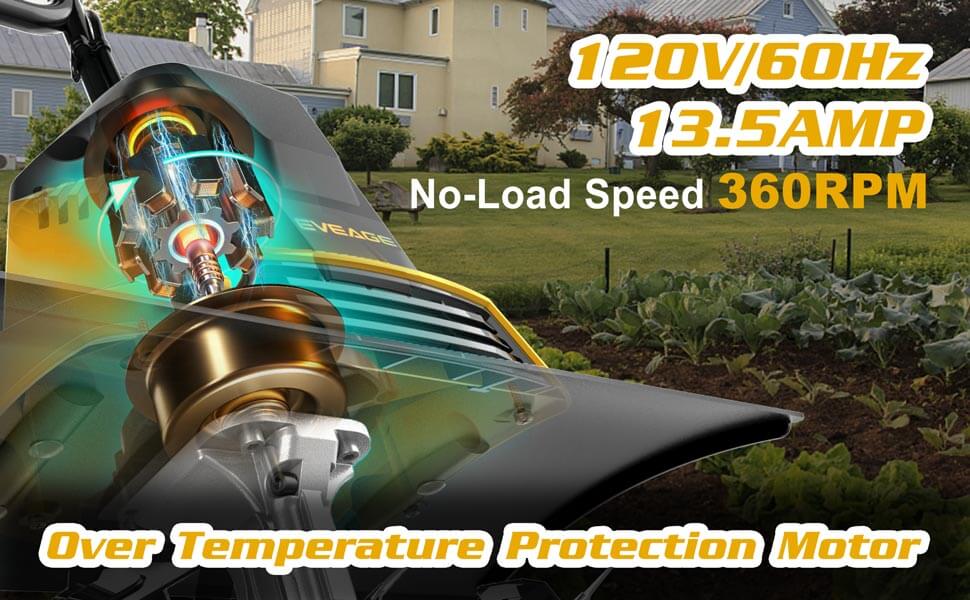 Choosing The Garden Tiller, No oil, No Tuneups, No unpleasant smell, No Expensive Price, Just Run an Extension Cord and a Power. Fewer Parts to Worry About, Fast Work.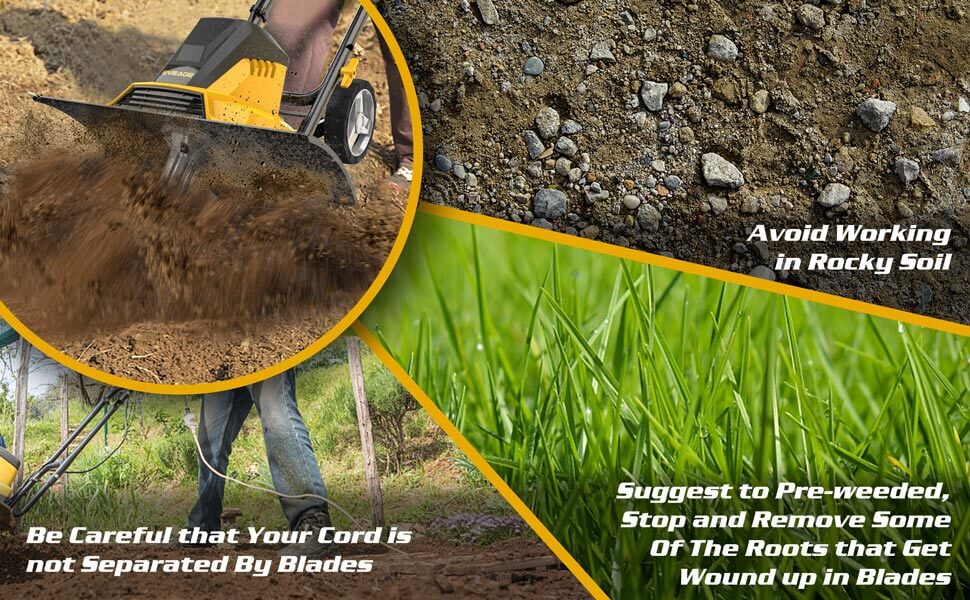 EVEAGE Garden Tiller is Design With 13.5AMP Copper Motor, No-Load Speed 360RPM, Big Torque, Big Power. It Will Reduces Your Tilling Times Down From a Whole Day to About 30 Minutes.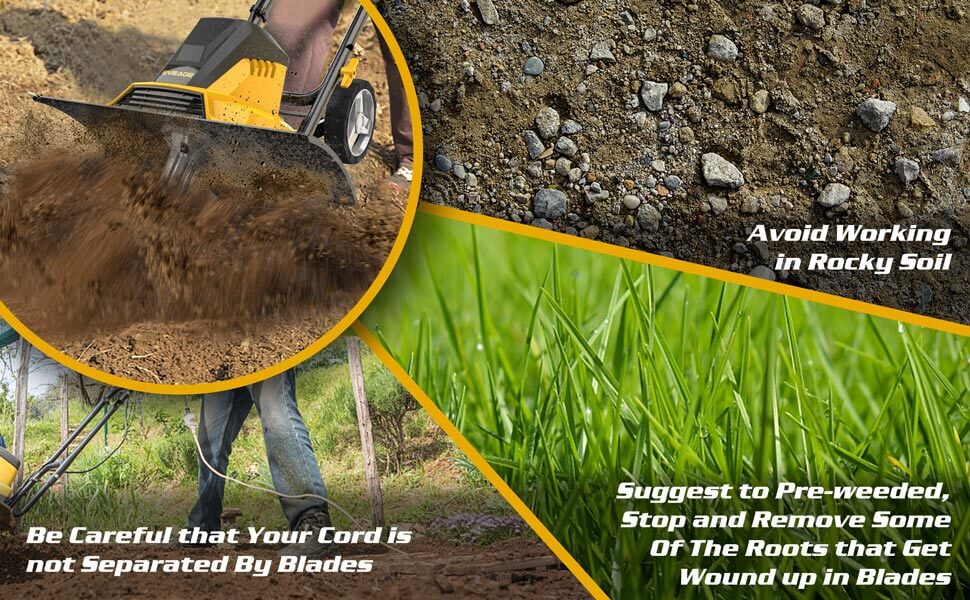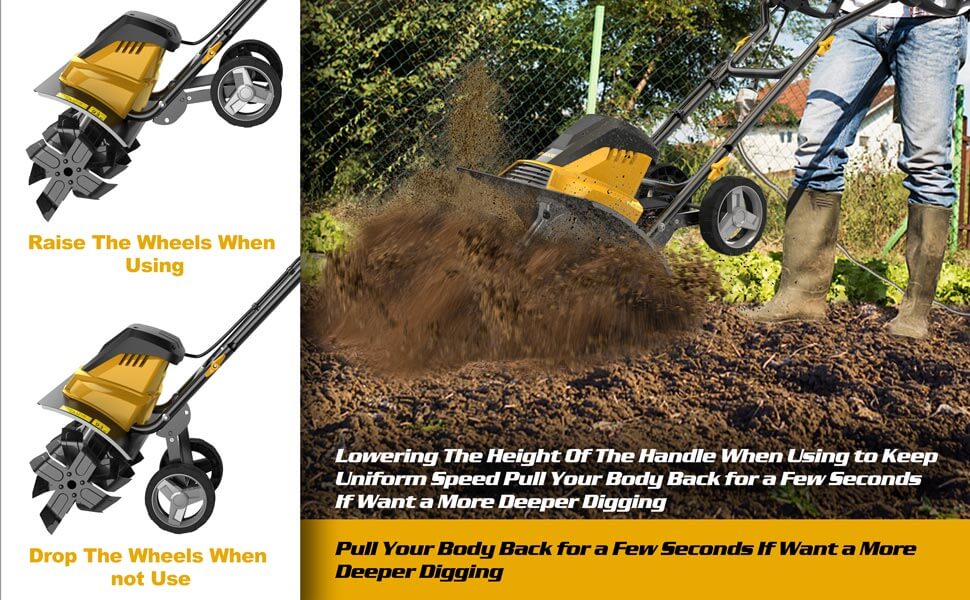 【Efficient and Convenient】
EVEAGE Electric Rototiller is Different from Other Tillers, 18-inch Working Width is Improving More Several Times Efficiency Than 16-inch or 14-inch. 6×4 Steel Tines Will Offer More Dense and Faster Tilling.
Tillers and Cultivators Electric is Design With Safety Button and Over Temperature Protection, Safety Button Prevent Accidental Start, Over Temperature Protection Prevent High-Temperature Hurt The Motor.
–Main Voltage:120V / 60HZ –Power Input:13 . 5A
–Working width:450mm ( 18 ")
–Working depth:max 220mm ( 8 . 7" )
–LPA sound pressure level :80 , 4 db ( A )
–KPA uncertainty3 db ( A )
–LPA sound power level91 , 57 db ( A )
–KPA uncertainty1 , 28 db ( A )
–Vibration left hand0.968 m / s ²
–Vibration right hand0.947 m / s²
–K uncertainty1.5 m / s²
–Protection classProtection typeIPX4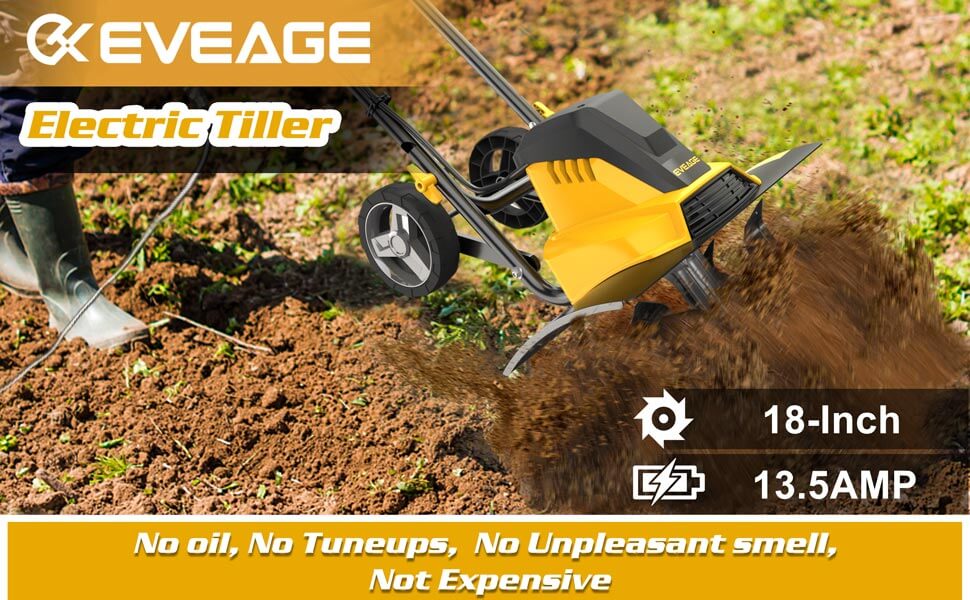 【Lightweight Easy to Store】
Garden Tiller With The Foldable Design, Very Easy to Install and Foldable, Easily Store for Next Year's Work. Lightweight Design, Working Age Can Up to 70 Years Old, No More Tired.