Description
PACKAGE INCLUDE: 1 * hose sprayer nozzle 4″ , 1 * high pressure jet nozzle, 1 * hose shut off valve, all solid brass made, heavy duty, broad, and thick.

LARGE WATER FLOW: With 4 holes at the tip of the hose nozzle sprayer, you can get at least 30% larger water flow. Save more time for watering your plants or washing your car. The water sprayer is going probably about 30-45 ft. in distance.

EASY TO USE: The garden hose sprayer only takes 2 fingers to adjust the flow. It's very easy, even while in operation. Fits all 3/4″ standard garden hose.

LEAKPROOF WATER HOSE NOZZLE: Design with 3 o-rings, 2 in the standard area, and also one extra o-ring at the top of the high pressure hose nozzle, provides a tight fit. When it's all the way off, notice that there are no leaks and no drips!

WIDE APPLICATION: The hose spray nozzle can be changed for a fine mist spray to water your fragile plants and flowers in your garden or it can be adjusted to a high-volume high pressure jet sprayer for tasks like cleaning your vehicle or driveway.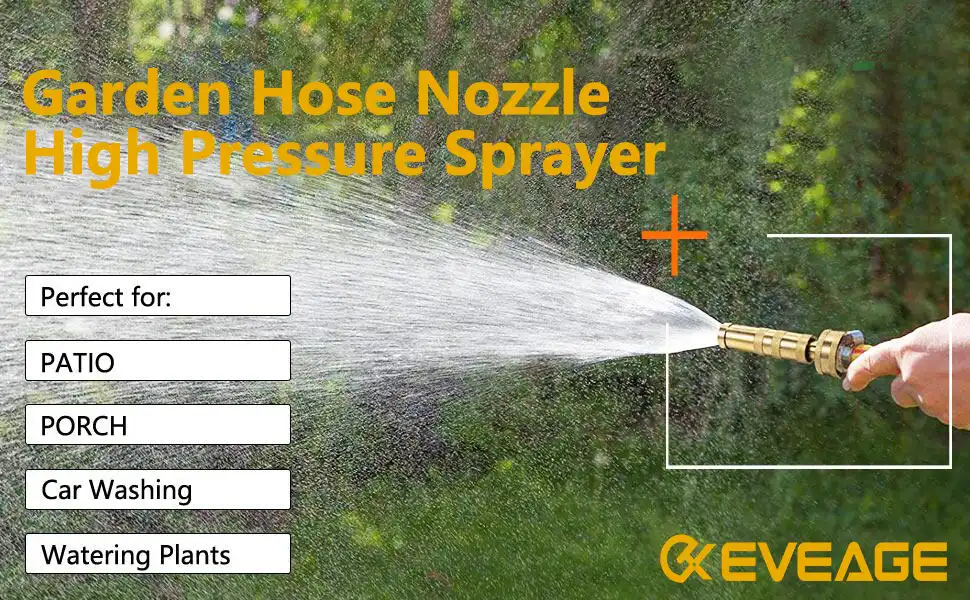 Have you ever owned a cheap leaky hose nozzle? Bought new nozzles every year? Get this heavy duty hose nozzle and say goodbye to your cheap made sprayer. You can depend on it even if you leave it out.
Why our garden hose sparyer nozzle? Distinguish from other 1 or 2 o-ring, our Brass Hose Nozzle contains 3 o-rings to ensure a leak-free performance to perform the water shut-off function.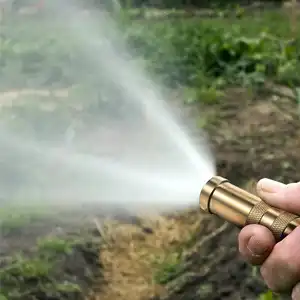 Hose Nozzle High Pressure Brass Water Sprayer Heavy Duty
Heavy-Duty Solid Brass hose nozzle with a steady flow, a great fit, shuts off completely & turns amazingly smooth, every time!
Package include:
1* hose nozzle adjustable twist 4″ + 1 * jet sweeper nozzle + 1 * hose shut valve
All Brass Hose Nozzle High Pressure Water Jet Sprayer Pros:
High Pressure Jet Stream

Heavy Duty Durable Solid Brass Construction

Hose Shut off and Adjustable

Easily maintainable with replacement hose washer available

Leak-free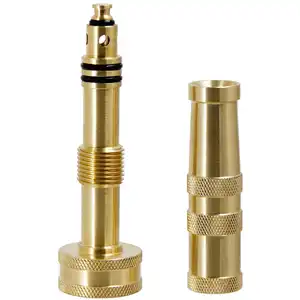 Solid Brass Hose Nozzle Sprayer
All brass one-piece construction offers a long time use. Even when dropped on concrete, or run over by a truck, it still works great!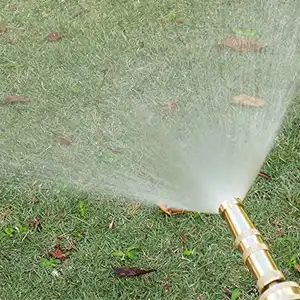 Fine Mist Spray to Water Your Fragile Plants
This hassle-free and easy to use design makes this hose sprayer nozzle great for misting your plants, the compost pile, or giving your dog a bath.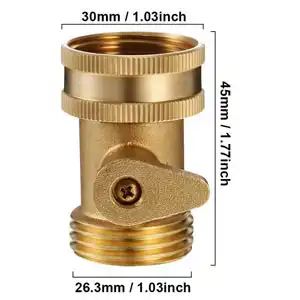 100% Solid Brass One Way Construction
The female inlet is all brass for rust prevention, longer service life. Never afraid of strong screwing, which results in broken plastic.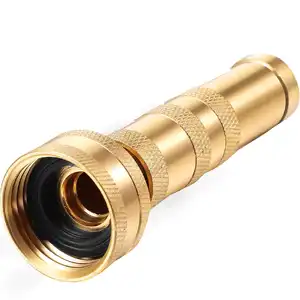 Widely Application
Standard 3/4″ garden hose quick connect fits all garden hose , hose ends,watering devices, sprayers, sprinkler, nozzle etc.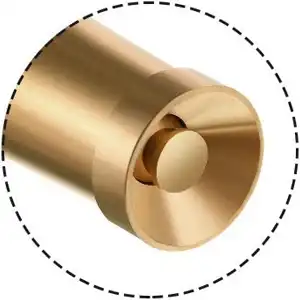 Heavy-Duty Adjustable Spray 4' Brass Hose Nozzle
You need a hose nozzle that is reliable, made to last, and has no comparison – order it now.