Description
[Pressure Washer Gun Hose Kit] : 4000PSI / 8GPM /140℉ High Pressure washer gun and wand kit, comes with the most popular 3200 PSI EVEAGE power washer hose, easy to reach places that hard to get. Meet your outdoor cleaning and business washing job requirements. Compatible with Simpson, Briggs & Stratton, CRAFTSMAN, Champion, Honda, Excell, Ryobi and other high pressure washers. PLEASE NOTE: NOT FIT FOR GARDEN HOSE OR WATER HOSE.
[Commercial Power Washer Swivel Gun] : This trigger gun is manufactured with shockproof reinforced material, high-quality solid brass components for maximum strength to ensure built to last. New Swivel 3/8″ quick connector inlet allows the pressure washer hose to spin with your move while under pressure, avoids hose kink, and delivers water flow rates as expected, providing great flexibility and maneuverability.
[3200 PSI Kink Resistant Pressure Washer Hose] : Premium high-quality material hose merges with a unique high-tech manufacturing process, to provide you with an EASY carry, drag, and roll-up. With innovative high technology material and process management, new upgraded strength and wear resistance, this is perfect replacement pressure washer hose for a longer lifetime and safe use.
[Universal Adaptability] : High-pressure washer trigger gun comes with 2 extension lances, could be removed or extended to 3 lengths as you wish. Universal 1/4″ quick connector outlet is compatible with multi high-pressure spray nozzle tips, foam cannon, turbo nozzle, surface cleaner. Suitable for cleaning cars, pool, windows, roofs, sidewalks, auto detailing business, garden tractor, etc.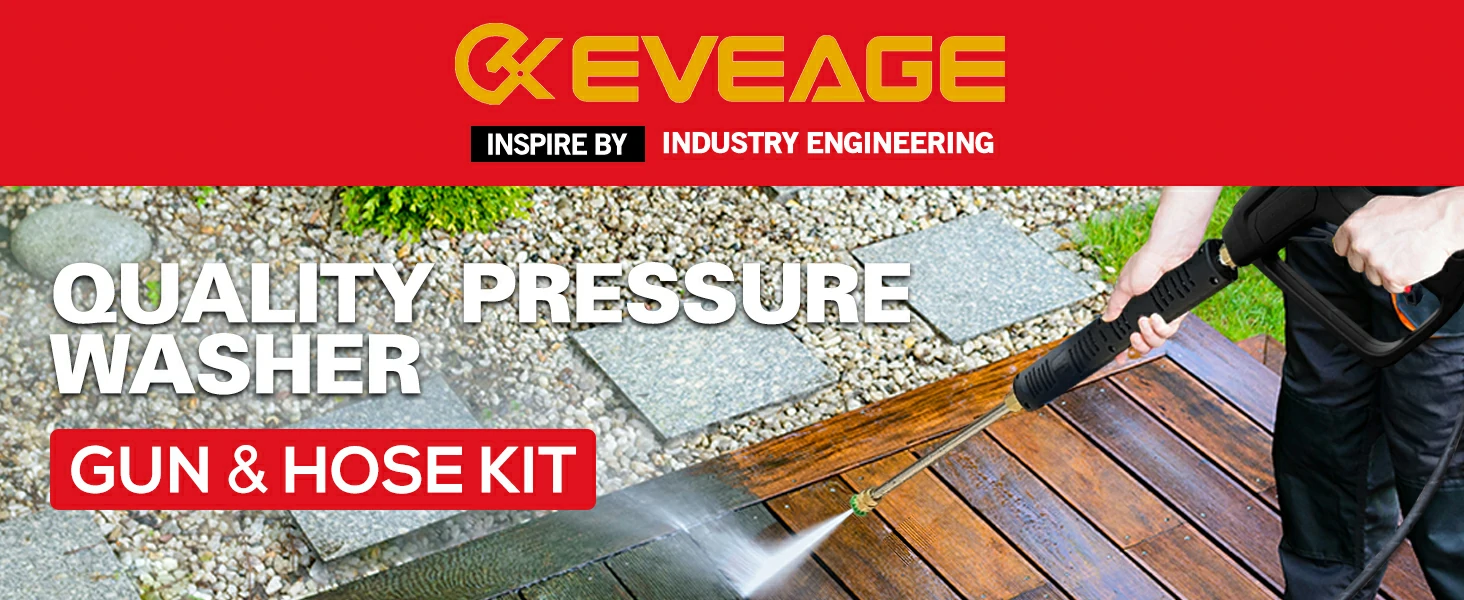 Quality Material For Maximum Strength
EVEAGE Pressure Washer Gun and Hose Kit
Gun 

Working Pressure: Rated 4000 PSI @ MAX 4500 PSI

Hose 

Working Pressure: 3200 PSI (Burst pressure 8700 PSI )

Working Temp: Up to 60°C /140°F

Hose Conncetor: M22-14mm male

Hose length: 25 FT (1/4 inch inner diameter)