Description
【Various Size Detailing Brush】 Our detailing brushes set have different sizes, meet all your detail car cleaning, one of the smaller car detailing brush could get into smaller areas or hard to reach spots, such as: the little cracks, the nooks, or tight space. The larger car detail brush could help you clean exterior and wider area more efficiently, the brushes are soft enough not to damage the surface of the car, different size detail brushes will become a good helper for you to clean car.
【Soft Car Detail Brush & No Scrath】  Durable soft detailing brush set could ensure that not scratch or damage the surface of your car, meanwhile, this automotive detail brushes are sturdy enough to remove all stubborn dirt, include Internal and external as well as a small space, please rest use assured.
【Widely Application 】The car detail brush are a good helper for to wash, wax, dust and polish your vehicles and homes, use wet or dry, such as car, window, mirrors, furniture and glass, etc.
【Not Fall Off 】  Detailing brush are made of solvent resistant bristles, durable, does not easy to fall off, and has no peculiar smell, brushes are easily exploring and reaching into narrow and tight space, like exhaust tips, bumpers, inner fender, air vent, lug nuts.
【Super Value Set & After Sale Guarantee】  Value set: 5PCS diffenent sizes Car Detail Brushes; 1PCS Wash Mitt; 1*Car Vent Brush; 3PCS Wire Brush, 10 pieces in total, meet all your car cleaning needs. We wish you enjoy shopping in our store. 12 month refund and replacement guarantee and 24 hours online after-sale service.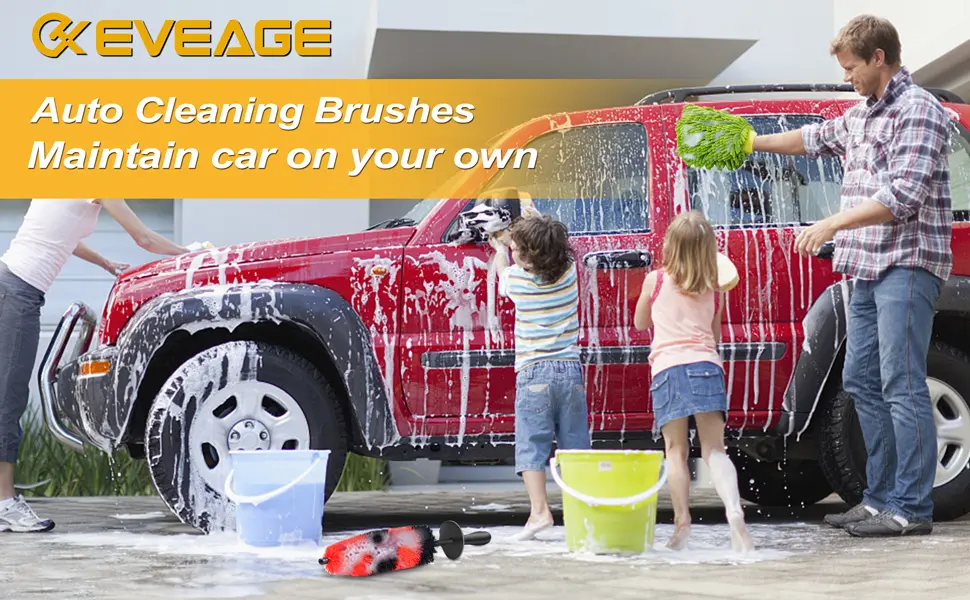 EVEAGE 10pcs Car Wheel & Rim Cleaning Brushes
Choose a beautiful day, call your family and give your car a comprehensive clean together!
Still have trouble to clean out inside of rim? EVEAGE Extra Long Wheel Rim Brush is the perfect tool for cleaning inside of the wheels, tires, fender liners, textured plastic trim pieces, suspension parts, and more. The fully-synthetic brush is tough on dirt and grime, yet gentle on painted, chrome, powder coated, and polished wheels. This wheel brush features an extra-long handle with a rubber tip to avoid damaging wheel finishes. The durable plastic handle is scratch and abrasion resistant. And detailing brushes bristles gently scrub and lift dirt and grime of the car for a scratch-free shine. Nylon,Brass, Stainless Steel bristles with curved handle grip for rust, dirt & paint scrubbing with deep cleaning large size. Microfiber wash mitt used to clean Engine Cover, front Glass bezel and car door. Whether you need to wash your RV, house, boat, etc., EVEAGE vehicle detailing brush set is the perfect tool to get the job done right.
From the ultra-soft, scratch-free microfiber wash mitt, to the non-slip comfort grip detailing brushes, EVEAGE meets your every need.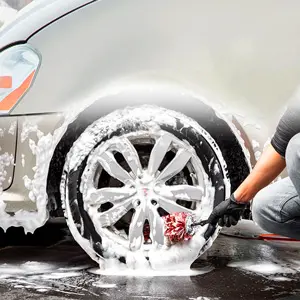 Premium Wheel Detailing Brush Set Features
Brush Material: Soft PP bristles + brush cap tip

Handle Material: Comfortable Rubber + Baffle anti-splash

Along with detailing brushes and microfiber towel which can clean the nooks and crannies that the large brush can not reach.

Purpose for cleaning cars, trucks, motorcycles, bicycles, boats, wheels, rims, spokes, grills, engine bays, exhaust tips, bumpers, vents, and much more.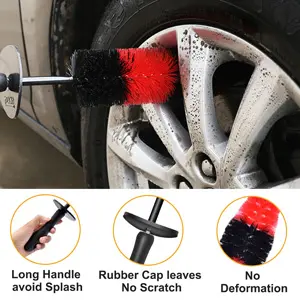 Long Handle Wheel Brush, Scratch Free
17″ long wheel rim brush is perfect for cleaning between the wheel spokes, inside of the wheel and any other tough to reach areas.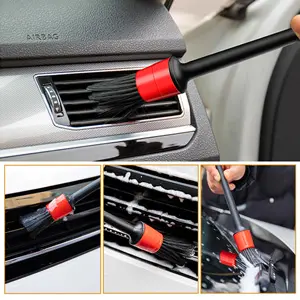 Detailing Brush Set
5pcs different sizes detail brushes for interior and exterior car cleaning, allow for wet and dry use, remove dust, bread crumbs and other small items out of air vents, trim, seat crevices and emblems, make your loved car fully tidy and clean from the inside out.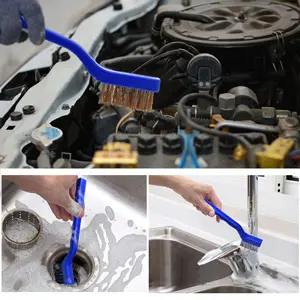 Wire Brush Set-7-inches
All our brushes serve different purposes! You can use the stainless steel wire brush for rust removal, while the nylon brush is perfect for delicate household appliances. The brass brush is ideal to clean metal surfaces without scratching them.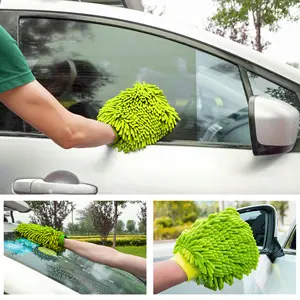 Improved Waterproof Wash Mitt
Made from microfiber chenille with high density weaving structure, this car wash mitt could hold a lot of soap and water when cleaning, removal of dirt effectively. Water saving, money saving.