Description
[Any Length Lock] EVEAGE reel adopts 115 FT hybrid hose, the hose can be locked at any length by pulling it, covers every corner of your garden easily.

[Stable Auto Rewind System] Simply give the hose a gentle tug and the hose reel will retract all the way back in. No need to worry about the hose tangling inside the reel. With its guidance system, the hose will roll up perfectly every time.

[Excellent 5/8 in. Garden Hose And 180° Swivel] All weather flexible and extremely durable hybrid hose, ensure the hose reel leak resistant and long lasting. The mounting system allows the unit to swivel 180°. It's also a quick release mounting system so simply lift on handle to remove for storage. Working Pressure: 200PSI.

[Everything included and ready to use] Come with 1 x eveage 115ft wall mount hose reel, 1 x 9 pattern nozzle, 1 x 5FT brass fitting leader hose, 4 x tapping screw, 4 x expandable bolts, 1 x User Manual. Suggest the installation Post should larger than 4X4.

[Leading Service Awareness] Eveage in-house research & development team continuously works to provide creative and effective solutions for all your reeling needs.

[24 MONTHS WARRANTY] The Eveage team has always been committed to improving the quality of life for everyone and enabling more families to enjoy the pleasures of the yard. Our improved after-sales service will always make your purchase worry-free and keep you satisfied!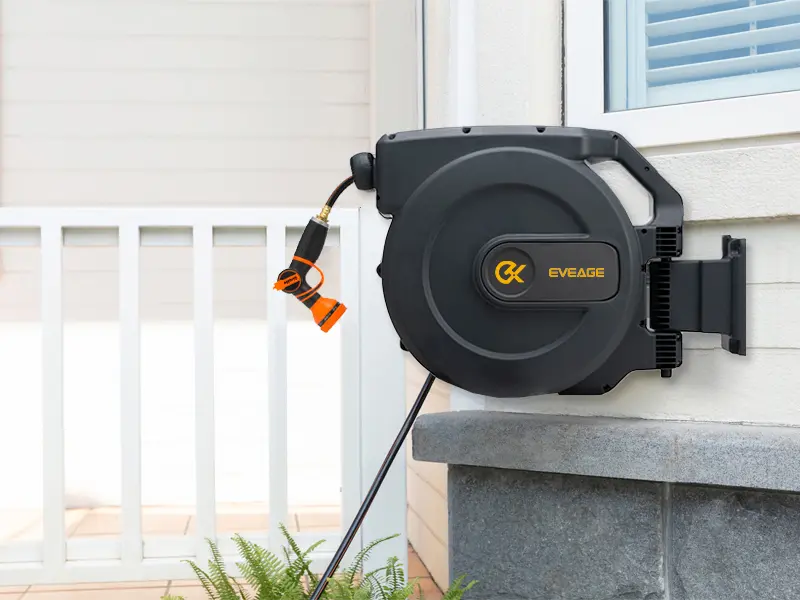 Retractable Hose Reel 5/8-Inch * 115ft
Combine all of the incomparable strengths and personalized designs. Made of heavy duty polypropylene material, which is resistant to pressure and impact.
The EVEAGE retractable garden hose reel aims to bring you convenience.
The wall-mounted design of the hose reel is a space-saver as well as a time-saver.
Auto slow rewind system, give the hose a tug, it will rewind automatically. No more bending to clean the hose.
Install Post Suggestion: The POST size should larger than 4X4.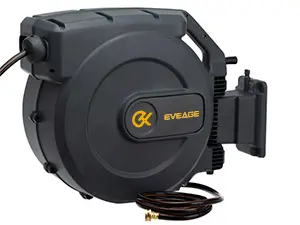 STURDY CASING
The intensified polypropylene casing will not deform or fade due to sun or rain exposure.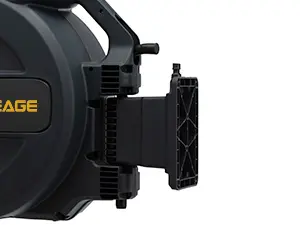 180° SWIVEL BRACKET
Solid 180-degree rotation make full coverage of your garden possible.
The reel can be easily disconnected from the bracket for storage in winter.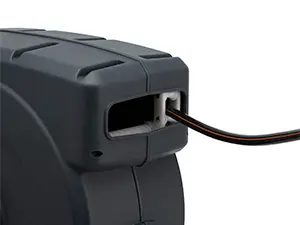 AUTOMATIC SlOW REWIND SYSTEM
The automatic hose guide, and rewind system can avoid tangling and kinking when you retract it.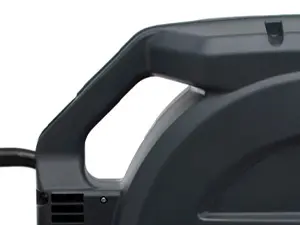 EASY-TO-GRIP HANDLE
The Large-sized handle allows you to easily lift or move the reel when needed.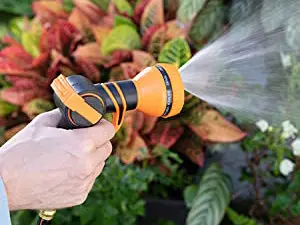 9 ADJUSTABLE SPRAY MODES
9 adjustable hose nozzle spray modes: Center, Mist, Flat, Soaker, Cone, Rinse, Shower, Angle, Vertica.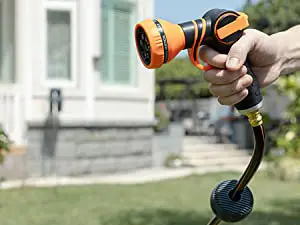 LOCK AT ANY LENGTH
With a unique locking ratchet, the hose can be locked at any length, covering your garden easily.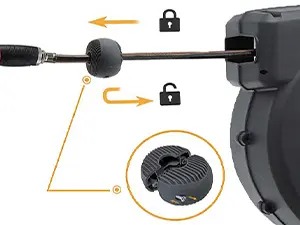 ADJUSTABLE LOCK
The stopper ball can be adjusted in any position as you like.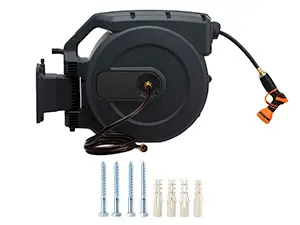 WHAT YOU GET
1 * Retractable Hose Reel
1 * Nozzle
1 * Lead-in Hose
1 * Mounting Bracket 4 * Anchor Kit.
Everything you need. Install and use.
Technical Specifications
| | |
| --- | --- |
| Item Dimension: | 26(L) * 19(H) * 10(W) inch |
| Mounting Holes | 7.1(H) * 4.3(W) inch |
| Item Weight: | 40.3 lbs |
| | |
| --- | --- |
| Connect Type | 3/4 in. GHT |
| Hose Length | 115+5ft |
| Hose Diameter | 5/8 in. |