Description
This is a Garden Tool Set with Tote and Folding Seat and detachable storage tote all-in-one. Get outside and beautify your lawn or garden with this multifunctional garden tool set. Complete with a spacious polyester bag and 5 stainless-steel tools, it has everything needed to encourage a love of gardening. An included steel frame adds convenience by serving as a holder for the bag or as a mini seat for resting. Take advantage of 22 built-in pockets to easily store the tools once a gardening job is done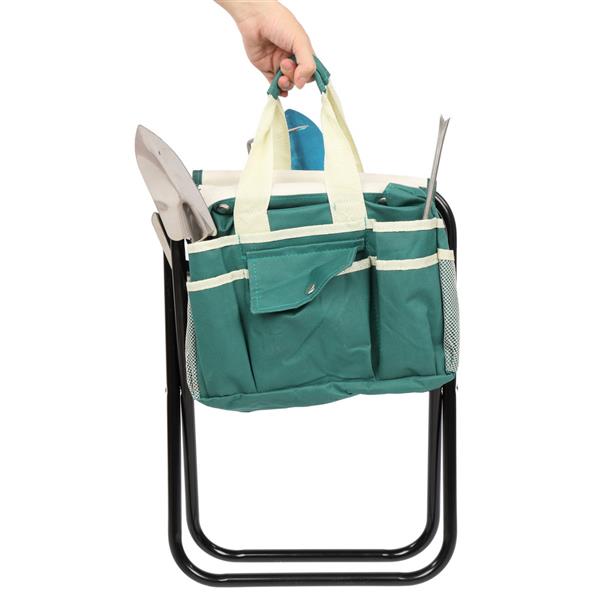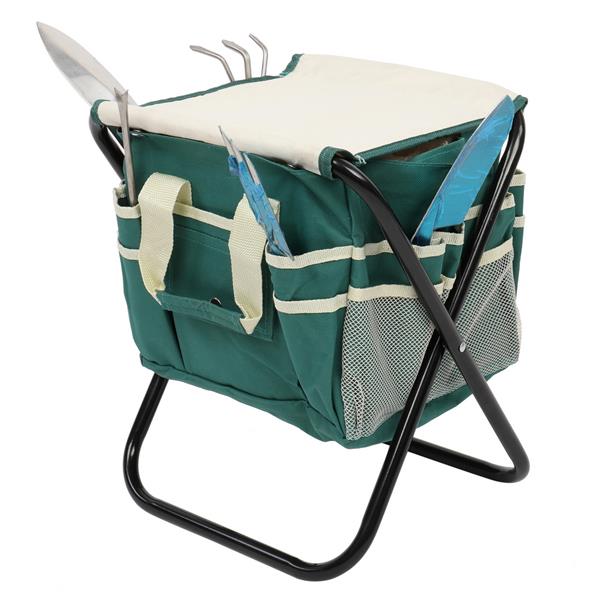 1. Multifunctional gardening set features a detachable, polyester tote
2. Designed with 20 exterior pockets and 2 interior pockets
3. Includes a broad trowel, narrow trowel, hand fork,a hand cultivator, and poker
4. Steel frame acts as a stool for breaks or as a holder for your storage bag
5. Gardening bag has ergonomic handles for easy transportation
6. Stool folds down for convenient storage
7. Weight Capacity: 265 lbs.
1. Overall Dimensions: 15″(L) x 12″(W) x 13.5″(H)
2. Stool Folded: 7.5″(L) x 15″(W)
3. Storage Bag: 11″(L) x 10″(W) x 11.5″(Depth)
4. Weight: 4.9 lb
5. Color: Green
6. Assembled Product Dimensions: (15 x 12 x 13.5)"(L x W x H) 1 x Stool 1 x Storage Bag 1 x Broad Trowel 1 x Narrow Trowel 1 x Hand Fork 1 x Hand Cultivator 1 x Poker
1 x Stool
1 x Storage Bag
1 x Broad Trowel
1 x Narrow Trowel
1 x Hand Fork
1 x Hand Cultivator
1 x Poker