Description
Free Shipping &Fast Delivery
Delivered within 3-7 days (within the United States)On qualifying items, free shipping will be noted on the product page and in your Cart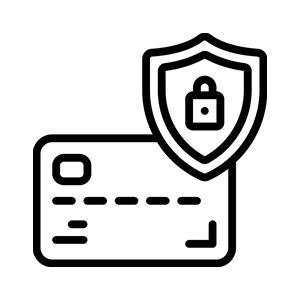 Free 30-day money back guarantee
If you are not satisfied with our products within 30 days after receiving the products, you will support the return of funds to protect your rights and interests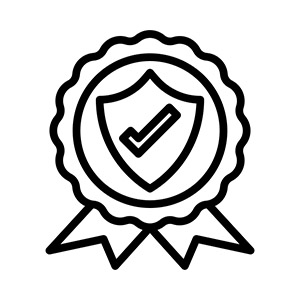 6-Months Limited warranty
Coverage on most original components plus 2 years on the frame, with our team ready to repair unforseen issues.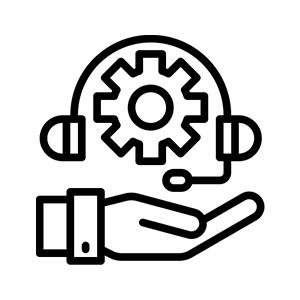 24 / 7 Customer Service
If You Have any Product Questions, Professional Customer Service Team on Duty for 24 Hours for Covering Your Worries
【Easy to use】Compared with other foam cannons, we match with a car wash glove, the translucent bottle body allows you to see the amount of liquid in the bottle more clearly, and there is a marking line on the bottle, which is easy to observe the capacity, and it is more convenient to use.

【High-quality】Adjustable nozzle is made of heavy-duty brass core and stainless steel, which effectively improves the sealing of the joint. Maximum working pressure is 3800 PSI,adjust the knob to achieve the required foam level, and adjust the adjustable nozzle to change the spray width and angle as needed.

【Perfect Washing Performance】This foam cannon can produce dense and fine foam, allowing the car to be immersed in the bubble bath while decomposing and softening dirt. Minimize damage to the surface of the item.

【Easy to Use】Equipped with 1/4 inch quick connect accessories,The upgraded filter block design provides maximum protection against damage from foam or water particles while in use. 1/4 quick coupling allows the cannon to be securely attached to your pressure washer gun. The adjustable foam concentration and spray angle improve foam coverage and cleaning effect.

【Multi Use】 Foam Cannon Pressure Washer which is suitable for most of the pressure washer. Car, Bike, Motorcycle Washing, floors, Windows washing, Driveways, Roofs, Siding washing etc. Great for removing dust and dirt and even the smallest cracks and crevices in your vehicle.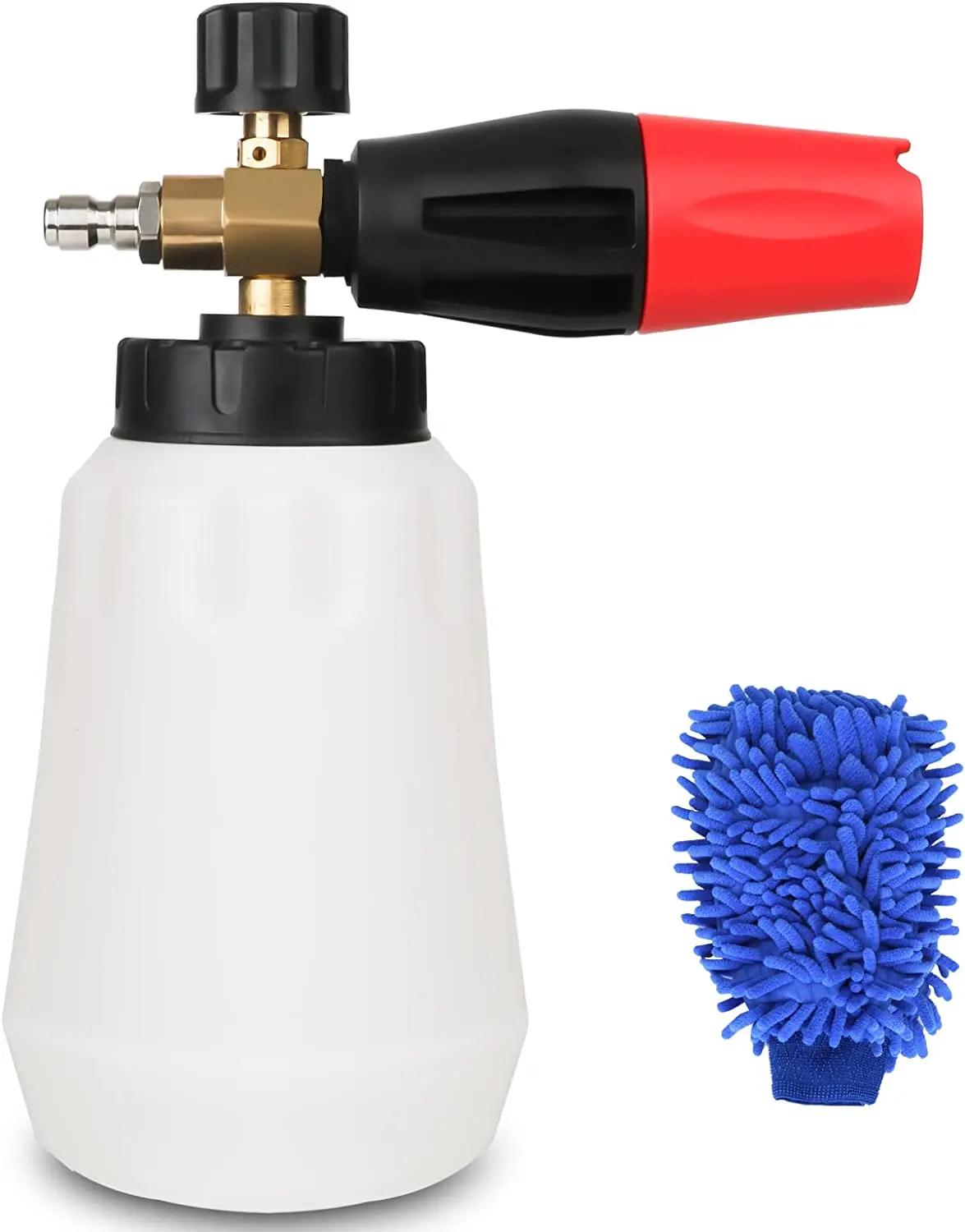 Eveage Transparent Foam Cannon
The best choice for car wash lovers!
This snow foam lance can be used for car, vehicle washing, siding washing, windows washing, driveways, roofs washing.
1.Foam Adjustable Knob
Adjust the water and foam ratio as needed.
"+" means increase water intake. Reduce foam concentration.
"-" means reduce water intake. Increase foam concentration.
2.Adjustable Spray Nozzle
Adjust the 90° nozzle to obtain a wide or narrow spray to achieve the foam cleaning effect you want.
3.Installation Steps
Pour in diluted car wash fluid.
Install the foam nozzle.
Connect the pressure washer gun.
Installation complete.
Packing Listing:
1 X Foam Cannon
1 X Car Wash Gloves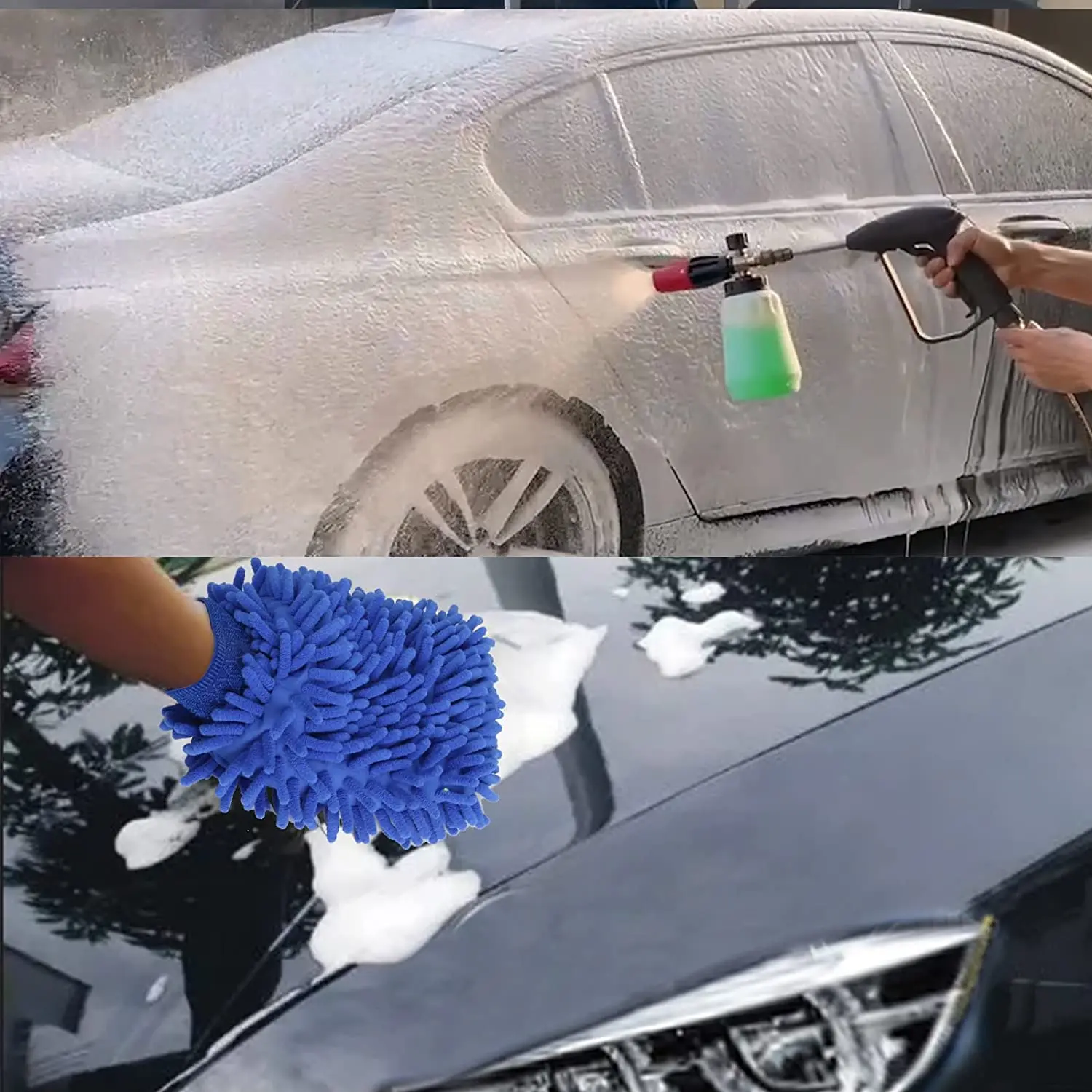 Less noise.
Better foam fan.
New tank and cap.
360 degree spray mode.
Up to 30% thicker foam.
Thicker foam, less shampoo.
New connections/accessories.
More stable, robust and durable
New generation foam technology.
Over 1 litre capacity to wash larger vehicles.
Easier installation with foam cannon bodies.
Easier foaming of the vehicle's top and undercarriage.
Tank cap is leak-proof even if you turn it upside down.
Suitable for pressure washers down to 90Bar (1300Psi).
Easier and quicker to connect fittings, no tape or glue required.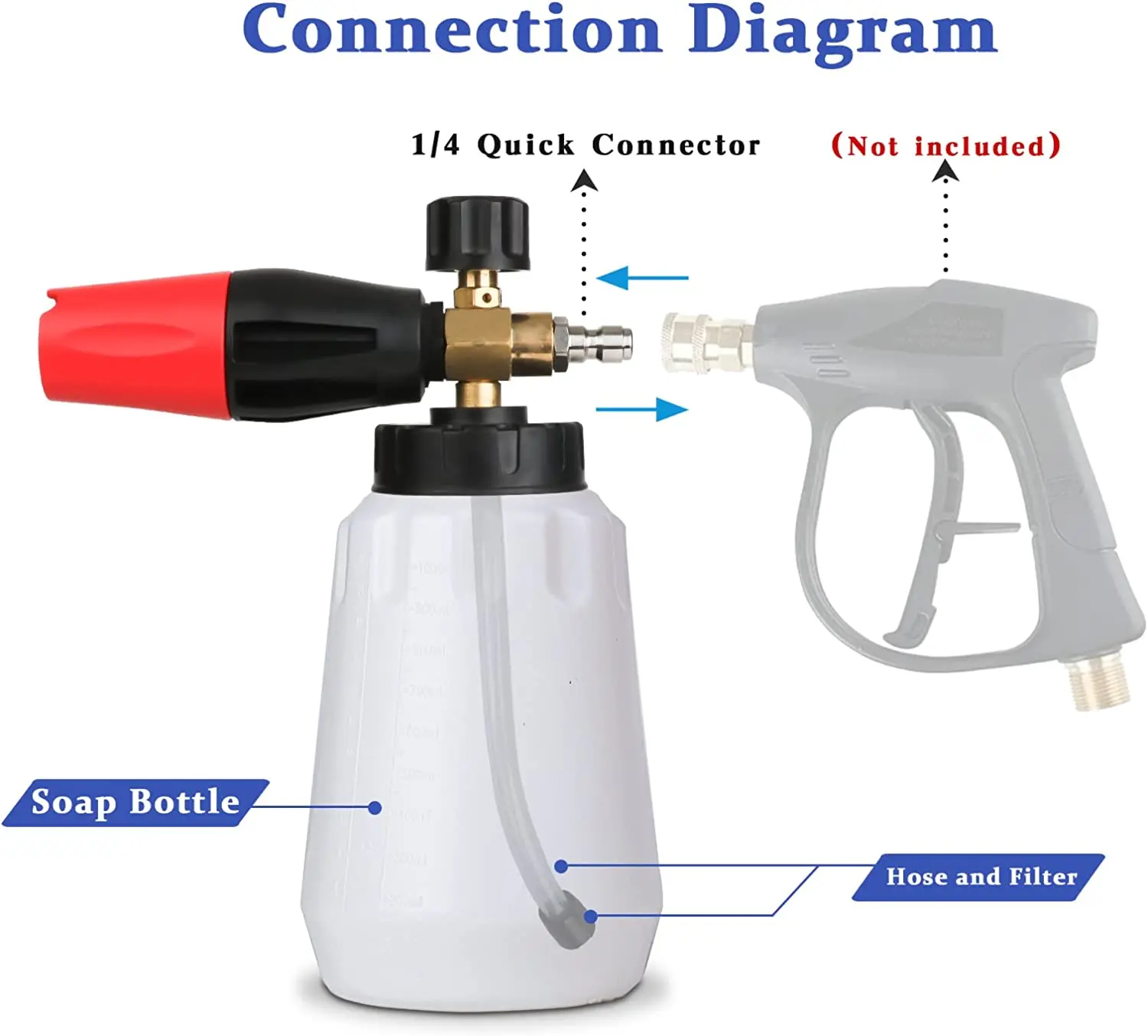 Eveage Foam Cannon is available for these pressure washer models:
Ozito
Pretul 1200
Husky 1500psi
Surtek 1800psi
Koblenz hl-145
Pretul machine
Koblenz hl-110v
Patriot imperial
koblenz HLT-370v
Hidrolavadora lutian
Hidrolavadora maxtool
керхер LIMEX VP 170Ic
Grunhelm GR-1410 YWC
Stanley SXEW159501 (1400 W, 1595 psi)