Description
30 FT Telescopic Pole: The length of the pole can be adjusted between 7 ft and 30 ft by clamps to meet all your high-reach and long-reach brush cleaning needs.

Aluminum Construction: The water fed pole is made of lightweight aluminum material, sturdy and corrosion-proof, with a nonslip foam-cushioned grip for effortless use.

Angle-Adjustable PP Brush: The brush adopts soft PP fiber, which can fit into corners and conform to contours to get to hard-to-reach grimes, dirt, and grease on uneven surfaces while keeping the surface unscratched. The brush head can rotate 180°through an agile rotate-lock mechanism, so you can clean various angled surfaces from the ground, no ladder required. Get ready to reach high and low with our pole!

33 FT Long Hose: Our water fed pole kit comes with a 1/32" x 33′ water hose, 1/4" brass coupling, a water separator, and an adapter for easy connection with various water sources. Water can be transferred through a water hose that will go into the pole and reach the two jets at the brush head, ensuring effective cleaning.

Wide Applications: Our most ambitious water fed pole is perfect for cleaning windows, solar panels, glass curtain walls, house roofs, and other hard-to-reach places.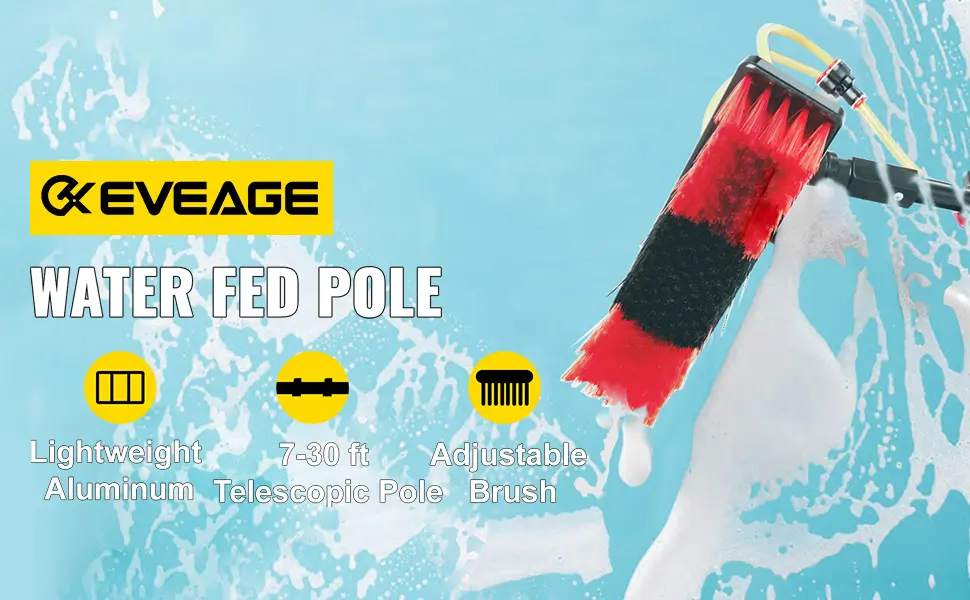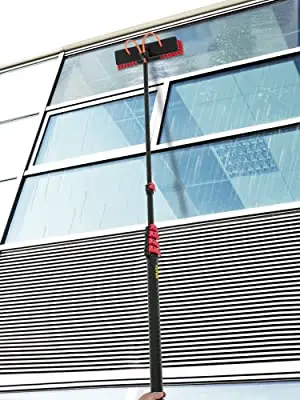 Water Fed Pole Kit
Telescopic Aluminum Pole & 180° Rotation Brush & Complete Accessories
The lightweight and sturdy aluminum pole can be adjusted between 7 ft and 30 ft at length for hard-to-reach cleaning tasks. The 180° rotation soft-bristle brush with a squeegee effectively removes dirt, muck, and grime. In addition, a 33 ft water hose, couplings, and other accessories are included for adequate water supply. Get ready to safely and effectively reach higher than you have ever reached before and make surfaces shine brighter than ever.
30 FT Telescopic Pole

Aluminium Construction

Angle-Adjustable PP Brush

33 FT Long Hose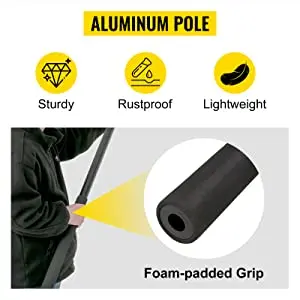 Aluminum Pole
The lightweight aluminum extension pole never bens even at maximum length. It also features high resistance to rust & corrosion. In addition, the foam-padded grip handle is designed for comfortable use.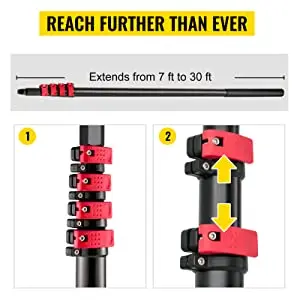 Reach Further Than Ever
The 7 to 30 ft high-quality pole allows effortless extension and retraction by adjustable clamps. You can use it to accomplish many hard-to-reach cleaning tasks without ladders.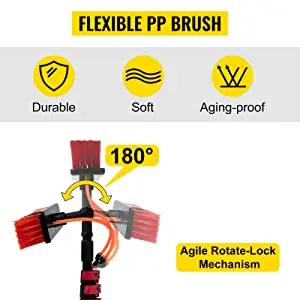 Flexible PP Brush
The brush features soft PP bristles and an agile 180° rotation mechanism, which can scrub away grime, greases, and dirt in corners, dents, or uneven surfaces.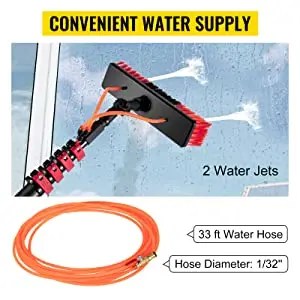 Convenient Water Supply
The 33 ft water hose is long enough to connect with water sources. The water will be transferred through the hose and pole to the two jets at the brush base for high-efficiency cleaning.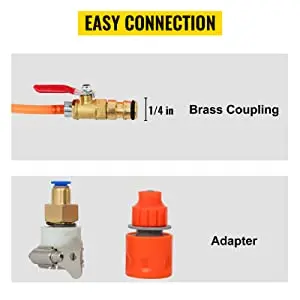 Easy Connection
An adapter and a brass coupling are specially designed for connecting the water hose to your different hose pipes or outdoor faucets.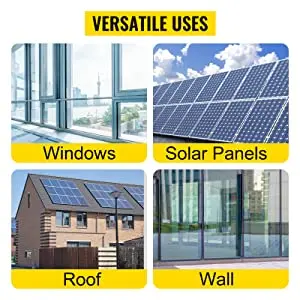 Versatile Uses
This water-fed pole kit is widely used to clean window glass, solar panels, glass curtain walls, house roofs, cars, trucks, motorcycles, boats, RVs, etc.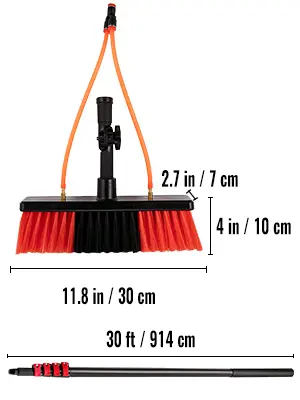 Specifications
Model: WFP-130F

Pole Material: Aluminum

Bristle Material: PP

Adjustable Pole: 7'~30'/2~9 m

Brush Dimension: 11.8" x 2.7" x 4"/30 x 7 x 10 cm

Water Hose Length: 1/32" x 33'/0.8 mm x 10 m

Brass Connector Diameter: 1/4"/0.64 cm

Item Weight: Approx. 9 lbs/3.6 kg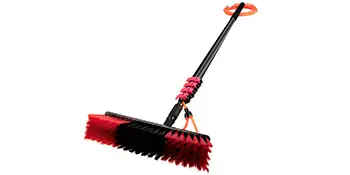 Package Content
1 x Water Fed Pole

1 x Brush Head

1 x Hose

1 x Brass Connector

1 x Adapter