Description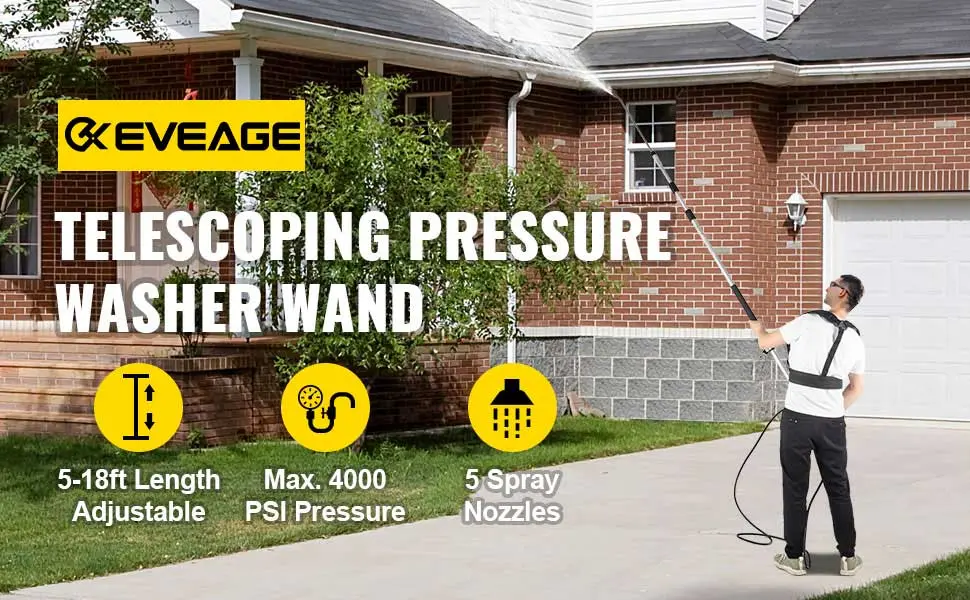 Premium Washer Wand: Max. Water Flow: 9GPM; Max. Pressure: 4000PSI. Ideal for high areas, our telescoping extension wand can reach up to 18ft. Made of lightweight aluminum alloy, durable 430 stainless steel, and brass material, the product features a long last using life.

Adjustable Length: The height of this telescoping pressure washer wand is ranged from 5 to 18ft, making your outdoor cleaning labor-saving. It is effortless to adjust the length because you just need to loosen or fasten the wand with no trouble. Lockable design for triggers also saves your energy.

Good Compatibility: 15-degree extension wand makes hard-to-reach places like gutter and roof corners easy to clean. We provide a 3/8″ quick connector for the inlet and a 1/4″ quick connector for the outlet. If needed, you should prepare the M22-14/15MM adapters by yourself. Universal works with electric pressure washers up to 4000PSI.

5 Spray Nozzle Tips: Bonus 5 different sizes of water spray nozzles: 0°, 15°, 25°, 40°, and 60°for soap using. Meet your washing needs in various situations, such as roofs, cars, fences, walls, windows, decks, etc.

Adjustable Support Harness: For your better use, we give you a double strap to support the pressure washer telescoping wand, which is convenient for your long-time cleaning of large areas. The strap can be adjusted within 3.9-7.9″ for your comfortable cleaning.
5-18ft Extension Wand
Strong Cleaning Effect & 5 Different Spray Nozzles & Adjustable Clamp
Here, we provide you with a high-quality silver telescoping wand to meet your outdoor cleaning needs. With its lightweight material and the support harness design, you can achieve a complete cleaning without tiredness. If you want to look for an advanced washing tool, do not be hesitated!
Premium Washer Wand

Adjustable Length

Good Compatibility

5 Spray Nozzle Tips

Adjustable Support Harness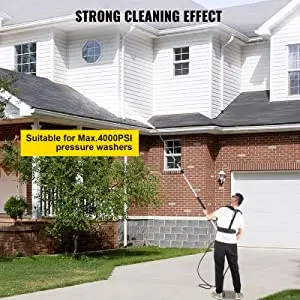 Strong Cleaning Effect
This pressure washer telescoping extension wand is suitable for cleaning the stubborn stains on the hard-to-reach corners, achieving a high-efficient cleaning effect.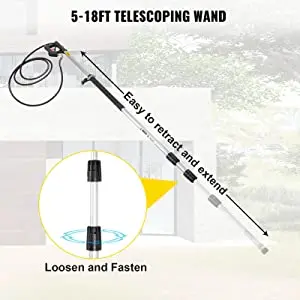 5-18ft Telescoping Wand
Easily fasten or loosen to adjust the length; you can find the most proper way to finish the cleaning job without tiredness. High areas can be cleaned quickly.
Fit for 3/8″ Connector
The inlet of the telescoping wand should be fitted with the 3/8″ quick connector (NOT INCLUDED). You are suggested to use the tool with the pressure washer up to 4000PSI.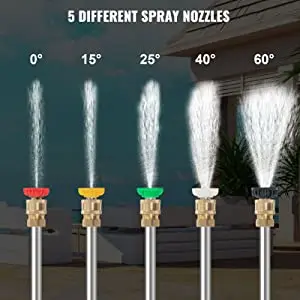 5 Different Spray Nozzles
5 different-color nozzles are suitable for different washing surfaces. You have no needs to prepare the nozzles, saving your time and costs. Randomly choose your needs.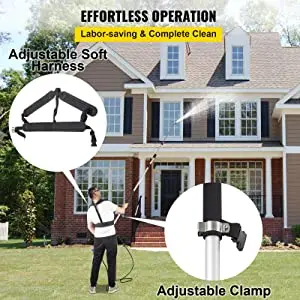 Effortless Operation
For your convenient use, our pressure washer telescoping is designed with many humanized details: an adjustable labor-saving harness and a clamp for an excellent supporting position.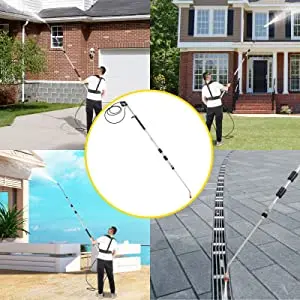 Wide Use Scenarios
The pressure washing tool is commonly used both for home and commercial occasions. Great to clean the driveway, sidewalk, pool deck, pool yard, porch, patio.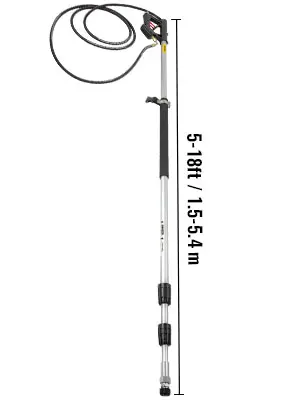 Specifications
Model: VV-TWW-18

Max. Pressure: 4000 PSI

Max. Water Flow: 9 GPM

Working Length: 5-18 ft/ 1.5-5.4 m

Extension Rod Length: 3.1 ft/ 0.95 m

Material: Aluminum Alloy + 430 Stainless Steel + Brass

Fit for Inlet: 3/8″ Quick Connector

Fit for Outlet: 1/4″ Quick Connector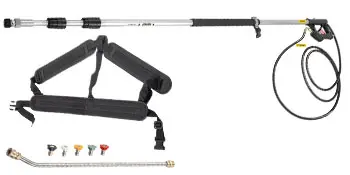 1 x Telescoping Wand

1 x 15°Extension Rod

1 x Strap Belt

5 x Spray Nozzles

1 x 3/8″ Quick Connector

1 x 1/4″ Quick Connector