Description
【Hydroponics Planter Partner】 It is a great choice for hydroponics propogation plants, the high boron silicon propagation glass is different from a normal hydroponics plastic container, you can nurture them better through transparent containers. The newly upgraded 5 bulb vases are in an orderly arrangement, you can better manage them.

【Gourd Nature Art Inspiration】 The design inspiration of the plant propagation station is inspired by the shape of the gourd, original design, all rights reserved. Design inspiration is more integrated with nature, enjoying your green healthy happy life.

【Beneficial Growth Design】 Our propagation vase is different from others, The metal holder does not have to pass through the terrarium, just hang the container on the C-Type Holder which is beneficial to the rapid growth of plants and not is disturbed.

【Multiple Safety Management】 Our Plant Terrarium with Wooden Stand is designed with a C-type natural wood bracket, Stable and adjustable. C-Type Holder effectively prevents the terrarium from falling off and damage, the rubber fix ring effectively fixes the terrarium position without loosening, rubber caps block both ends of the metal rod to prevent finger cuts.

【Wonderful Gift & Decoration】 Tabletop Propagation Station is a wonderful gift for mom/woman, The fairy lights and decorated stone make it a work of art for Mother's Day, Valentine's Day, Christmas, Thanksgiving.

❤ EVEAGE Garden Decorations Gift is Donating $1.5 From This Purchase to Poor Children, Your Love Will Bring Them a Better Life. We Will Also Adhere to Our Public Welfare Undertakings and Dedicate Our Meager Efforts.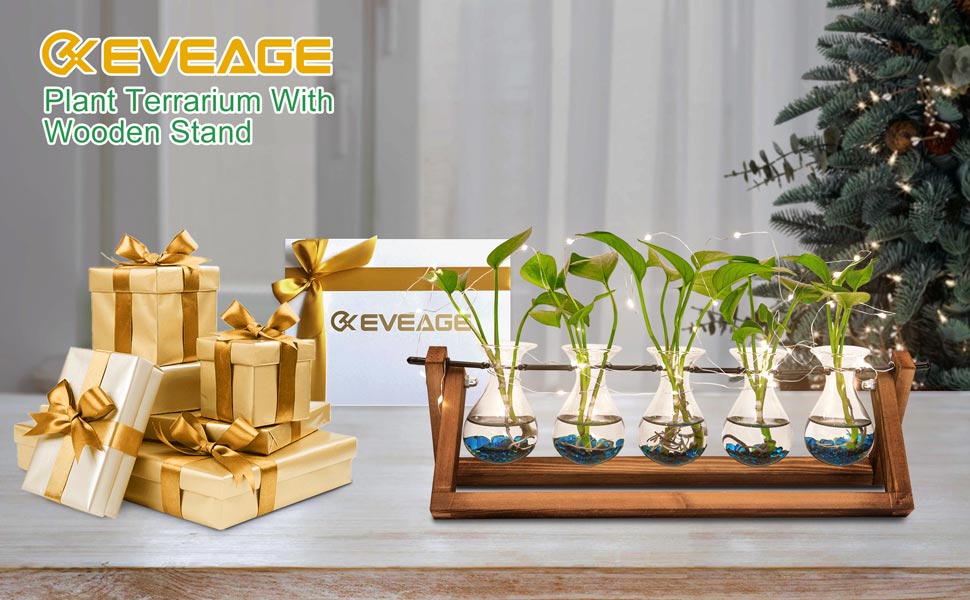 New Upgraded 5 Bulb Propogation Planters Glass
Our Original Intention Of Designing Vases Is To Improve Your Quality Of Life, Manage Your Flower Planting In One-Stop, And No Longer Make Your Flower Planting Cumbersome And Messy. Make Your Life Simple, Natural, And Fun.
Good For Plants Rapid Growth, Easier to Clean.

Multiple Safety Management, Stable Adjustable.

Wonderful Natural Gourd Shape Design.

Beautiful LED Fairy Lights Decorations.

Beautiful Color Decoration Stones.

Wonderful Gifts For Mom/Daughter.
C-Type Natural Wood Bracket With Screws And Nuts, You Can Adjustable Freely The Rabge And Height to Suit for Your Need.
Adjustable Range From 3.15 IN TO 5.70 IN

Adjuatable Height From 3.74 IN to 4.72 IN
Multi-Safety, Easy to Install
The C-Type Metal Suspension Holder Effectively Prevents The Terrarium From Falling Off.

C-Type Natural Wood Bracket, Stable And Adjustable. Easy to Install and Remove.

The Rubber Fix Ring Effectively Fixes The Terrarium Position Without Loosening.

Rubber Caps Block Both Ends Of The Metal Rod To Prevent Finger Cuts.

Easier to Install and Remove With Screws Nuts and Metal Wrench.
Wonderful Decorations For Your Home, Office, Living Room, Bedroom, Study Room, Kids Room, Or Kitchen.

Perfect Gifts For Mother's Day, Fathday's Day, Valentine's Day, Christmas, Thanksgiving Birthday and So On.