Description
【Powerful Power Motor】Cordless pressure washer with upgraded large motor, providing strong power, a longer range, more convenient cleaning; high-pressure cleaner built-in wisdom chip to ensure that the machine is efficient, stable and durable use
【Double Spray Nozzle】Cordless pressure washer has a unique double nozzle structure, double tube pressure, double the performance, strong water flow, continuous water; double tube to double the amount of water from the cleaner, more efficient use
【Multifunctional Nozzle Accessories】Electric power washer equipped with a variety of specifications of the nozzle, nozzle free adjustment, water type control at will, to meet the needs of cleaning. At the same time, power washers electric powered on both sides of the thoughtful design can be replaced at any time nozzle.
【Cordless Cleaning】Integrated cordless design of water pressure washer looks more beautiful. Compared with the traditional water pressure washer, cordless pressure washer avoids the restriction of wires and takes only a few minutes to assemble. Electric pressure washer is also equipped with a non-slip handle to prevent the washing process due to wet hands caused by the washer slipped.Gift on Thanksgiving Day
After-sales Service: We always insists on providing customers with high-quality products and service. The products sold are strictly inspected before entering warehouse. Please rest assured to buy and use; From the moment you receive our Pressure Washer, if you have any questions about our led Pressure Washer, Please contact us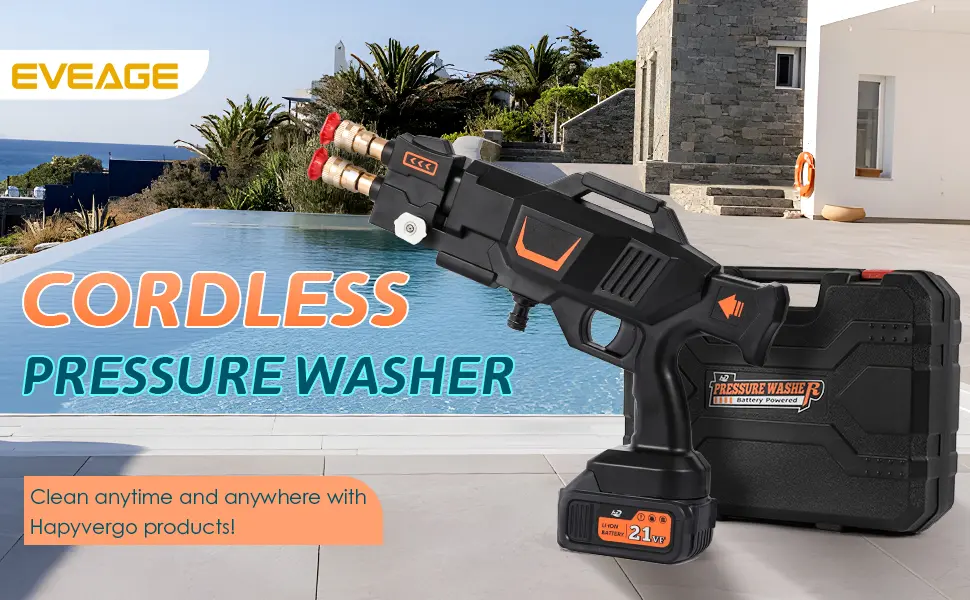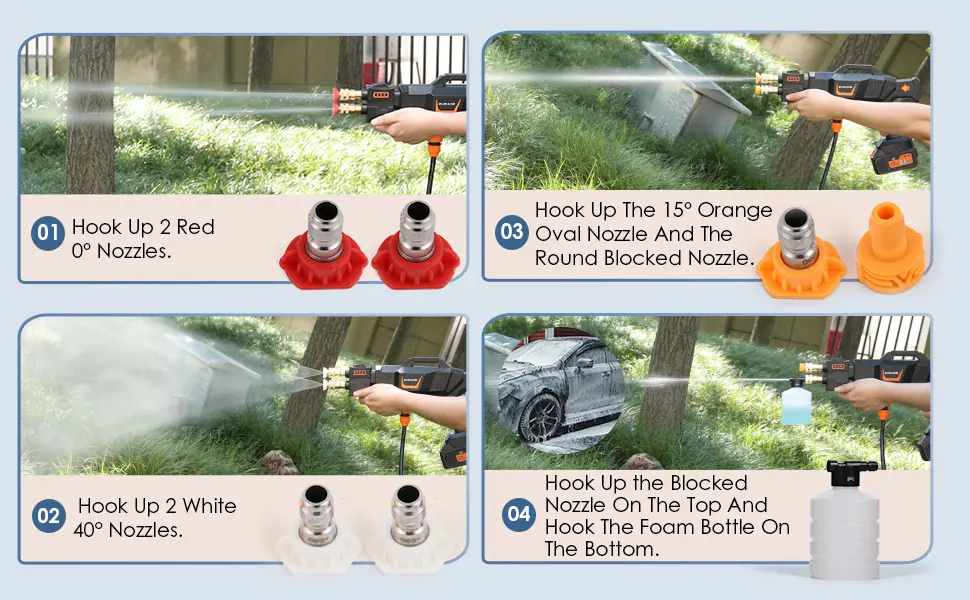 Cordless pressure washer with multi-function nozzle
Cordless pressure washer:
Cordless pressure washer has a variety of accessories, including nozzles with different spraying degrees, and is suitable for various places.

Whether you are watering the garden or washing the car, cleaning the floor is the best choice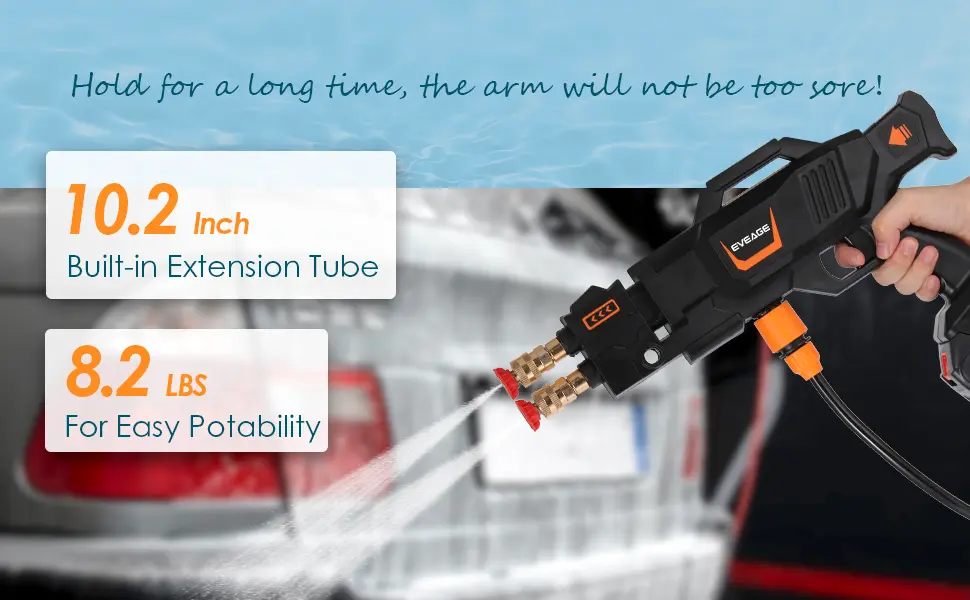 8-12 mSpray Height
With a spray height of up to 8-12m, this battery-powered high pressure air washer can be used to clean walls, but you can also use it to water your entire garden.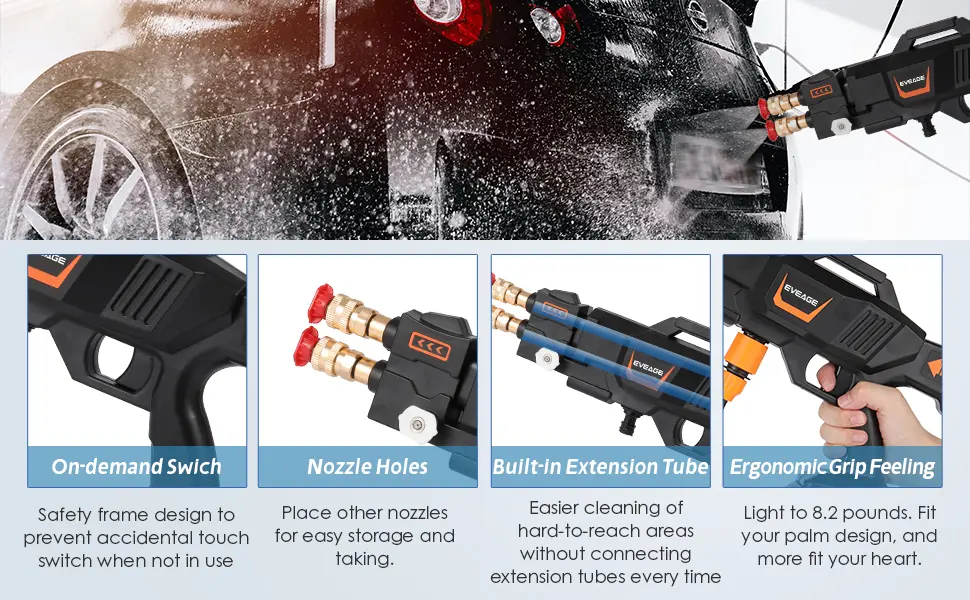 Dual nozzle design
Portable pressure washer :
it adopts the design of

 double nozzles

, which increases the water output and enhances the cleaning power. When using, just install the two nozzles on the fuselage.

Single nozzle use

: block a port with a yellow solid nozzle when using, you can use a single nozzle to discharge water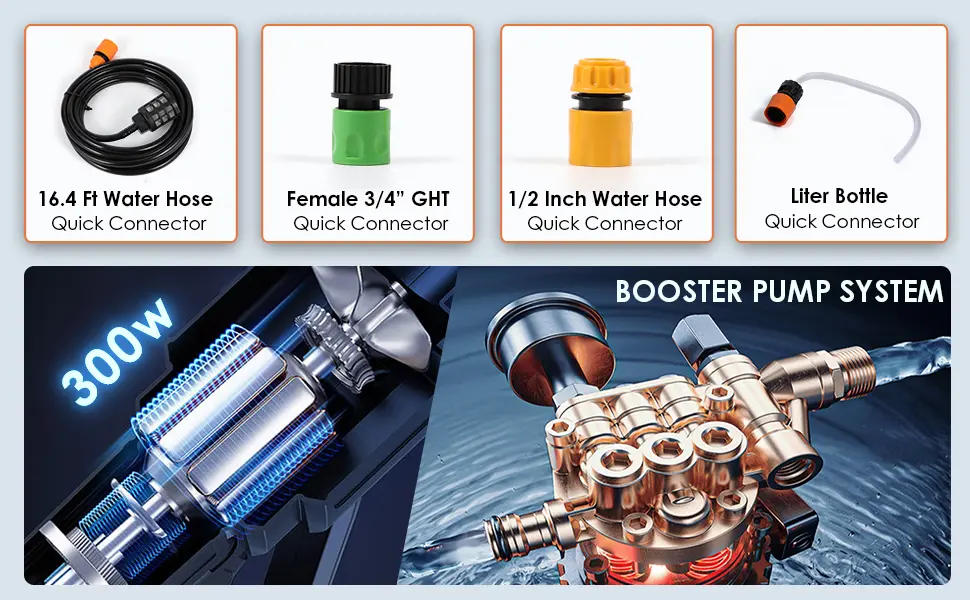 Super strong motor:
The cordless power washer uses an extra long motor and battery, please fully charge the machine when you use it for the first time. Convenient for next use,

This cleaning machine is a portable pressure washer. Unlike big pressure washer, this model can meet the needs of daily cleaning of floors, gardens and cars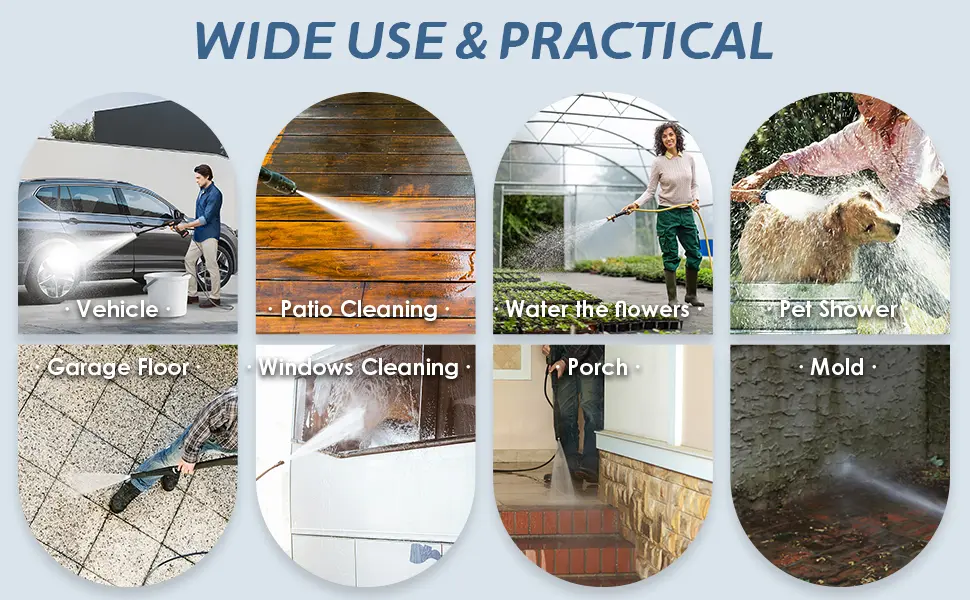 Suitable for a Range of Applications
Comes with a 6-in-1 spray nozzle for 0°,15°,25°, 40°,120°and shower mode

Portable cordless electric washing machine widely used for cleaning vehicles, bikes, boats, windows and driveway.

6-in-1 nozzles

 

The spray head of the car washing machine can be rotated to adjust the spray method, and a variety of spray methods can be used without changing the spray head.

The 6-in-1 printhead reduces the need to replace printheads and simplifies the workflow. Six water outlet modes to meet the needs of various cleaning tasks.