Description
[PRESSURE WASHER POWER] electric pressure washer can generate up to 1800 watt of power, giving you the max cleaning power of 3500psi. Tar, grease, oil stains, rust, and stubborn gunk and grime are easily cleaned.

[4 QUICK NOZZLE & 16.9 oz FOAM TANK] This high-power washer machine has 4 quick-connect spray tips(0º, 15º, 25º, 40º ),which let you do any tougher cleaning jobs. The 16.9oz soap tank allows you to wash you car or porch with rich bubbles, giving you much better cleanliness.

[TOTAL STOP SYSTEM] Get a total stop system feature in this portable pressure washer that automatically shuts the pump off when the trigger is not engaged.

[25FT HOSE & 7.3FT POWER CORD ] 26ft pressure hose and 7.3ft power cord. makes any where easy to clean You don't need to drag the electric pressure washer, which can help you quickly complete the cleaning task.

[PROFESSIONAL CUSTOMER SERVICE] We are glad to hear the voice of customer about our products. our electric pressure washer aims to bring the good experience to you. If you have any problem, Please Contact us at any time.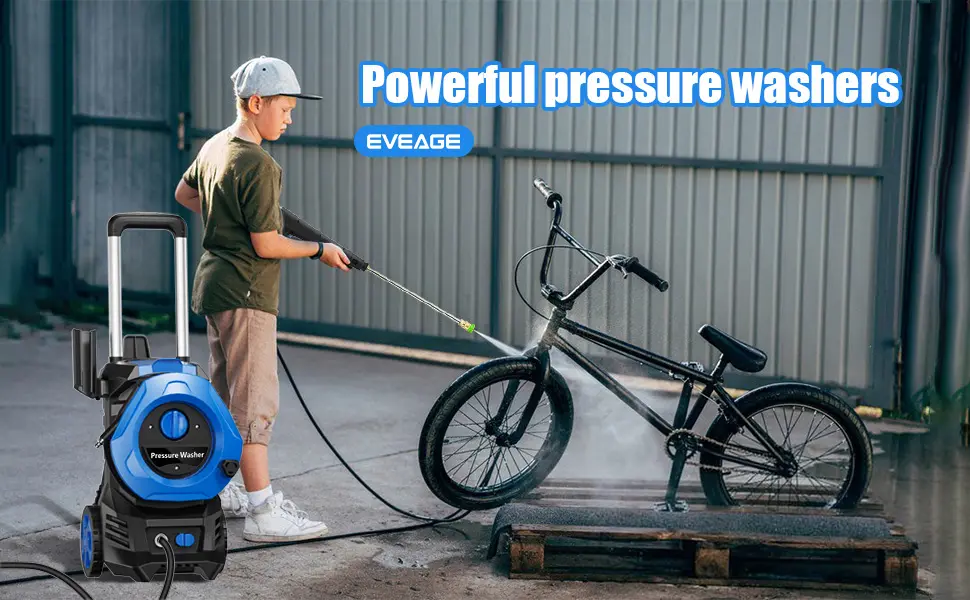 Features for our pressure washer
High/Low pressure operated freely

Can be used vertically or horizontally for greater stability

25 ft high-pressure hose for greater reach

Interchangeable high and low-pressure nozzles wash various surfaces

Easily deal with the toughest homes, outdoor and automatic cleaning projects

4 Quick-Connect spray tips and metal wand, medium and heavy-duty cleaning tasks

Powerful 1800 Watt motor generates up to 3500 PSI/2.5 GPM for maximum cleaning power

Package: 1 x Spray gun, 4pcs nozzle(0°, 15°, 25°, 40° nozzle), 1 x Electric Cord, 1 x Garden Hose quick Connector,1 x High Pressure Hose, 1 x User Manual

Applications: For Homes, Cars, Boats, RVs, Driveways, Decks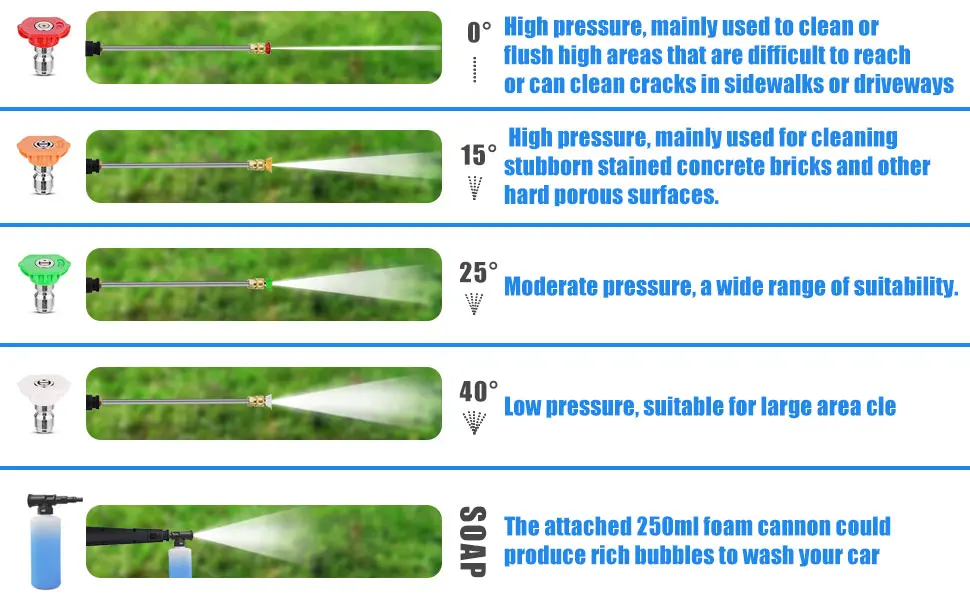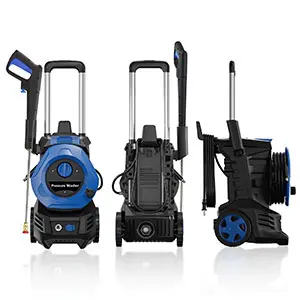 High/Low pressure operated freely
Can be used vertically or horizontally for greater stability

25 feet high-pressure hose for greater reach

Interchangeable high and low-pressure nozzles wash various surfaces

Easily deal with the toughest homes, outdoor and automatic cleaning projects

Two Kind Adjustable Spray Nozzle, medium and heavy-duty cleaning tasks

Powerful 1800 Watt motor generates up to 3500 PSI/2.5GPM for maximum cleaning power

Package: 1 x Spray gun, 1 x Electric Cord, 1 x Garden Hose quick Connector,1 x High Pressure washer Hose, 1 x User Manual,4 kind nozzles

Applications: For Homes, Cars, Boats, RVs, Driveways, Decks